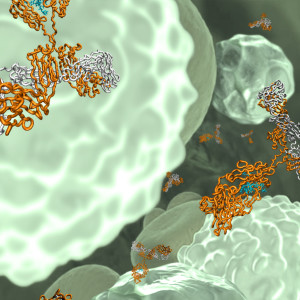 First marketing applications were recently submitted for two novel antibody therapeutics, ocrelizumab and inotuzumab ozogamicin, intended as treatments for multiple sclerosis (MS) and CD22-positive acute lymphoblastic leukemia (ALL), respectively. Applications for ocrelizumab (OCREVUS), a humanized IgG1 antibody that targets CD20, as a treatment of relapsing multiple sclerosis (RMS) and primary progressive multiple sclerosis (PPMS) are undergoing regulatory review by the US Food and Drug Administration (FDA) and the European Medicines Agency (EMA). No products are currently approved for both forms of MS. A priority review designation has been granted by FDA, and a first action on ocrelizumab's biologics license application (BLA) is thus expected by December 28, 2016. The marketing applications are based on positive results from two identical Phase 3 studies (OPERA I and OPERA II) in people with RMS and the Phase 3 ORATORIO study in people with PPMS. All primary and key secondary endpoints were met in these three studies.
The antibody-drug conjugate inotuzumab ozogamicin targets CD22, an antigen found on the surface of cancer cells in most ALL patients. Results of a Phase 3 study evaluating the safety and efficacy of inotuzumab ozogamicin compared with investigator-choice chemotherapy in 326 adult patients with relapsed or refractory CD22-positive ALL were recently published in the New England Journal of Medicine. Improvements over chemotherapy on a number of measures, including complete hematologic remission and progression-free survival, were observed in this study. A marketing application for inotuzumab ozogamicin is undergoing review by the EMA; a BLA submission is likely. Inotuzumab ozogamicin received Breakthrough Therapy designation for ALL from FDA, and priority review of applications is a benefit of the designation, which suggests that an approval by FDA is thus possible by the end of 2016.
The Antibody Society maintains a comprehensive table of approved antibody therapeutics and those in regulatory review (currently 8 mAbs) in the European Union and United States. The antibody target, format and year of first approval are included. Please log in to access the table, located in the Members Only section.
Not a member? Please join!