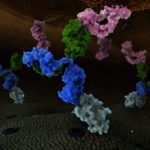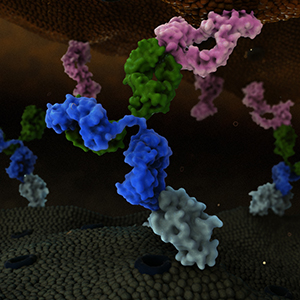 The remarkable increase in the number of antibody therapeutics in late-stage clinical studies that occurred between 2010 and 2021 has been documented in the 'Antibodies to watch' article series, which describes monoclonal antibodies in late-stage clinical studies (i.e., pivotal Phase 2, Phase 2/3 or Phase 3). All articles in the series were published in mAbs, and they are all freely available.
The table below is derived from data included in the latest article in the series, Antibodies to Watch in 2022, published in January 2022. The Antibody Society will update the data every quarter during 2022. Last table update: May 1, 2022.
Data for antibody therapeutic products that have advanced to regulatory review or approval in any country have been excluded from this table, but they are included in a searchable table that can be found here.
Biosimilar antibodies have been excluded from both tables.
Format and Fc modification data were compiled by Drs. Alicia Chenoweth and Silvia Crescioli, King's College London, who also built the data table below.
Please cite our data as follows: The Antibody Society. Antibody therapeutics in late-stage clinical studies. (date accessed); www.antibodysociety.org/antibodies-in-late-stage-clinical-studies/
INN
Drug Code(s)
Target
Format
Specificity
Backbone
Light Chain
Conjugations/Fusion
Mutations/Modifications
Phase of Clinical Development
Late-stage Clinical Study Indications
Therapeutic Area
Company
Licensee/Partner
177Lu-DOTA-rosopatamab
TLX591, ATL-101, Lu-177-huJ591
PSMA
Humanized mAb
Monospecific
IgG1
kappa
Conjugated to Lu-177
Phase 3 pending
Prostate cancer (NCT04876651 (not yet recruiting))
Cancer
Telix Pharmaceuticals
Abelacimab
MAA868
Factor XI
Human mAb
Monospecific
IgG1
lambda
Phase 3
Venous thromboembolism (NCT05171075, NCT05171049)
Cardiovascular/hemostasis
Novartis
Anthos Therapeutics, MorphoSys
Adebrelimab
SHR-1316, HTI-1088
PD-L1
Humanized mAb
Monospecific
IgG4
kappa
S228P (hinge-stabilization), F234A, L235A (abrogate effector function)
Phase 3
Non-small cell lung cancer (NCT04316364); Small cell lung cancer (NCT04691063, NCT03711305 (not yet recruiting))
Cancer
Jiangsu Hengrui Medicine Co.
Atridia Pty Ltd.
Anbenitamab
KN026
HER2, HER2 (biparatopic)
Humanized mAb
Bispecific
IgG1; Hetero H
kappa (common light chain)
Hetero HH, HL-pairing: cL: S354C-T366W-K409A x Y349C-T366S-L368A-F405K-Y407V (bispecific assembly)
Phase 2 (pivotal); Phase 2/3 pending
HER2+ Solid tumors (NCT04521179); HER2+ Breast cancer (NCT04165993); Gastric/Gastroesophageal junction cancer (NCT03925974, KN026-CSP-001)
Cancer
Jiangsu Alphamab Biopharmaceuticals Co., Ltd
Sanofi
Anselamimab
CAEL-101, Ch mAb 11-1F4
Amyloid fibril
Chimeric mAb
Monospecific
IgG1
kappa
Phase 3
Light chain (AL) amyloidosis (NCT04512235, NCT04504825)
Immune-mediated disorders
Caelum Biosciences
AstraZeneca
Apitegromab
SRK-015
Myostatin
Human mAb
Monospecific
IgG4
lambda
Phase 3
Spinal muscular atrophy (NCT05156320)
Muscular diseases
Scholar Rock
Batoclimab
IMVT-1401, RVT-1401, HL161BKN, HBM9161(HL161BKN), HL161
FcRn
Human mAb
Monospecific
IgG1
lambda
L234A, L235A (impair Fc effector functions)
Phase 3
Primary immune thrombocytopenic purpura (NCT04428255);
Thyroid opthalmopathy (NCT05015127);
Myasthenia gravis (NCT05039190)
Immune-mediated disorders
Hanall Biopharma, a subsidiary of Daewoong Pharmaceutical Co., Ltd
Harbour BioMed, Roivant Sciences / Immunovant Inc.
Bemarituzumab
FPA144
FGFR2b
Humanized mAb
Monospecific
IgG1
kappa
Afucosylated
Phase 3
Gastric cancer/gastroesophageal junction adenocarcinoma (NCT05052801)
Cancer
Amgen
Zai Lab
Bentracimab
PB2452 (formerly MEDI2452)
Ticagrelor
Human Fab
Monospecific
Fab (IgG1 CH1)
lambda
Phase 3
Reversal of the antiplatelet effects of ticagrelor in patients with uncontrolled major or life-threatening bleeding or who require urgent surgery or invasive procedure (NCT04286438)
Cardiovascular / hemostasis
AstraZeneca
PhaseBio Pharmaceuticals, Inc., Alfasigma
Bintrafusp alfa
M7824, MSB0011359C
PD-L1, TGFβ
Human mAb
Bispecific
IgG1
lambda
IgG1 fused with TGFbeta binding domain
Phase 2/3 and Phase 3
Biliary tract cancer (NCT04066491); Non-small cell lung cancer (NCT03631706); Follow-up study to collect long-term data on participants from multiple Bintrafusp Alfa clinical studies (NCT05061823 (not yet recruiting))
Cancer
EMD Serono/Merck KGaA
Birtamimab
NEOD001
Amyloid
Humanized mAb
Monospecific
IgG1
kappa
Phase 3
Light chain (AL) amyloidosis (NCT04973137)
Immune-mediated disorders
Onclave Therapeutics Limited, subsidiary of Prothena
Brazikumab
AMG139, MEDI2070
IL-23
Human mAb
Monospecific
IgG2
lambda
Phase 2/3 and Phase 3
Crohn's disease (NCT03759288, NCT03961815)
Immune-mediated disorders
Amgen
AstraZeneca; AbbVie/Allergan
Camidanlumab tesirine
ADCT-301
CD25
Human mAb
Monospecific
IgG1
kappa
Conjugated to pyrrolobenzodiazepine dimer SG3249
Phase 2 (pivotal)
Hodgkin lymphoma (NCT04052997)
Cancer
ADC Therapeutics Sarl
AbbVie
Cendakimab
CC-93538, RPC4046; ABT-308, 13C5.5
IL-13
Humanized mAb
Monospecific
IgG1
kappa
L234A, L235A (impair Fc effector functions)
Phase 3
Eosinophilic esophagitis (NCT04753697, NCT04991935)
Immune-mediated disorders
AbbVie
Bristol-Myers Squibb
Cetrelimab
JNJ-63723283
PD-1
Human mAb
Monospecific
IgG4
kappa
S228P (hinge-stabilization)
Phase 2/3 and Phase 3
Multiple myeloma (NCT03357952); Urinary bladder neoplasms (NCT04658862)
Cancer
Janssen Research & Development, LLC
XOMA Corporation
Clazakizumab
ALD518; BMS-945429
IL-6
Humanized mAb
Monospecific
IgG1
kappa
N297A (Fc-aglycosylated)
Phase 3
Antibody-mediated rejection in kidney transplant recipients (NCT03744910)
Immune-mediated disorders
H. Lundbeck
Vitaeris Bio
Cobolimab
GSK4069889, TSR-022
TIM-3
Humanized mAb
Monospecific
IgG4
kappa
S228P (hinge-stabilization)
Phase 2/3
Non-small cell lung cancer (NCT04655976)
Cancer
GlaxoSmithKline
Concizumab
NNC172-2021, NN7415, mAb2021
Tissue factor pathway inhibitor
Humanized mAb
Monospecific
IgG4
kappa
Phase 3
Hemophilia A or B with inhibitors (NCT04083781);
Hemophilia A or B without inhibitors (NCT04082429)
Cardiovascular / hemostasis
Novo Nordisk
Coprelotamab
GB221
HER2
Humanized mAb
Monospecific
IgG1
kappa
Phase 3
HER2+ Breast cancer (NCT04164615)
Cancer
Genor Biopharma Co., Ltd.
Cosibelimab
CK-301
PD-L1
Human mAb
Monospecific
IgG1
lambda
Phase 1 (registrational) and Phase 3
Squamous cell carcinoma (NCT03212404) ; Non-small cell lung cancer (NCT04786964)
Cancer
Checkpoint Therapeutics, Inc.
Crovalimab
SKY59, RG6107, RO7112689
Complement C5
Humanized mAb
Monospecific
IgG1
kappa
L235R, G236R, S239K, A327G, A330S, P331S (impair Fc binding/effector functions), M428L, N434A, Q438R, S440E (increase FcnR binding without increasing RF binding)
Phase 3
Atypical hemolytic uremic syndrome (NCT04861259, NCT04958265);
Paroxysmal nocturnal hemoglobinuria (NCT04434092, NCT04432584, NCT04654468)
Cardiovascular / hemostasis
Chugai
Hoffmann-La Roche
Dafsolimab setaritox + grisnilimab setaritox
T-Guard; SPV-T3a + WT1
CD3 + CD7
Mixture of two mAb murine
Two monospecific mAbs
IgG2b, IgG2a
kappa; lambda
Conjugated to ricin A
Phase 3
Steroid-refractory acute graft vs. host disease (NCT04934670)
Immune-mediated disorders
Xenikos
Dapirolizumab pegol
CDP-7657
CD40L
Humanized Fab
Monospecific
IgG1
kappa
PEGylated
Phase 3
Systemic lupus erythematosus (NCT04976322, NCT04294667)
Immune-mediated disorders
UCB
Biogen
Datopotamab deruxtecan
DS-1062
TROP-2
Humanized mAb
Monospecific
IgG1
kappa
Conjugated to deruxtecan DX-8951 (Topoisomerase I inhibitor)
Phase 3
Non-small cell lung cancer without actionable genomic alterations (NCT04656652); Breast cancer (NCT05104866)
Cancer
Daiichi-Sankyo
Depemokimab
GSK3511294
IL-5
Humanized mAb
Monospecific
IgG1
kappa
M252Y, S254T, T256E (half-life extension)
Phase 3
Severe uncontrolled asthma with an eosinophilic phenotype (NCT04719832, NCT04718103, NCT04718389)
Immune-mediated disorders
GlaxoSmithKline
Domvanalimab
AB154
TIGIT
Humanized mAb
Monospecific
IgG1
kappa
L234A, L235A (impair Fc effector functions)
Phase 3
Non-small cell lung cancer (NCT04736173)
Cancer
Arcus Biosciences
Gilead Sciences
Ebdarokimab
AK101
IL-12/23p40
Humanized mAb
Monospecific
IgG1
kappa
Phase 3
Plaque psoriasis (NCT05120297)
Immune-mediated disorders
Akesobio Australia Pty Ltd
Elranatamab
PF-06863135
BCMA, CD3
Humanized mAb
Bispecific
IgG2a
Strop Fab-arm exchange method ((WO2016/166629) CD3 antibody: IgG1RRR: 221R, 228R, K409R or IgG2deltaA-RRRR: 223R, 225R, 228R, K409R; Target antibody: IgG1EEE: 221E, 228E, L368E or IgG2deltaA-EEEE: 223E, 225E, 228E, L368E, Exchange with 1-2 mM GSH).

Phase 3
Multiple myeloma (NCT05020236)
Cancer
Pfizer
Epcoritamab
GEN3013, DuoBody-CD-3x-CD20
CD20, CD3
Humanized mAb
Bispecific
IgG1; Hetero H
lambda/kappa
Hetero HH, HL exchanged: L234F x K409R (bispecific assembly) both chains L234F, L235E, D265A (Fc silencing)
Phase 3
Diffuse large B-cell lymphoma (NCT04628494)
Cancer
Genmab
AbbVie
Erfonrilimab
KN046
PD-L1, CTLA4
Humanized, chimeric mAb
Bispecific
IgG1; Hetero H; VH-VH-h-CH2-CH3 dimer
n/a
Hetero HH, HL-pairing: cL: S354C-T366W-K409A x Y349C-T366S-L368A-F405K-Y407V (bispecific assembly)
Phase 3
Non-small-cell lung cancer (NCT04474119, NCT05001724 (not yet recruting))
Cancer
Jiangsu Alphamab Biopharmaceuticals Co., Ltd
Fasinumab
REGN475, SAR164877, MT-5547
Nerve growth factor
Human mAb
Monospecific
IgG4
kappa
S228P (hinge-stabilization)
Phase 3
Pain due to osteoarthritis of the knee or hip (NCT03161093, NCT02683239, NCT03304379, NCT02447276, NCT03245008);
Low back pain (NCT02620020)
Neurological disorders
Regeneron
Teva, Mitsubishi Tanabe Pharma Corporation
Favezelimab
MK-4280
LAG-3
Humanized mAb
Monospecific
IgG4
kappa
S228P (hinge-stabilization)
Phase 3
Colorectal cancer (NCT05064059)
Cancer
Merck Sharp & Dohme Corp.
Felzartamab
TJ202, MOR202, MOR03087
CD38
Human mAb
Monospecific
IgG1
lambda
Phase 3
Multiple myeloma (NCT03952091)
Cancer
MorphoSys AG
I-Mab Biopharma
Finotonlimab
SCT-I10A, SCTI-10A
PD-1
Humanized mAb
Monospecific
IgG4
kappa
S228P (hinge-stabilization)
Phase 2/3 and Phase 3
Hepatocellular carcinoma (NCT04560894); Non-small-cell lung cancer (NCT04171284); Head and neck squamous cell carcinoma (NCT04146402)
Cancer
Sinocelltech Ltd
Flotetuzumab
MGD006, S80880
CD123, CD3
Humanized DART®; Tandem domain-exchanged Fv; bivalent scFv-scFv (VH-VL-VH'-VL')
Bispecific
Phase 2 (pivotal)
Acute myeloid leukemia (NCT04582864)
Cancer
MacroGenics
Gantenerumab
RO4909832, RG1450
Amyloid beta
Human mAb
Monospecific
IgG1
kappa
None found
Phase 3
Early Alzheimer's disease (NCT01760005, NCT03444870, NCT03443973);
Alzheimer's disease (NCT04339413, NCT04374253)
Neurological disorders
Hoffmann-La Roche
MorphoSys
Garadacimab
CSL312
Factor XIIa
Human mAb
Monospecific
IgG4
lambda
Phase 3
Prevention of hereditary angioedema attacks (NCT04656418, NCT04739059)
Cardiovascular / hemostasis
CSL Behring
Garetosmab
REGN2477
Activin A
Human mAb
Monospecific
IgG4
kappa
S228P (hinge-stabilization)
Phase 2 (pivotal)
Fibrodysplasia ossificans progressiva (NCT03188666)
Musculoskeletal disorders
Regeneron
Glofitamab
RO7082859, CD20-TCB, RG6026
CD20, CD3e
CrossMab; Fab-Fc(G1) x Fab-Fab-Fc
Bispecific
IgG1
lambda/kappa
Hetero HH: S354C-T366W x Y349C-T366S-L368A-Y407V (KiH and extra cysteines);
HL-pairing: CrossMab; both chains: L234A, L235A, P329G
(Fc-silencing)
Phase 3
Diffuse large B-cell lymphoma (NCT04408638)
Cancer
Hoffmann-La Roche
Ianalumab
VAY736
BLyS/BAFF/TACI/BCMA receptor
Human mAb
Monospecific
IgG1
kappa
Afucosylated (improve FcγRIIIa binding/improve ADCC)
Phase 2/3 and Phase 3
Autoimmune hepatitis (NCT03217422); Lupus nephritis (NCT05126277 not yet recruiting)
Immune-mediated disorders
MorphoSys
Novartis
Inclacumab
RO4905417, RG1512
P-selectin (CD62)
Human mAb
Monospecific
IgG4
kappa
S228P (hinge-stabilization); L235E (impair Fc effector function)
Phase 3
Vaso-occlusive crisis in sickle cell disease patients (NCT04927247, NCT04935879)
Cardiovascular / hemostasis
Hoffmann-La Roche; Genmab
Global Blood Therapeutics
Iodine (131I) apamistamab
I-131-BC8, Iomab-B
CD45
Murine mAb
Monospecific
IgG1
kappa
I-131
Phase 3
Acute myeloid leukemia (NCT02665065)
Cancer
Actinium Pharmaceuticals
Itepekimab
REGN3500, SAR440340
IL-33
Human mAb
Monospecific
IgG4
kappa
S228P (hinge-stabilization)
Phase 3
Chronic obstructive pulmonary disease (NCT04751487, NCT04701983)
Respiratory
Regeneron
Sanofi
Latozinemab
AL001
Sortilin
Human mAb
Monospecific
IgG1
kappa
L234A, L235A, P331S (remove Fc effector functions)
Phase 3
Frontotemporal dementia (NCT04374136)
Neurological disorders
Alector
GlaxoSmithKline
Lebrikizumab
RG3637, TNX-650, PRO301444, MILR1444A
IL-13
Humanized mAb
Monospecific
IgG4
kappa
S228P (hinge-stabilization)
Phase 3
Atopic dermatitis (NCT04250337, NCT04760314, NCT04146363, NCT04178967, NCT04626297, NCT04392154, NCT04250350)
Immune-mediated disorders
Genentech
Eli Lilly and Company, Almirall
Lenvervimab
GC1102
Hepatitis B virus surface antigen
Human mAb
Monospecific
IgG1
kappa
None found
Phase 2/3
Prevention of hepatitis B virus infection recurrance after liver transplantation (NCT03519113)
Infectious disease
GC Pharma
Ligelizumab
QGE031
IgE
Humanized mAb
Monospecific
IgG1
kappa
None found
Phase 3
Chronic spontaneous urticaria (NCT03580356, NCT03580369, NCT03907878, NCT04210843);
Chronic inducible urticaria (NCT05024058);
Peanut allergy (NCT04984876)
Immune-mediated disorders
Tanox
Novartis
Lirentelimab, Antolimab
AK002
Siglec-8
Humanized mAb
Monospecific
IgG1
kappa
Afucosylated
Phase 3
Eosinophilic gastritis and/or eosinophilic duodenitis (NCT04322604, NCT04620811);
Eosinophilic duodenitis NCT04856891);
Eosinophilic esophagitis (NCT04322708)
Immune-mediated disorders
Allakos, Inc
Magrolimab
ONO-7913, Hu5F9-G4
CD47
Humanized mAb
Monospecific
IgG4
kappa
S228P (hinge-stabilization)
Phase 3
Myelodisplastic syndromes (NCT04313881); Acute myeloid leukemia (NCT04778397, NCT05079230 (not yet recruiting))
Cancer
Gilead Sciences
Ono Pharmaceutical Co
Marstacimab
PF-06741086
Tissue factor pathway inhibitor
Human mAb
Monospecific
IgG1
lambda
L234A, L235A, G237A (impair Fc effector funcctions)
Phase 3
Severe hemophilia A or B (NCT03938792)
Cardiovascular / hemostasis
Pfizer
Mirikizumab
LY3074828
IL-23p19
Humanized mAb
Monospecific
IgG4
kappa
S228P (hinge-stabilization), F234A, L235A (impair Fc effector function)
Phase 3
Crohn's disease (NCT04232553, NCT03926130):
Ulcerative colitis (NCT03519945, NCT03518086, NCT03524092);
Crohn's Disease or Ulcerative Colitis (NCT04844606), ;
Psoriasis (NCT03482011, NCT03535194, NCT03556202)
Immune-mediated disorders
Eli Lilly and Company
Monalizumab
NN8765, IPH-2201, NNC141-0100
NKG2A
Humanized mAb
Monospecific
IgG4
kappa
S228P (hinge-stabilization)
Phase 3
Squamous Cell Carcinoma of the Head and Neck (NCT04590963)
Cancer
Novo Nordisk
AstraZeneca; Innate Pharma
Tozorakimab
MEDI3506
IL-33
Human mAb
Monospecific
IgG1
lambda2
Phase 3
Chronic obstructive pulmonary disease (NCT05166889, NCT05158387 not yet recruiting)
Respiratory
AstraZeneca/MedImmune
Navicixizumab
OMP-305B83
DLL4, VEGF
Humanized, chimeric mAb
Bispecific
IgG2; Hetero H, cL
kappa
Hetero HH: L368E-Y407E x T357K-D399K (bispecific assembly) ;
HL-pairing: cL
Phase 3 pending
Ovarian cancer/peritoneal cancer/fallopian tube cancer (NCT05043402 (not yet recruiting))
Cancer
OncXerna Theraputics, Inc.
Nipocalimab
M281
FcRn
Human mAb
Monospecific
IgG1
lambda
N297A (Fc-aglycosylated)
Phase 2/3 and Phase 3
Warm autoimmune hemolytic anemia (NCT04119050);
Generalized myasthenia gravis (NCT04951622)
Immune-mediated disorders
Janssen
Sibeprenlimab
VIS649
APRIL
Humanized mAb
Monospecific
IgG2
kappa
Phase 2/3 and Phase 3 pending
IgA nephropathy (NCT05248659, NCT05248646)
Otsuka Pharmaceutical
Nofazinlimab
CS1003
PD-1
Humanized mAb
Monospecific
IgG4
kappa
S228P (hinge-stabilization)
Phase 3
Hepatocellular carcinoma (NCT04194775)
Cancer
Cstone Pharmaceuticals
EQRx
Ociperlimab
BGB-A1217
TIGIT
Humanized mAb
Monospecific
IgG1
kappa
Phase 3
Non-small cell lung cancer (NCT04746924, NCT04866017)
Cancer
BeiGene
Odronextamab
REGN1979
CD20, CD3
Human mAb
Bispecific
IgG4; Hetero H, cL
kappa
Hetero HH: WT x H435R-Y436F (limits binding to Protein A, purification);
HL-pairing: cL ; both chains: E233P, F234V, L235A, G236del
(Fc-silencing), S228P (hinge-stabilization)
Phase 2 (potentially pivotal)
Non-Hodgkin lymphoma (NCT03888105)
Cancer
Regeneron
Zai Lab
Onfekafusp alfa
L19TNF, L19(scFv)2-TNF
Fibronectin extra-domain B
Human mAb
Monospecific
scFv fused with TNF
scFv fused with TNF
Phase 3
Soft tissue sarcoma (NCT04650984); melanoma (NCT03567889, in combination with L19IL2)
Cancer
Philogen S.p.A.
Ongericimab
JS002
PCSK9
Humanized mAb
Monospecific
IgG4
kappa
Phase 3
Hyperlipidemia (NCT04781114)
Cardiovascular / hemostasis
Shanghai Junshi Bioscience Co Ltd
Oregovomab
Mab-B43.13
CA125
Murine mAb
Monospecific
IgG1
kappa
Phase 3
Ovarian cancer (NCT04498117)
Cancer
Quest PharmaTech Inc.
OncoQuest Pharmaceuticals, Inc.
Otilimab
GSK3196165, MOR103, MOR-04357
GM-CSF (aka CSF2)
Human mAb
Monospecific
IgG1
lambda
Phase 3
Rheumatoid arthritis (NCT03980483, NCT03970837, NCT04134728, NCT04333147)
Immune-mediated disorders
MorphoSys AG
GlaxoSmithKline
Pamrevlumab
FG-3019
Connective tissue growth factor
Human mAb
Monospecific
IgG1
kappa
None found
Phase 3
Duchenne muscular dystrophy (NCT04632940, NCT04371666); Idiopathic pulmonary fibrosis (NCT04419558, NCT03955146);
Pancreatic cancer (NCT03941093, NCT04229004)
Musculoskeletal disorders (secondary areas: Respiratory, Cancer)
FibroGen
Pozelimab
REGN3918
Complement C5
Human mAb
Monospecific
IgG4
kappa
S228P (hinge-stabilization)
Phase 2/3 and 3
CD55-deficient protein-losing enteropathy (NCT04209634); Paroxysmal nocturnal hemoglobinuria (NCT04162470);
Generalized myasthenia gravis (NCT05070858 (not yet recruiting))
Cardiovascular / hemostasis
Regeneron
Pucotenlimab
HX008
PD-1
Humanized mAb
Monospecific
IgG4
kappa
S228P (hinge-stabilization), S254T, V308P, N434A (improve FcRn binding)
Phase 2/3 and Phase 3
Non-small cell lung cancer (NCT04750083); Gastric cancer (NCT04486651)
Cancer
Taizhou Hanzhong Biomedical Co. LTD
Quavonlimab
MK-1308, AK107
CTLA-4
Humanized mAb
Monospecific
IgG1
kappa
Phase 3
Renal cell carcinoma (NCT04736706)
Cancer
Akeso Biopharma
Merck Sharp & Dohme Corp.
Recaticimab
SHR-1209
PCSK9
HumanizedmAb
Monospecific
IgG1
kappa
M252Y, S254T, T256E (half life extension)
Phase 3
Hypercholesterolemia and hyperlipidemia (NCT04849000, NCT04885218);
Primary hypercholesterolemia (NCT04844125)
Cardiovascular / hemostasis
Jiangsu HengRui Medicine Co., Ltd.
Rozanolixizumab
UCB7665
FcRn
Humanized mAb
Monospecific
IgG4
kappa
S228P (hinge stabilizing)
Phase 3
Generalized myasthenia gravis (NCT03971422, NCT04124965, NCT04650854);
Primary immune thrombocytopenia (NCT04200456, NCT04224688, NCT04596995)
Immune-mediated disorders
UCB Biopharma
Sabatolimab
MBG453
TIM-3
Humanized mAb
Monospecific
IgG4
kappa
S228P (hinge-stabilization)
Phase 3
Myelodysplastic syndromes and chronic myelomonocytic leukemia (NCT04266301)
Cancer
Novartis
Sasanlimab
PF-06801591
PD-1
Humanized mAb
Monospecific
IgG4
kappa
S228P (hinge-stabilization)
Phase 3
Non-muscle invasive bladder cancer (NCT04165317)
Cancer
Pfizer
Setrusumab
UX143, BPS804, MOR05813
Sclerostin
Human mAb
Monospecific
IgG2
lambda
Phase 2/3
Osteogenesis imperfecta (NCT05125809)
Musculoskeletal disorders
Ultragenyx Pharmaceutical Inc
Mereo BioPharma
APX003, BD0801, TK001, sevacizumab
VEGF
Humanized mAb
Monospecific
Phase 3
Ovarian cancer (NCT04908787)
Cancer
Jiangsu Simcere Pharmaceutical Co., Ltd.
Apexigen
Socazolimab
ZKAB001, STI-A1014
PD-L1
Human mAb
Monospecific
IgG1
lambda2
Phase 3
Small-cell lung cancer (NCT04878016); Osteosarcoma (NCT04359550)
Cancer
Sorrento Therapeutics
Lee's Pharmaceutical Holdings
Solanezumab
LY-2062430, hM266.2
Amyloid beta, soluble
Humanized mAb
Monospecific
IgG1
kappa
None found
Phase 2/3 and Phase 3
Alzheimer's disease (NCT01760005);
Cognition disorders (NCT02008357)

Neurological disorders
Eli Lilly and Company
Tafolecimab
IBI306
PCSK9
Human mAb
Monospecific
IgG2
kappa
Phase 2/3 or 3
Hypercholesterolemia (NCT04709536, NCT04289285); Homozygous familial hypercholesterolemia (NCT04948008, NCT04031742); Heterozygous familial hypercholesterolemia (NCT04179669, NCT04759534)
Cardiovascular / hemostasis
Innovent Biologics (Suzhou) Co. Ltd.
Talquetamab
JNJ-64407564
G protein-coupled receptor 5D, CD3
Humanized mAb
Bispecific DuoBody®
IgG4
kappa/lambda
Hetero HH: F405L-R409K x WT; both chains: S228P
(hinge-stabilization), F234A-L235A (Fc-silencing)
Phase 2 (pivotal)
Multiple myeloma (NCT04634552)
Cancer
Janssen Research & Development, LLC
Genmab
Tarcocimab
KSI-301
VEGF
Humanized mAb
Monospecific
IgG1
kappa
Antibody-biopolymer
conjugate (site-specific conjugation of an 800 kDa branched phosphorylcholine biopolymer)
Fc mutations for inert effector function and site specific conjugation
Phase 3
Diabetic macular edema (NCT04603937, NCT04611152); Macular edema due to retinal vein occlusion (NCT04592419);
Wet macular degeneration (NCT04964089, NCT04049266); Non-proliferative diabetic retinopathy (NCT05066230)
Ophthalmic disorders
Kodiak Sciences Inc
Tebotelimab
MGD013
PD-1 , LAG-3
Humanized DART®; Tandem domain-exchanged Fv
Bispecific
IgG4
kappa
Phase 2/3
Gastric cancer (NCT04082364)
Cancer
Macrogenics
Zai Lab
Telisotuzumab vedotin
ABBV-399
cMet
Humanized mAb
Monospecific
IgG1
kappa
MMAE
Phase 3
Non-small cell lung cancer (NCT04928846)
Cancer
AbbVie
Tiragolumab
MTIG7192A, RO7092284, RG6058
TIGIT
Human mAb
Monospecific
IgG1
kappa
Phase 3
Non-small cell lung cancer (NCT04294810, NCT04513925); Esophageal cancer (NCT04543617, NCT04540211); Small cell lung carcinoma (NCT04665856; NCT04256421)
Cancer
Genentech
Tosatoxumab
AR-301, KBSA301
S. aureus alpha-toxin
Human mAb
Monospecific
IgG1
lambda
None found
Phase 3
Ventilator-associated pneumonia caused by S. aureus (NCT03816956)
Infectious disease
Kenta Biotech Ltd
Aridis Pharmaceuticals, Serum AMR
Trastuzumab duocarmazine
SYD985, 4D5-8
HER2
Humanized mAb
Monospecific
IgG1
kappa
Duocarmycin
Phase 3
Breast cancer (NCT03262935)
Cancer
Byondis B.V.
Ivonescimab
AK112
PD-1, VEGF
mAb
Bispecific
IgG1-(scFv2)
kappa
Phase 3
Non-small cell lung cancer (NCT05184712)
Cancer
Akesobio Australia Pty Ltd
Tusamitamab ravtansine
SAR408701
CEACAM5
Humanized mAb
Monospecific
IgG1
kappa
DM4
Phase 3
Non-small cell lung cancer (NCT04154956)
Cancer
ImmunoGen
Sanofi
Vibostolimab
MK-7684
TIGIT
Humanized mAb
Monospecific
IgG1
kappa
-
Phase 3
Non-small cell lung cancer (NCT04738487)
Cancer
Merck Sharp & Dohme Corp.
Vunakizumab
SHR-1314
IL-17A
Humanized mAb
Monospecific
IgG1
kappa
Phase 2/3 and Phase 3
Ankylosing spondylitis (NCT04840485);
Plaque psoriasis (NCT04839016)
Immune-mediated disorders
Atridia Pty Ltd./ Jiangsu Hengrui Medicine Co.
Xeligekimab
GR1501
IL-17A
Human mAb
Monospecific
IgG4
kappa
Phase 3
Plaque psoriasis (ChiCTR2100043223)
Immune-mediated disorders
Genrix (Shanghai) Biopharmaceutical Co. Ltd.
Zalifrelimab
AGEN1884
CTLA-4
Human mAb
Monospecific
IgG1
kappa
-
Phase 2 (pivotal)
Cervical cancer (NCT03894215)
Cancer
Agenus Inc.
Betta Pharmaceuticals, Recepta biopharma
Zamerovimab + mazorelvimab
SYN023 (mixture of CTB011 + CTB012)
Rabies virus spike glycoprotein
Mixture of 2 humanized mAbs
Two monospecific mAbs
IgG1
kappa
Phase 3
Rabies (NCT04644484)
Infectious disease
Synermore Biologics Co. Ltd.
Zanidatamab
ZW25
HER2, HER2 (biparatopic)
Humanized mAb
Bispecific; scFv-Fc(G1) x Fab-Fc
IgG1
kappa
Hetero HH: T350V-L351Y-F405A-Y407V x
T350V-T366L-K392L-T394W
Phase 2 (pivotal) and Phase 3
Biliary tract cancers (NCT04466891); Gastroesophageal adenocarcinoma cancer (HERIZON-GEA-01)
Cancer
Zymeworks
BeiGene
Zolbetuximab
iMAB362, Claudiximab, GC-182
Claudin-18.2
Chimeric mAb
Monospecific
IgG1
kappa
-
Phase 3
Gastric and gastro-esophageal junction adenocarcinoma (NCT03504397, NCT03653507)
Cancer
Astellas
AFM13
CD30, CD16A
Human mAb; TandAb (tetravalent bispecific molecule comprising antibody variable domains with two binding sites for each antigen)
Bispecific; Tetravalent
-
-
Phase 2 (pivotal)
Peripheral T-cell lymphoma or transformed mycosis fungoides (NCT04101331)
Cancer
Affimed
ANX005
Complement C1q
Humanized mAb
Monospecific
IgG4
Phase 2/3
Guillain-Barré syndrome (NCT04701164)
Cardiovascular / hemostasis
Annexon Biosciences
ARX788
HER2
Humanized mAb
Monospecific
IgG1
Amberstatin 269 (Auroxime)
Phase 2 (pivotal), Phase 2/3, Phase 3
Breast cancer (NCT04829604, ACE-Breast-02 (China)); Gastric cancer (ACE-Gastric-02 (China))
Cancer
Ambrx
NovoCodex Biopharmaceuticals Co. Ltd, Zhejiang Medicine Co. Ltd
Litifilimab
BIIB059
Blood dendritic cell antigen 2 (CD303; CLEC4C)
Humanized mAb
Monospecific
IgG1
kappa
Phase 3
Systemic lupus erythematosus (NCT04961567, NCT04895241)
Immune-mediated disorders
Biogen
CBT-502, TQB2450, APL-502
PD-L1
Humanized mAb
Monospecific
IgG1
Fc silenced
Phase 3
Renal cancer (NCT04523272); Non-small cell lung cancer (NCT04325763, NCT04964479); Squamous cell carcinoma of the head and neck (NCT03855384); Biliary cancer (NCT04809142)
Cancer
CBT Pharmaceuticals, Inc
Chia Tai Tianqing Pharmaceutical Group Co., Ltd.
IBI310
CTLA-4
Humanized mAb
Monospecific
IgG1
Phase 3
Melanoma (NCT04277663); Hepatocellular carcinoma (NCT04720716)
Cancer
Innovent Biologics, Inc
INBRX-109
DR5
Humanized mAb; sdAb (heavy chain only antibodies) fused to Fc
Monospecific; Tetravalent
IgG1
Fc silenced
Phase 2 (potentially pivotal)
Chondrosarcoma (NCT04950075)
Cancer
Inhibrx, Inc.
JY-025
VEGFR2
Human mAb
Monospecific
Phase 2/3 pending
Non-small cell lung cancer (NCT04874844 (not yet recruiting))
Cancer
Beijing Dongfang Biotech Co., Ltd.
MIL62
CD20
Humanized mAb
Monospecific
IgG1
kappa
Afucosylated
Phase 3
Follicular lymphoma and marginal zone lymphoma (NCT04834024)
Cancer
Beijing Mabworks Biotech Co., Ltd.
Clesrovimab
MK-1654
RSV fusion protein
Human mAb
Monospecific
IgG1
kappa
M252Y, S254T, T256E (half life extension)
Phase 2/3 and Phase 3
Reduction in incidence of respiratory syncytial virus infection (NCT04767373, NCT04938830)
Infectious disease
Merck Sharp & Dohme Corp.
NIS793, XOMA-089
TGF beta 1 and 2
Human mAb
Monospecific
IgG2
Phase 3
Pancreatic ductal adenocarcinoma (NCT04935359)
Cancer
XOMA Corporation
Novartis
NNC0365-3769, Mim8
FIXa, FX
Human mAb
Bispecific
IgG4
Phase 3
Hemophilia A with or without inhibitors (NCT05053139)
Cardiovascular / hemostasis
Novo Nordisk A/S
QL1604
PD-1
mAb
Monospecific
Phase 2/3
Cervical cancer (NCT04864782)
Cancer
Qilu Pharmaceutical Co., Ltd.
REGN1908-1909
Fel d 1
Mixture of 2 human mAbs
Two monospecific mAbs
IgG4
S228P (hinge stabilizing)
Phase 3
Cat allergy (NCT04981717)
Immune-mediated disorders
Regeneron
Linvoseltamab
REGN5458
BCMA, CD3
Human mAb
Bispecific
IgG4; Hetero H, cL
Hetero HH: WT x H435R-Y436F (limits binding to Protein A, purification);
HL-pairing: cL; both chains: E233P, F234V, L235A, G236del
(Fc-silencing)
Phase 2 (potentially pivotal)
Multiple myeloma (NCT03761108)
Cancer
Regeneron
REGN5713-5714-5715
Bet v1
Mixture of 3 human mAbs
Three monospecific antibodies against three different epitopes
IgG4
kappa
S228P (hinge stabilizing)
Phase 3
Seasonal allergic rhinitis (NCT04709575)
Immune-mediated disorders
Regeneron
RO7204239, GYM329, RG6237
Myostatin
Humanized mAb
Monospecific
IgG1
Specific mutations not found; engineered for selective and enhanced binding to the human
FcγRIIb and for stronger affinity to FcRn in acidic pH conditions
Phase 2/3
Spinal muscular atrophy (NCT05115110)
Musculoskeletal disorders
Chugai
Roche
Retlirafusp alfa
SHR-1701
PD-L1, TGF-β
Antibody-receptor fusion
Bispecific
IgG4
kappa
Extracellular domain of human TGF-β receptor II
S228P (hinge-stabilization)
Phase 2/3; Phase 3
Colorectal cancer (NCT04856787); Gastric or gastroesophageal junction cancer (NCT04950322); Non-small cell lung cancer (NCT05132413 (not yet recruiting))
Cancer
Jiangsu HengRui Medicine Co., Ltd.
Suzhou Suncadia Biopharmaceuticals Co., Ltd.
Izalontamab
SI-B001
EGFR, HER3
IgG-(scFv)2
Bispecific
Phase 2/3
Non-small cell lung cancer (NCT05020457, NCT05020769)
Cancer
Biokin
Sichuan Baili Pharmaceutical Co. Ltd, SystImmune Inc.
Suciraslimab
SM03
CD22
Chimeric mAb
Monospecific
IgG1
kappa
Phase 3
Rheumatoid arthritis (NCT04312815)
Immune-mediated disorders
Shenzhen Lonn Ryonn
SinoMab BioScience Limited 
Semzuvolimab
UB-421, dB4C7
CD4
Humanized mAb
Monospecific
IgG1
kappa
N297H (Fc-aglycosylated to remove Fc effector function)
Phase 3
HIV infection (NCT04406727, NCT03149211 (not yet recruiting))
Infectious disease
United Biopharma
Nadunolimab
CAN04
IL1 Receptor Accessory Protein
Humanized mAb
Monospecific
IgG1
kappa
Phase 2/3 pending
Pancreatic cancer (NCT04229004)
Cancer
Cantargia AB
Pancreatic Cancer Action Network
Crexavibart and ogalvibart
C144-LS and C-135-LS
SARS-CoV-2
Mixture of 2 mAbs
Two monospecific antibodies
IgG1
M428L/N434S (extends half-life)
Phase 2/3
COVID-19/SARS-CoV-2 infection (NCT04518410)
Infectious disease
Bristol-Myers Squibb
Rockefeller University
MW33, 9MW3311, ABP-300
SARS-CoV-2
Human mAb
Monospecific
IgG1
kappa
L234A/L235A (impair Fc effector functions)
Phase 2/3
COVID-19/SARS-CoV-2 infection
Infectious disease
Mabwell (Shanghai) Bioscience Co., Ltd.
Abpro Corporation
Adintrevimab
ADG20
SARS-CoV-2
Human mAb
Monospecific
IgG1
lambda2
M428L/N434A (extend half-life)

Phase 2/3
COVID-19/SARS-CoV-2 infection (NCT04859517, NCT04805671)
Infectious disease
Adagio
Upanovimab
SCTA01, monotherapy and in combination with SCTA01C
SARS-CoV-2
Humanized mAb
Monospecific
IgG1
kappa
L234A/L235A (impair Fc effector functions)

Phase 2/3
COVID-19/SARS-CoV-2 infection (NCT04644185)
Infectious disease
Sinocelltech Ltd.
MAD0004J08
SARS-CoV-2
Human mAb
Monospecific
IgG1
M428L /N434S (extends half-life) L234A/L235A/P329G (impair Fc effector functions)
Phase 2/3
COVID-19/SARS-CoV-2 infection (NCT04952805)
Infectious disease
Toscana Life Sciences Sviluppo s.r.l.
ADM03820 (COV2-2130-YTE-LALA + COV2-2381-YTE124 LALA)
SARS-CoV-2
Mixture of 2 human mAbs
Two monospecific antibodies
IgG1
M252Y/S254T/T256E (extends half-life); L234A/L235A (reduces Fc effector functions)
Phase 2/3 pending
COVID-19/SARS-CoV-2 infection (NCT05142527)
Infectious disease
Ology Bioservices / Evotec
TY027
SARS-CoV-2
Human mAb
Monospecific
IgG
Phase 3
COVID-19/SARS-CoV-2 infection (NCT04649515)
Infectious disease
Tychan
Vilobelimab
BDB-001, IFX-1, CaCP29
Complement 5a
Chimeric mAb
Monospecific
IgG4
kappa
Phase 3
Hidradenitis suppurativa; COVID-19 (NCT04449588)
Hemostasis
Inflarx
Staidson (Beijing) Biopharmaceuticals Co., Ltd
Lenzilumab
GM-CSF
Human mAb
Monospecific
IgG1
kappa
Phase 3
COVID-19 pneumonia (NCT04351152, NCT04583969)
Respiratory
Humanigen
Plonmarlimab
TJ003234, TJM2
GM-CSF
Humanized mAb
Monospecific
IgG1
kappa
Phase 2/3
COVID-19-related cytokine release syndrome (NCT04341116)
Infectious disease
I-Mab Biopharma Co. Ltd.
Glenzocimab
ACT017
Glycoprotein VI on platelets
Humanized Fab
Monospecific
IgG1
kappa
Phase 2/3
Acute ischemic stroke (NCT05070260)
Cardiovascular disease
Acticor Biotech
Paridiprubart
EB05, NI-0101
Toll-like receptor 4
Humanized mAb
Monospecific
IgG1
kappa
Phase 2/3
COVID-19-related acute respiratory distress syndrome (NCT04401475)
Respiratory
NovImmune SA
Edesa Biotech
HP6H8, meplazumab
CD147
Humanized mAb
Monospecific
IgG2
Phase 2/3
COVID-19
Infectious disease
Jiangsu Pacific Meinuoke Bio Pharmaceutical Co Ltd
E2814
Tau
Humanized mAb
Monospecific
IgG1
Phase 2/3
Dominantly inherited Alzheimer's Disease (NCT05269394)
Neurological disorders
Eisai Co., Ltd.
Ebronucimab
AK102
PCSK9
Human mAb
Monospecific
IgG1
lambda2
Phase 3
Primary hypercholesterolemia and mixed hyperlipidemia (NCT05255094, NCT05260411)
Cardiovascular/hemostasis
Akesobio Australia Pty Ltd
Dawnrays Pharmaceutical (Holdings) Limited
Imsidolimab
ANB019
IL-36R
Humanized mAb
Monospecific
IgG4
kappa
Phase 3
Generalized pustular psoriasis (GEMINI-1)
Immune-mediated disorders
AnaptysBio, Inc.
Ivuxolimab
PF-04518600
OX40
Human mAb
Monospecific
IgG2
kappa
Phase 3
Advanced malignancies (NCT05059522)
Cancer
Pfizer Inc.
Oleclumab
MEDI9447
CD73
Human mAb
Monospecific
IgG1
lambda1
Phase 3
Non-small cell lung cancer (NCT05221840)
Cancer
AstraZeneca
Patritumab deruxtecan
U3-1402
HER3
Human mAb
Monospecific
IgG1
kappa
DXd/DX-8951
Phase 3
Epidermal growth factor receptor-mutated non-small cell lung cancer (NCT05338970)
Cancer
Daiichi Sankyo Co., Ltd
Ziltivekimab
COR-001
IL-6
Human mAb
Monospecific
IgG1
kappa
Phase 3
Atherosclerotic cardiovascular disease, chronic kidney disease (NCT05021835)
Cardiovascular/hemostasis
AstraZeneca
Novo Nordisk A/S
CM310
IL-4Rα
Humanized mAb
Monospecific
Phase 3 pending
Atopic dermatitis (NCT05265923 pending)
Immune-mediated disorders
Keymed Biosciences Co.Ltd
CT-P63 and CT-P61
SARS-CoV-2 spike protein
mAb
Mixture of 2 monospecific mAbs
Phase 3 pending
COVID-19 (NCT05224856 pending)
Infectious disease
Celltrion
Fianlimab
REGN3767
LAG-3
Human mAb
Monospecific
IgG4
kappa
Hinge-stabilized
Phase 3 pending
Melanoma (NCT05352672 pending)
Cancer
Regeneron Pharmaceuticals
Sanofi
Futuximab+modotuximab
SYM004
EGFR
Chimeric mAbs
Mixture of 2 monospecific mAbs
IgG1
kappa
Phase 3 pending
Colorectal cancer (NCT05223673 pending)
Cancer
Institut de Recherches Internationales Servier
Suvratoxumab
AR-320, MEDI4893
Staphylococcus aureus alpha toxin
Human mAb
Monospecific
IgG1
kappa
YTE mutations
Phase 3 pending
Ventilator Associated Pneumonia caused by Staph aureus (NCT05331885 pending)
Infectious disease
AstraZeneca
Aridis
Tagitanlimab
A167, KL-A167, KLA-167, HBM9167
PD-L1
Humanized mAb
Monospecific
IgG1
kappa
Phase 3 pending
Nasopharyngeal carcinoma (NCT05294172 pending)
Cancer
Sichuan Kelun Pharmaceutical Research Institute Co., Ltd.
Klus Pharma, Harbour BioMed
Upifitamab rilsodotin
XMT-1536
NaPi2b
Humanized mAb
Monospecific
IgG1
kappa
Auristatin F-hydroxypropylamide
Phase 3 pending
Ovarian cancer (NCT05329545 pending)
Cancer
Mersana Therapeutics