---
Upcoming Webinars
---
---
---

New webinars are coming soon!

As a service to the scientific community, all our webinars are free. 
---
---
On Demand Webinars
---
Speaker: Alicia Chenoweth, PhD, Research Associate, St. John's Institute of Dermatology, King's College London
Broadcast date: July 8, 2021
Monoclonal antibodies have become one of the most clinical successful therapeutic agents against a range of diseases, including cancer, autoimmune diseases, and most recently SARS-CoV-2. Although engagement of the antigen via the variable Fab portion of the antibody is essential, the function of many therapeutic antibodies also depends, to varying degrees, on the hinge and Fc portion of the antibody and the interaction with receptors on effector cells. Antibody subclass choice is crucial for optimal function and safety of therapeutic antibodies as the functional profile of each subclass differs greatly. Targeted modification of the Fc region and its associated glycan is also a potent and effective approach to tailor the therapeutic function of antibodies for the disease of choice, by improving or reducing the immune cell-associated effector functions and altering the circulating half-life of the antibody. One advantage of these Fc modifications is that they can be easily transferred to antibodies of any target, and so development of novel antibodies against a wide range of diseases have benefited from the modifications previously developed and characterized for different indications.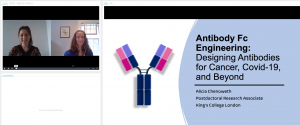 ---
---
Speakers: Drs. Debby Kruijsen and Ilse Roodink, ImmunoPrecise Europe
Broadcast date: June 17, 2021
Whereas vaccines significantly contribute to halting transmission of SARS-CoV-2, they are not universally effective. Therapeutic antibodies can fill this gap to efficiently combat SARS-CoV-2. Obviously, long-lasting efficacy of anti-viral approaches heavily depends on the ability to protect against virus variants. As a multi-targeting strategy reduces the risk of mutagenic escape, we have isolated a diversified pool of anti-spike protein antibodies by leveraging our expertise to generate antibody libraries across multiple discovery platforms in different species, to eventually formulate a sensible therapeutic cocktail. A broad range of in vitro characterizations was applied to gain early insight into the epitope landscape and functional characteristics as well as developability profiles. This comprehensive, high-throughput characterization of the obtained lead candidate pool guided the rational combination of high value antibodies into multi-membered cocktails that unlock synergistic effects, significantly boosting neutralization potency in vitro. To accelerate further clinical development of our prioritized antibody cocktails, 2 individual components were subjected to in silico modeling-guided light molecular optimization to minimize liabilities, while in parallel, in vivo efficacy evaluation in a hamster challenge model validated efficient prevention and treatment of SARS-CoV-2 infection following administration of our prioritized antibody cocktails. Although we anticipate that a multi-targeting strategy is the best solution to reduce mutagenic risk escape, we continuously analyze binding of the antibodies of our lead pool for reactivity towards emerging SARS-CoV-2 variants empirically. To date, we screened our prioritized antibody cocktails towards spike protein of the S. African (B.1.351 lineage), Brazilian (P.1 lineage), UK (B.1.1.7 lineage), New York (B.1.526 lineage) and Californian (B.1.429 lineage) strains and confirmed retained binding. Our pandemic preparedness is further strengthened by the readily accessible, diverse pool of antibodies that we generated, which provides enormous possibilities for plug-and-play cocktails to address future SARS-CoV-2 variants.  
---
---
Speaker: Brian Kelley, VIR Biotechnology
Broadcast date: May 20, 2021
Accelerating the timeline from biopharmaceutical discovery to clinical evaluation has long been a focus for industry. For potentially life-saving therapies, the earliest clinical testing enables accelerated pivotal trials and maximum patient benefit. In 2020, novel discovery and development strategies have rapidly evaluated antibodies for passive immunization or treatment of COVID-19, employing CMC timelines from lead identification to clinic cut in half. These strategies combine the latest advances in established platforms with acceptance of higher business risk or costs, while ensuring no increased patient risk. But speed to clinic for COVID-19 antibody therapies must be matched by speed to launch and immediate ramp-up in supply to realize a meaningful impact on the global pandemic. Parallel workflows must be initiated at the onset for process and product development as well as cGMP manufacturing. The initial focus on speed to clinic complements a slower approach to development of the most productive commercial cell line, efficient manufacturing process and optimal drug product configuration. Rapid production of initial clinical material followed by pivotal and commercial production arising from cell line, process and formulation optimization emphasizes the importance of product comparability, structure/function knowledge and appropriate control strategies. Meanwhile, scale-up and technology transfer to large manufacturing facilities starts before the first patient is dosed. These strategies impact the program's technical and regulatory risk profiles, staff and capital resourcing, and set up trade-offs in multiple areas. This case study describes the development history of a COVID-19 antibody, reviewing CMC milestones from lead identification to preparation of the commercial license application as well as plans for post-licensure opportunities, all in one year.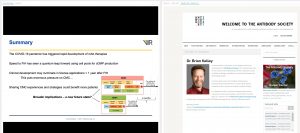 ---
---
Speaker: Dr. John McCafferty, IONTAS
Broadcast date: March 18, 2021
In this webinar, Dr. John McCafferty presents results from the deep-mining of the antibody repertoires of hospitalized COVID-19 patients using a combination of phage display technology and B cell receptor repertoire sequencing to isolate neutralizing antibodies and gain insights into the early antibody response. This comprehensive discovery approach yielded potent neutralizing antibodies with distinct mechanisms of action. In particular, a novel non-ACE2 receptor blocking antibody that is not expected to be affected by any of the major viral variants reported was identified. Potent neutralizing antibodies with near germline sequences within both the IgG and IgM pools at early stages of infection were also found. The study results highlight a highly convergent antibody response with the same sequences occurring both within this patient group and within the responses described in previously published anti-SARS-CoV-2 antibody studies.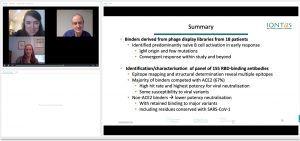 ---
Speaker: Dr. André Frenzel, YUMAB/CORAT Therapeutics
Broadcast date: February 18, 2021
The SARS-CoV-2 pandemic has spread all over the world in the past year and there is still no efficient treatment available for COVID-19, particularly for patients undergoing severe courses, which often lead to fatal consequences. Antiviral drugs such as virus-neutralizing antibody therapeutics are still urgently needed to save millions of lives. Corat Therapeutics developed a novel SARS-CoV-2 neutralizing, fully human antibody derived from convalescent patients. Ultra-fast development strategies shortened timelines from discovery to GMP manufactured material to less than 8 months. This was possible by parallelizing discovery and development steps, as well as performing crucial steps on risk. First-in-human studies were recently initiated. This webinar gives an overview of the challenges faced during discovery and development of the lead antibody, COR-101.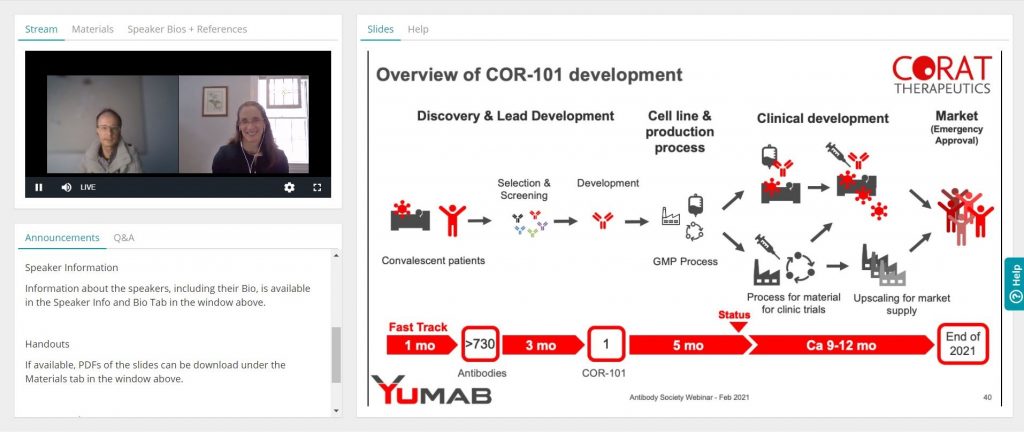 ---
---
Speakers: Drs. Andrew Bradbury and M. Frank Erasmus, Specifica
Broadcast date: January 21, 2021
The Specifica Generation 3 platform is able to generate 500-5000 different antibody clonotypes against targets of interest, with over 80% of selected antibodies having no measurable biophysical liabilities and 20% having subnanomolar affinities. The most common approach to selecting antibodies from display technologies involves low-throughput random colony screening. However, this misses many potential therapeutic leads, particularly when diversity is high. Specifica uses next generation sequencing (NGS) to build its libraries as well as characterize selection outputs. In order to fully exploit the universe of selectable antibodies, Specifica has developed a cloud-based software platform, designed exclusively for antibody engineers and bioinformaticians, to enable a streamlined identification of leads with broad epitope coverage. Application of this to selection outputs has increased the number of clonotype leads by five to ten fold over random colony screening, significantly expanding the explorable paratope space.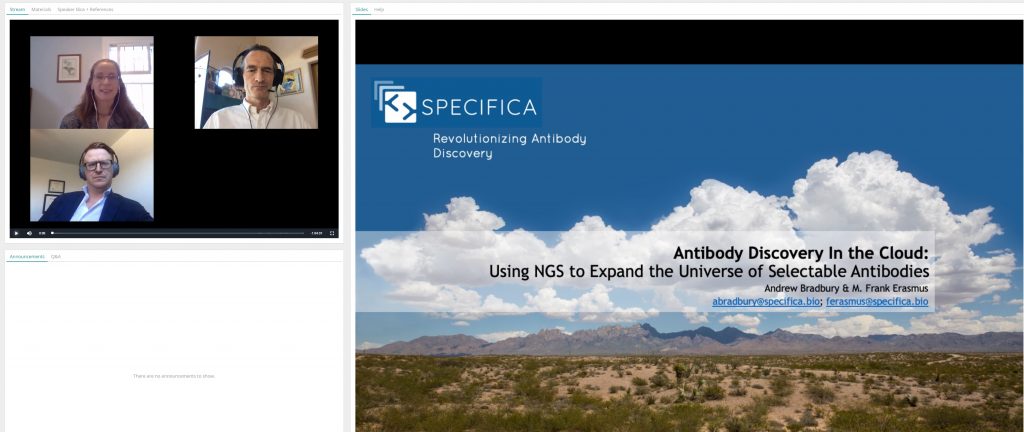 All Antibody Society webinars are open access, and can be viewed for free.