---
---
Upcoming Webinars
---
---

Thursday October 26th at 11am ET/5pm CET
The SpyTag/SpyCatcher protein ligation technology is a versatile method to covalently link two proteins. Addition of the SpyTag protein ligation technology to antibodies creates a modular platform that offers a wide range of new opportunities. In this webinar Dr. Ylera will demonstrate the use of Spytagged antibodies in combination with prefabricated SpyCatcher modules for rapid site-specific labeling, as well as changing antibody valency, species and isotype. Furthermore, Dr. Ylera will present the use of SpyTag for antibody phage display selection (SpyDisplay) and for the generation of prototype bispecific antibodies. The work presented illustrates how these technologies work hand in hand for the generation of new therapeutic lead candidates.
Speaker: Francisco Ylera, PhD, Bio-Rad
Francisco Ylera is the head of the R&D team that generated the Pioneer Antibody Discovery Platform. He has been with Bio-Rad for over 18 years. Francisco has worked on customer antibody generation projects, and has been involved with designs selection, antibody characterization, and technical support, as well as method optimizations. Francisco holds a diploma in chemistry from RWTH Aachen University, Germany, and a Ph.D. in Biochemistry from the Free University Berlin, Germany. After his Ph.D., he did a postdoc at the Harvard Institute of Medicine, Boston, USA
---
---
Thursday November 9, 2023 11am ET/5pm CET
​Strategies for Mitigating the Unpredictability of Fc-Mediated Functions ​in Antibody Development
Optimization of Fc function can lead to the development of safer and more efficacious therapeutic antibody products, but analyses of Fc function may be underexploited in the antibody design process. We introduce a high-throughput platform for antigen-specific testing of Fc effector activities, empowering enhanced hit-to-lead screening in early stages of antibody development for the treatment of cancer, autoimmunity, neurodegeneration, and infectious diseases.
Speaker: Lenny Moise, PhD, VP Research, SeromYx Systems
Dr. Lenny Moise, VP Research, oversees the scientific development of the SeromYx Systems Serology platform, driving clinical research and drug discovery in infectious disease, immuno-oncology, autoimmunity, and neurology. Previously, as Director of Vaccine Research at EpiVax, he harnessed immunoinformatics to design innovative vaccines leveraging T cell immunity for viral and bacterial infectious diseases and cancer. Over that time, he studied T cell responses to vaccines and developed immunoinformatic tools as a faculty member at the Institute for Immunology and Informatics (University of Rhode Island) and the Center for Vaccines and Immunology (University of Georgia). Lenny trained in structure-function analysis of snake toxin-ion channel interactions using structural, biochemical, and electrophysiological methods and holds a Bachelor of Science and a doctorate from Brown University.
---
Note: The webinar platform and registration process is managed by Community Brands.
Their privacy policy is here.
---
---
On Demand Webinars
Selected webinars can also be found on our YouTube channel
---
---
Speaker: Dr. Long Xu, Director, R&D, Biointron
Broadcast date: September 26, 2023 
The development of antibody drugs has greatly depended on the establishment of new technologies and platforms, which are also the key factors that have led to the great success in the development of antibody drugs in the last three decades. Antibodies have a pivotal role in the biopharmaceutical field, but antibody discovery has been constrained by a series of bottlenecks, such as time-consuming and inefficient screening process, poor tissue permeability, difficulties in modular application, and immunogenicity. This talk presents new solutions to these challenges through complete case studies, from antibody discovery to functional assays, antibody optimization, and up to application, using VHH antibody as an example. These case studies will show how new technologies and platforms can be applied to solve common problems in antibody discovery.
---
---
Speaker: Ed Horton Ph.D. Chief Commercial Officer
Broadcast date: August 3, 2023 
Not every antibody can be combined to produce well-behaved multi-specifics. The valency and geometry of each design can determine the production, target engagement and ultimately the requisite biological functions. In this case study, we selected two established antibody therapeutics, trastuzumab and a humanized OKT3 to produce 17 different bispecific formats to compare the feasibility of each format.
---
---

Speaker: Brandon DeKosky, Assistant Professor in the Department of Chemical Engineering at MIT and a Core Member of the Ragon Institute of MGH, Harvard, and MIT
Broadcast date: January 26, 2023
Mapping the molecular features of antibody immune responses has remained a challenge for many years, partly due to the high genetic diversity that is encoded by millions of single immune cells. This presentation summarizes the past several years of progress we have made in large-scale sequencing and functional screening of antibody immune libraries. We will also share unpublished data and recent advances for antibody discovery in complex cell populations and against difficult disease targets.
---
---
Broadcast date: October 20, 2022
Abstract: The large size and complexity of biologic molecules creates unique sets of safety, efficacy, and developability hurdles that have to be overcome in order to bring biotherapeutics to market.  This webinar will provide an overview of computational modeling strategies for antibody design. The presentation will describe how calculated properties derived from physics-based 3D structural analyses and simulation are applied to not only predict binding affinity, but also identify and mitigate potential liabilities in the development of antibody-based biotherapeutics. Such computational modeling efforts can contribute to significant reductions in project costs and timelines by directing experimental focus toward the most promising candidates.
---
---

Broadcast date: August 18, 2022
Biolayer interferometry (BLI) is gaining popularity for protein and small molecule quantitation and kinetics research. The new advancements in biosensors, ease of use, reproducibility and low cost is driving its adoption. Even though BLI is one of the easiest of the tools, as with many other techniques, getting the best data depends on optimization of some key experimental factors. This webinar will discuss the best practices in BLI and result of such implementation by way of an example of screening of a broadly neutralizing antibody of snake venoms.
Snake envenomation results in over 100,000 deaths and 300,000 permanent disabilities in humans annually. Contemporary antivenoms are produced from the polyclonal serum of venom-immunized livestock and are specific to a single or narrow genetic range of related snakes. Could a broadly neutralizing monoclonal antibody, or a cocktail of a few broad components, provide protection from diverse snake venoms? Centi-3FTX-D09, originating from the B-cell memory of a human subject with an extensive history of diverse snake venom exposure, recognized a conserved neutralizing epitope of 3-finger toxins (3FTXs), a dominant snake neurotoxin. Four crystal structures of Centi-3FTX-D09 in complex with 3FTXs from mamba, taipan, krait, and cobra revealed the mechanism of broad neutralization to be epitope mimicry of the interface between these neurotoxins and their native host target, the nicotinic acetylcholine receptor. Centi-3FTX-D09 provided in-vivo protection against diverse 3FTXs and, in combination with the phospholipase inhibitor varespladib, protection against whole venom challenge for diverse, genetically distinct, elapid species.
---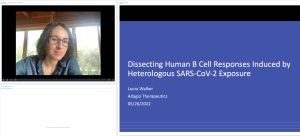 Broadcast date: May 26, 2022
Understanding immune responses following severe acute respiratory syndrome coronavirus 2 (SARS-CoV-2) breakthrough infection will facilitate the development of next-generation vaccines. Towards this end, Dr. Walker and her colleagues profiled spike (S)-specific B cell responses following Omicron/BA.1 infection in mRNA-vaccinated donors. The acute antibody response was characterized by high levels of somatic hypermutation and a bias toward recognition of ancestral SARS-CoV-2 strains, suggesting the early activation of vaccine-induced memory B cells. BA.1 breakthrough infection induced a shift in B cell immunodominance hierarchy from the S2 subunit toward the receptor binding domain (RBD). A large proportion of RBD-directed neutralizing antibodies isolated from BA.1 breakthrough infection donors displayed convergent sequence features and broadly recognized SARS-CoV-2 variants of concern. Dr. Walker will discuss these findings, which provide insights into the role of pre-existing immunity in shaping the B cell response to heterologous SARS-CoV-2 variant exposure.  
---
---
Broadcast date: April 28, 2022
Antibodies are nature's pro-drugs, wonderfully evolved to target pathogens and activate immune systems. For certain indications where ADCC or CDC are required this is ideal, but for many other applications activation of inflammatory responses is unnecessary and potentially highly undesirable. In these situations silenced antibodies with either naturally low effector function or engineered Fc domains are the preferred option. However, many of the commonly used options in the clinic, such as IgG4, LALA or aglycosylation, are widely reported to still have residual Fc receptor binding and cytokine activation in patients.
This presentation will describe the first thorough comparison of most of the generic and proprietary Fc silencing mutations, demonstrating that all previously reported variants show residual binding to Fc receptors. It will also describe the discovery of a novel set of mutations, known as STR, that show no detectable binding to Fcγ receptors and do not elicit inflammatory cytokine responses. Meanwhile, immunogenicity, stability and PK are unaffected. This totally silenced variant has the potential to improve the safety and efficacy of therapeutic antibodies and Fc fusion proteins.
---
---

Precision Execution of Bispecifics at Scale from Design to Delivery
Broadcast date: April 7, 2022
Novel therapeutic modalities such as bispecific antibodies are increasingly being explored as more effective alternatives to monoclonal antibodies for a range of diseases. Therapeutics such as bispecifics, can have a combinatorial effect by targeting two antigens,  resulting in treatments with enhanced utility, higher efficacy, fewer side effects and less resistance compared to mAbs.
Generating a bispecific antibody, which is correctly and stably paired, is a major production concern. Many solutions require significant changes to native antibody structure, which increases antibody complexity and forces adaptation of downstream processes. While a various platforms have been developed to mitigate Heavy-Light chain (HC-LC) mispairing, there are many other rate limiting steps for efficiently expressing these molecules in a CHO system. bYlok® technology is a design engineering approach that stabilise the interaction between the HC and LC, essentially removing the mispairing problem whilst retaining a more natural antibody structure.
This presentation will introduce you to a mechanistic review of the bispecific pipeline to demonstrate how a various tools and technologies can enable you execute bispecifics.  Case studies will be presented to show how the bYlok® technology can be used to stabilise and select for novel bispecifics from a panel of parental immunotherapeutic mAbs. Our data demonstrates that correct heterodimerisation can be achieved consistently and how standard downstream purification processes can be used during production.  
---
---

Speakers: Monica Fernández-Quintero, PhD, and Klaus R. Liedl, PhD, JD  
Broadcast date: January 27, 2022

Modeling in Chemistry obviously depends on a strong link to reality. Even though the mathematical description of chemistry has been possible for almost 100 years, realistic modelling has only recently become available due to the massive increase of computing power following Moore's law. Still, appropriate statistics, initial conditions and boundaries pose considerable challenges. Nowadays, methodological advances and progress in hardware allows the observation of biological systems for relevant time periods. Hence, dynamic processes like reorientations, folding and binding can be seen in atomistic resolution leading to completely new insights.
Describing an antibody's binding site using only one single static structure limits the understanding and characterization of the antibody's function and properties, whereas various biophysical properties are governed by its dynamics, e.g., antibody-antigen binding. This limitation is even more pronounced when no experimentally determined structure is available or the crystal structure is distorted by packing effects, which can result in misleading antibody paratope structures. To improve antibody structure prediction and to take the strongly correlated CDR loop and interface movements into account, antibody paratopes should be described as interconverting states in solution with varying probabilities. These kinetically characterized paratope ensembles with their respective state probabilities allow the identification of the dominant conformation in solution, which frequently has been shown to coincide with the binding competent conformation. Therefore, the definition of kinetically and functionally relevant states, so-called paratope states, can be successfully used to improve the accuracy and enhance the predictivity of antibody-antigen docking.
---

Innovations from the therapeutics antibody space: obligate bispecific antibodies & T cell engagers
Speaker: Paul W.H.I. Parren, PhD
Broadcast date: October 21, 2021
Landmark advances in the engineering and development of bispecific antibodies bsAbs are enabling unprecedented innovation and versatility in therapeutic antibody concepts. A defining bsAb feature is their potential for novel functionalities — that is, activities that do not exist in mixtures of the parental or reference antibodies. These so-called obligate bsAb are having a tremendous impact and potential in current and future drug development.
Bispecific engagers that target and activate effector cells, most commonly T cells, represent about 50% of bispecific antibodies in development. Here, next generation bispecific T cell engagers (bsTCEs) with a widened therapeutic window characterized by high potency and high tumor selectivity have strong potential for the treatment of both hematological as well as solid cancers. Lava Therapeutics is developing products building on a platform to conditionally and selectively recruit Vγ9Vδ2 T cells for eradicating tumor cells. This γδ T cell subset has been shown to display powerful anti-tumor immune effector activity, to preferentially kill tumor cells relative to normal cells and has a demonstrated ability to infiltrate human tumors. LAVA's γδ bsTCEs designed to target and engage Vγ9Vδ2-T cells for the development of novel cancer immunotherapies will be discussed.
---
Speaker: Alicia Chenoweth, PhD, Research Associate, St. John's Institute of Dermatology, King's College London
Broadcast date: July 8, 2021
Monoclonal antibodies have become one of the most clinical successful therapeutic agents against a range of diseases, including cancer, autoimmune diseases, and most recently SARS-CoV-2. Although engagement of the antigen via the variable Fab portion of the antibody is essential, the function of many therapeutic antibodies also depends, to varying degrees, on the hinge and Fc portion of the antibody and the interaction with receptors on effector cells. Antibody subclass choice is crucial for optimal function and safety of therapeutic antibodies as the functional profile of each subclass differs greatly. Targeted modification of the Fc region and its associated glycan is also a potent and effective approach to tailor the therapeutic function of antibodies for the disease of choice, by improving or reducing the immune cell-associated effector functions and altering the circulating half-life of the antibody. One advantage of these Fc modifications is that they can be easily transferred to antibodies of any target, and so development of novel antibodies against a wide range of diseases have benefited from the modifications previously developed and characterized for different indications.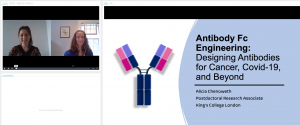 ---
---
Speakers: Drs. Debby Kruijsen and Ilse Roodink, ImmunoPrecise Europe
Broadcast date: June 17, 2021
Whereas vaccines significantly contribute to halting transmission of SARS-CoV-2, they are not universally effective. Therapeutic antibodies can fill this gap to efficiently combat SARS-CoV-2. Obviously, long-lasting efficacy of anti-viral approaches heavily depends on the ability to protect against virus variants. As a multi-targeting strategy reduces the risk of mutagenic escape, we have isolated a diversified pool of anti-spike protein antibodies by leveraging our expertise to generate antibody libraries across multiple discovery platforms in different species, to eventually formulate a sensible therapeutic cocktail. A broad range of in vitro characterizations was applied to gain early insight into the epitope landscape and functional characteristics as well as developability profiles. This comprehensive, high-throughput characterization of the obtained lead candidate pool guided the rational combination of high value antibodies into multi-membered cocktails that unlock synergistic effects, significantly boosting neutralization potency in vitro. To accelerate further clinical development of our prioritized antibody cocktails, 2 individual components were subjected to in silico modeling-guided light molecular optimization to minimize liabilities, while in parallel, in vivo efficacy evaluation in a hamster challenge model validated efficient prevention and treatment of SARS-CoV-2 infection following administration of our prioritized antibody cocktails. Although we anticipate that a multi-targeting strategy is the best solution to reduce mutagenic risk escape, we continuously analyze binding of the antibodies of our lead pool for reactivity towards emerging SARS-CoV-2 variants empirically. To date, we screened our prioritized antibody cocktails towards spike protein of the S. African (B.1.351 lineage), Brazilian (P.1 lineage), UK (B.1.1.7 lineage), New York (B.1.526 lineage) and Californian (B.1.429 lineage) strains and confirmed retained binding. Our pandemic preparedness is further strengthened by the readily accessible, diverse pool of antibodies that we generated, which provides enormous possibilities for plug-and-play cocktails to address future SARS-CoV-2 variants.  
---
---
Speaker: Brian Kelley, VIR Biotechnology
Broadcast date: May 20, 2021
Accelerating the timeline from biopharmaceutical discovery to clinical evaluation has long been a focus for industry. For potentially life-saving therapies, the earliest clinical testing enables accelerated pivotal trials and maximum patient benefit. In 2020, novel discovery and development strategies have rapidly evaluated antibodies for passive immunization or treatment of COVID-19, employing CMC timelines from lead identification to clinic cut in half. These strategies combine the latest advances in established platforms with acceptance of higher business risk or costs, while ensuring no increased patient risk. But speed to clinic for COVID-19 antibody therapies must be matched by speed to launch and immediate ramp-up in supply to realize a meaningful impact on the global pandemic. Parallel workflows must be initiated at the onset for process and product development as well as cGMP manufacturing. The initial focus on speed to clinic complements a slower approach to development of the most productive commercial cell line, efficient manufacturing process and optimal drug product configuration. Rapid production of initial clinical material followed by pivotal and commercial production arising from cell line, process and formulation optimization emphasizes the importance of product comparability, structure/function knowledge and appropriate control strategies. Meanwhile, scale-up and technology transfer to large manufacturing facilities starts before the first patient is dosed. These strategies impact the program's technical and regulatory risk profiles, staff and capital resourcing, and set up trade-offs in multiple areas. This case study describes the development history of a COVID-19 antibody, reviewing CMC milestones from lead identification to preparation of the commercial license application as well as plans for post-licensure opportunities, all in one year.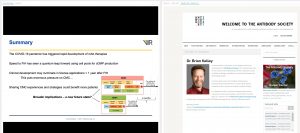 ---
---
Speaker: Dr. John McCafferty, IONTAS
Broadcast date: March 18, 2021
In this webinar, Dr. John McCafferty presents results from the deep-mining of the antibody repertoires of hospitalized COVID-19 patients using a combination of phage display technology and B cell receptor repertoire sequencing to isolate neutralizing antibodies and gain insights into the early antibody response. This comprehensive discovery approach yielded potent neutralizing antibodies with distinct mechanisms of action. In particular, a novel non-ACE2 receptor blocking antibody that is not expected to be affected by any of the major viral variants reported was identified. Potent neutralizing antibodies with near germline sequences within both the IgG and IgM pools at early stages of infection were also found. The study results highlight a highly convergent antibody response with the same sequences occurring both within this patient group and within the responses described in previously published anti-SARS-CoV-2 antibody studies.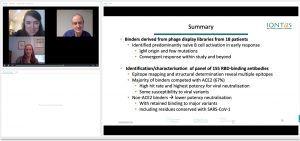 ---
Speaker: Dr. André Frenzel, YUMAB/CORAT Therapeutics
Broadcast date: February 18, 2021
The SARS-CoV-2 pandemic has spread all over the world in the past year and there is still no efficient treatment available for COVID-19, particularly for patients undergoing severe courses, which often lead to fatal consequences. Antiviral drugs such as virus-neutralizing antibody therapeutics are still urgently needed to save millions of lives. Corat Therapeutics developed a novel SARS-CoV-2 neutralizing, fully human antibody derived from convalescent patients. Ultra-fast development strategies shortened timelines from discovery to GMP manufactured material to less than 8 months. This was possible by parallelizing discovery and development steps, as well as performing crucial steps on risk. First-in-human studies were recently initiated. This webinar gives an overview of the challenges faced during discovery and development of the lead antibody, COR-101.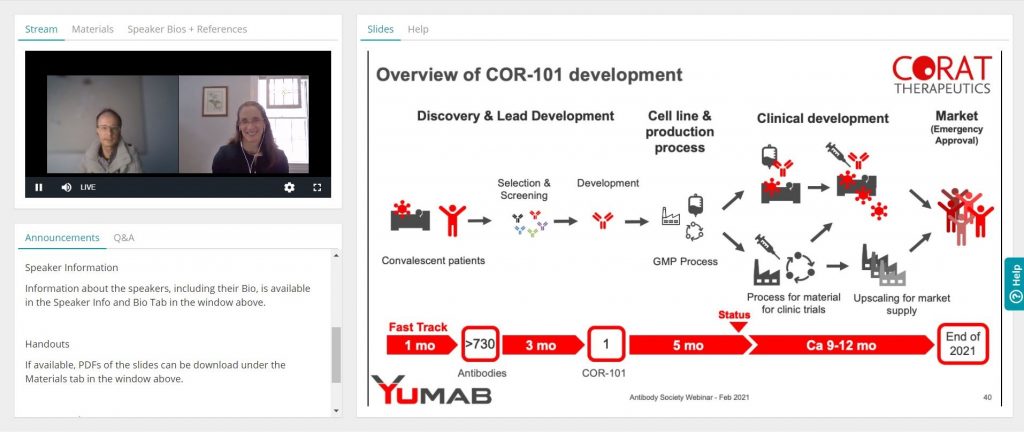 ---
---
Speakers: Drs. Andrew Bradbury and M. Frank Erasmus, Specifica
Broadcast date: January 21, 2021
The Specifica Generation 3 platform is able to generate 500-5000 different antibody clonotypes against targets of interest, with over 80% of selected antibodies having no measurable biophysical liabilities and 20% having subnanomolar affinities. The most common approach to selecting antibodies from display technologies involves low-throughput random colony screening. However, this misses many potential therapeutic leads, particularly when diversity is high. Specifica uses next generation sequencing (NGS) to build its libraries as well as characterize selection outputs. In order to fully exploit the universe of selectable antibodies, Specifica has developed a cloud-based software platform, designed exclusively for antibody engineers and bioinformaticians, to enable a streamlined identification of leads with broad epitope coverage. Application of this to selection outputs has increased the number of clonotype leads by five to ten fold over random colony screening, significantly expanding the explorable paratope space.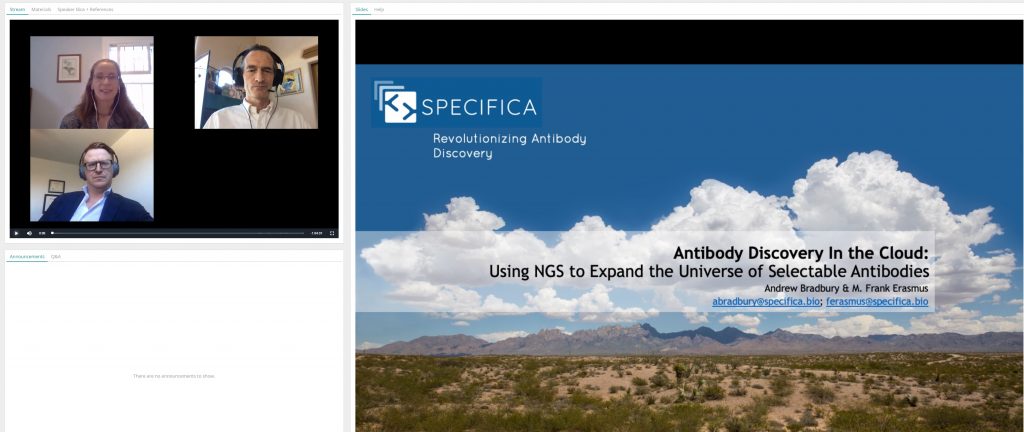 All Antibody Society webinars are open access, and can be viewed for free.