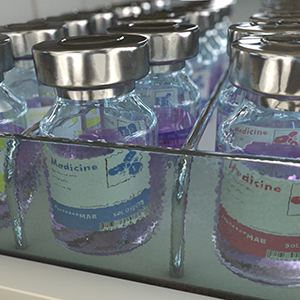 The Antibody Society maintains a comprehensive list of approved antibody therapeutics and those in regulatory review in the European Union (EU) or United States (US). In the table below, product candidates undergoing review are listed first, and approved products are listed in reverse chronological order by year of first approval. Products that were granted approvals but subsequently withdrawn from the market are included in the table. Biosimilar products are excluded.
The European public assessment reports for human medicines published by the European Medicines Agency (EMA), and information about pending European Commission decisions and medicines under evaluation can be found via the EMA's 'Find medicine'  page.
Information about therapeutics approved in the US can be found at Drugs@FDA.
Antibody therapeutics that were granted a first approval in regions other than the EU or US are listed at the end of the table.
As of Aug 4, 6 antibody therapeutics had been granted first approvals in the US in 2020, and an additional 18 are in regulatory review.
Therapeutic monoclonal antibodies approved or in review in the EU or US.
INN
Brand name
Target; Format
1st indication approved / reviewed
1st EU approval year
1st US approval year
Ansuvimab
(Pending)
Ebola virus; Human IgG1
Ebola infection
NA
Review
Bimekizumab
(Pending)
IL-17A,F; Humanized IgG1
Psoriasis
Review
Review
Omburtamab
(Pending)
B7-H3; Murine IgG1
CNS/leptomeningeal metastases from neuroblastoma
NA
Review
Tralokinumab
(Pending)
IL-13; Human IgG4
Atopic dermatitis
Review
NA
Evinacumab
(Pending)
Angiopoietin-like 3; Human IgG4
Homozygous familial hypercholesterolemia
Review
Review
Sutimlimab
(Pending)
C1s; Humanized IgG4
Cold agglutinin disease
NA
Review
Aducanumab
(Pending)
Amyloid beta; Human IgG1
Alzheimer's disease
NA
Review
Teplizumab
(Pending)
CD3; Humanized IgG1
Type 1 diabetes
NA
Review
Dostarlimab
(Pending)
PD-1; Humanized IgG4
Endometrial cancer
Review
Review
Tanezumab
(Pending)
Nerve growth factor; Humanized IgG2
Osteoarthritis pain
Review
Review
Margetuximab
(Pending)
HER2; Chimeric IgG1
HER2+ breast cancer
NA
Review
Naxitamab
(Pending)
GD2; Humanized IgG1
High-risk neuroblastoma and refractory osteomedullary disease
NA
Review
Belantamab mafodotin
BLENREP
BCMA; Humanized IgG1 ADC
Multiple myeloma
Review
2020
Oportuzumab monatox
(Pending)
EpCAM; Humanized scFv immunotoxin
Bladder cancer
NA
Review
REGNEB3
(Pending)
Ebola virus; mixture of 3 human IgG1
Ebola virus infection
NA
Review
Narsoplimab
(Pending)
MASP-2; Human IgG4
Hematopoietic stem cell transplant-associated thrombotic microangiopathies
NA
Review
Tafasitamab
Monjuvi
CD19; Humanized IgG1
Diffuse large B-cell lymphoma
Review
2020
Satralizumab
(Pending)
IL-6R; Humanized IgG2
Neuromyelitis optica and neuromyelitis optica spectrum disorders
Review
Review
Inebilizumab
Uplizna
CD19; Humanized IgG1
Neuromyelitis optica and neuromyelitis optica spectrum disorders
NA
 2020
Inolimomab
(Pending)
CD25; Mouse IgG1
Host vs. graft disease
NA
Review
Sacituzumab govitecan
Trodelvy
TROP-2; Humanized IgG1 ADC
Triple-neg. breast cancer
NA
 2020
Teprotumumab
Tepezza
IGF-1R; Human IgG1
Thyroid eye disease
NA
2020
Isatuximab
Sarclisa
CD38; Chimeric IgG1
Multiple myeloma
2020
2020
Eptinezumab
Vyepti
CGRP; Humanized IgG1
Migraine prevention
NA
2020
[fam]-trastuzumab deruxtecan
Enhertu
HER2; Humanized IgG1 ADC
HER2+ breast cancer
NA
2019
Enfortumab vedotin
Padcev
Nectin-4; Human IgG1 ADC
Urothelial cancer
NA
2019
Crizanlizumab
Adakveo
P-selectin; Humanized IgG2
Sickle cell disease
Review
2019
Brolucizumab
BEOVU
VEGF-A; Humanized scFv
Macular degeneration
2020
2019
Polatuzumab vedotin
Polivy
CD79b; Humanized IgG1 ADC
Diffuse large B-cell lymphoma
2020
2019
Risankizumab
Skyrizi
IL-23p19; Humanized IgG1
Plaque psoriasis
2019
2019
Romosozumab
Evenity
Sclerostin; Humanized IgG2
Osteoporosis in postmenopausal women at risk of fracture
2019
2019
Caplacizumab
Cablivi
von Willebrand factor; Humanized Nanobody
Acquired thrombotic thrombo- cytopenic
purpura
2018
2019
Ravulizumab
Ultomiris
C5; Humanized IgG2/4
Paroxysmal nocturnal hemoglobinuria
2019
2018
Emapalumab
Gamifant
IFNgamma; Human IgG1
Primary hemophagocytic lymphohistiocytosis
Review
2018
Cemiplimab
Libtayo
PD-1; Human mAb
Cutaneous squamous cell carcinoma
2019
2018
Fremanezumab
Ajovy
CGRP; Human IgG2
Migraine prevention
2019
2018
Moxetumomab pasudotox
Lumoxiti
CD22; Murine IgG1 dsFv immunotoxin
Hairy cell leukemia
Review
2018
Galcanezumab
Emgality
CGRP; Human IgG4
Migraine prevention
2018
2018
Lanadelumab
Takhzyro
Plasma kallikrein; Human IgG1
Hereditary angioedema attacks
2018
2018
Mogamuizumab
Poteligeo
CCR4; Humanized IgG1
Cutaneous T cell lymphoma
2018
2018
Erenumab
Aimovig
CGRP receptor; Human IgG2
Migraine prevention
2018
2018
Tildrakizumab
Ilumya
IL-23p19; Humanized IgG1
Plaque psoriasis
2018
2018
Ibalizumab
Trogarzo
CD4; Humanized IgG4
HIV infection
2019
2018
Burosumab
Crysvita
FGF23; Human IgG1
X-linked hypophosphatemia
2018
2018
Durvalumab
IMFINZI
PD-L1; Human IgG1
Bladder cancer
2018
2017
Emicizumab
Hemlibra
Factor IXa, X; Humanized IgG4, bispecific
Hemophilia A
2018
2017
Benralizumab
Fasenra
IL-5Rα; Humanized IgG1
Asthma
2018
2017
Ocrelizumab
OCREVUS
CD20; Humanized IgG1
Multiple sclerosis
2018
2017
Guselkumab
TREMFYA
IL-23 P19; Human IgG1
Plaque psoriasis
2017
2017
Inotuzumab
ozogamicin
BESPONSA
CD22; Humanized IgG4, ADC
Hematological malignancy
2017
2017
Sarilumab
Kevzara
IL-6R; Human IgG1
Rheumatoid arthritis
2017
2017
Dupilumab
Dupixent
IL-4Rα; Human IgG4
Atopic dermatitis
2017
2017
Avelumab
Bavencio
PD-L1; Human IgG1
Merkel cell carcinoma
2017
2017
Brodalumab
Siliq, LUMICEF
IL-17R; Human IgG2
Plaque psoriasis
2017
2017
Atezolizumab
Tecentriq
PD-L1; Humanized IgG1
Bladder cancer
2017
2016
Bezlotoxumab
Zinplava
Clostridium difficile enterotoxin B; Human IgG1
Prevention of Clostridium difficile infection recurrence
2017
2016
Olaratumab
Lartruvo
PDGRFα; Human IgG1
Soft tissue sarcoma
2016
2016
Reslizumab
Cinqaero, Cinqair
IL-5; Humanized IgG4
Asthma
2016
2016
Obiltoxaximab
Anthim
Protective antigen of B. anthracis exotoxin; Chimeric IgG1
Prevention of inhalational anthrax
Review
2016
Ixekizumab
Taltz
IL-17a; Humanized IgG4
Psoriasis
2016
2016
Daratumumab
Darzalex
CD38; Human IgG1
Multiple myeloma
2016
2015
Elotuzumab
Empliciti
SLAMF7; Humanized IgG1
Multiple myeloma
2016
2015
Necitumumab
Portrazza
EGFR; Human IgG1
Non-small cell lung cancer
2015
2015
Idarucizumab
Praxbind
Dabigatran;
Humanized Fab
Reversal of dabigatran-induced anticoagulation
2015
2015
Alirocumab
Praluent
PCSK9; Human IgG1
High cholesterol
2015
2015
Mepolizumab
Nucala
IL-5; Humanized IgG1
Severe eosinophilic asthma
2015
2015
Evolocumab
Repatha
PCSK9; Human IgG2
High cholesterol
2015
2015
Dinutuximab
Unituxin
GD2; Chimeric IgG1
Neuroblastoma
2015
2015
Secukinumab
Cosentyx
IL-17a; Human IgG1
Psoriasis
2015
2015
Nivolumab
Opdivo
PD1; Human IgG4
Melanoma, non-small cell lung cancer
2015
2014
Blinatumomab
Blincyto
CD19, CD3; Murine bispecific tandem scFv
Acute lymphoblastic leukemia
2015
2014
Pembrolizumab
Keytruda
PD1; Humanized IgG4
Melanoma
2015
2014
Ramucirumab
Cyramza
VEGFR2; Human IgG1
Gastric cancer
2014
2014
Vedolizumab
Entyvio
α4β7 integrin; Humanized IgG1
Ulcerative colitis, Crohn disease
2014
2014
Siltuximab
Sylvant
IL-6; Chimeric IgG1
Castleman disease
2014
2014
Obinutuzumab
Gazyva
CD20; Humanized IgG1; Glycoengineered
Chronic lymphocytic leukemia
2014
2013
Ado-trastuzumab emtansine
Kadcyla
HER2; Humanized IgG1, ADC
Breast cancer
2013
2013
Raxibacumab
(Pending)
B. anthrasis PA; Human IgG1
Anthrax infection
NA
2012
Pertuzumab
Perjeta
HER2; Humanized IgG1
Breast Cancer
2013
2012
Brentuximab vedotin
Adcetris
CD30; Chimeric IgG1, ADC
Hodgkin lymphoma, systemic anaplastic large cell lymphoma
2012
2011
Belimumab
Benlysta
BLyS; Human IgG1
Systemic lupus erythematosus
2011
2011
Ipilimumab
Yervoy
CTLA-4; Human IgG1
Metastatic melanoma
2011
2011
Denosumab
Prolia
RANK-L; Human IgG2
Bone Loss
2010
2010
Tocilizumab
RoActemra, Actemra
IL-6R; Humanized IgG1
Rheumatoid arthritis
2009
2010
Ofatumumab
Arzerra
CD20; Human IgG1
Chronic lymphocytic leukemia
2010
2009
Canakinumab
Ilaris
IL-1β; Human IgG1
Muckle-Wells syndrome
2009
2009
Golimumab
Simponi
TNF; Human IgG1
Rheumatoid and psoriatic arthritis, ankylosing spondylitis
2009
2009
Ustekinumab
Stelara
IL-12/23; Human IgG1
Psoriasis
2009
2009
Certolizumab pegol
Cimzia
TNF; Humanized Fab, pegylated
Crohn disease
2009
2008
Catumaxomab
Removab
EPCAM/CD3;Rat/mouse bispecific mAb
Malignant ascites
2009#
NA
Eculizumab
Soliris
C5; Humanized IgG2/4
Paroxysmal nocturnal hemoglobinuria
2007
2007
Ranibizumab
Lucentis
VEGF; Humanized IgG1 Fab
Macular degeneration
2007
2006
Panitumumab
Vectibix
EGFR; Human IgG2
Colorectal cancer
2007
2006
Natalizumab
Tysabri
a4 integrin; Humanized IgG4
Multiple sclerosis
2006
2004
Bevacizumab
Avastin
VEGF; Humanized IgG1
Colorectal cancer
2005
2004
Cetuximab
Erbitux
EGFR; Chimeric IgG1
Colorectal cancer
2004
2004
Efalizumab
Raptiva
CD11a; Humanized IgG1
Psoriasis
2004#
2003#
Omalizumab
Xolair
IgE; Humanized IgG1
Asthma
2005
2003
Tositumomab-I131
Bexxar
CD20; Murine IgG2a
Non-Hodgkin lymphoma
NA
2003#
Ibritumomab tiuxetan
Zevalin
CD20; Murine IgG1
Non-Hodgkin lymphoma
2004
2002
Adalimumab
Humira
TNF; Human IgG1
Rheumatoid arthritis
2003
2002
Alemtuzumab
MabCampath, Campath-1H; Lemtrada
CD52; Humanized IgG1
Chronic myeloid leukemia#; multiple sclerosis
2013;
2001#
2014;
2001#
Gemtuzumab
ozogamicin
Mylotarg
CD33; Humanized IgG4, ADC
Acute myeloid leukemia
2018
2017;
2000#
Trastuzumab
Herceptin
HER2; Humanized IgG1
Breast cancer
2000
1998
Infliximab
Remicade
TNF; Chimeric IgG1
Crohn disease
1999
1998
Palivizumab
Synagis
RSV; Humanized IgG1
Prevention of respiratory syncytial virus infection
1999
1998
Basiliximab
Simulect
IL-2R; Chimeric IgG1
Prevention of kidney transplant rejection
1998
1998
Daclizumab
Zenapax; Zinbryta
IL-2R; Humanized IgG1
Prevention of kidney transplant rejection; multiple sclerosis
2016;
1999#
2016;
1997#
Rituximab
MabThera, Rituxan
CD20; Chimeric IgG1
Non-Hodgkin lymphoma
1998
1997
Abciximab
Reopro
GPIIb/IIIa; Chimeric IgG1 Fab
Prevention of blood clots in angioplasty
1995*
1994
Edrecolomab
Panorex
EpCAM; Murine IgG2a
Colorectal cancer
1995*#
NA
Nebacumab
Centoxin
Endotoxin; Human IgM
Gram-negative sepsis
1991*#
NA
Muromonab-CD3
Orthoclone Okt3
CD3; Murine IgG2a
Reversal of kidney transplant rejection
1986*
1986#
Source: Janice M. Reichert, PhD, The Antibody Society.
Table notes: *, Country-specific approval. #, Withdrawn or marketing discontinued for the first approved indication. NA, not approved or in review in the EU; not approved or information on review status not available in US.
Additional notes:
1. Of the antibody therapeutics listed in the table, the following products were not first approved in the EU or US:
Satralizumab (Enspryng), first approved in Canada in May 2020;
Risankizumab, first approved in Japan in March 2019;
Romosozumab, first approved in Japan
Sarilumab, first approved in Canada on January 12, 2017;
Brodalumab, first approved in Japan on July 4, 2016;
Secukinumab, first approved in Japan in December 2014;
Mogamulizumab, first approved in Japan in March 2012;
Tocilizumab, first approved in Japan in 2005;
Cetuximab, first approved in Switzerland on December 1, 2003.
2. Several antibody therapeutics are approved for marketing in regions other than the EU or US. These products include:
Nimotuzumab (TheraCIM®, BIOMAB-EGFR®), humanized anti-EGFR IgG1 approved in numerous countries for various forms of solid tumors starting in the 2000s.
Itolizumab (Alzumab), humanized anti-CD6 IgG1 approved in India in January 2013 for psoriasis.
RabiMabs (Twinrab TM), mixture of 2 anti-rabies virus mAbs approved in India in 2019
Rmab (RabiShield), human anti-rabies virus G glycoprotein IgG1 approved in India in 2016 for post-exposure prophylaxis of rabies.
Sintilimab (Tyvyt), human anti-PD-1 mAb approved in China in December 2018 for Hodgkin's lymphoma.
Toripalimab (Tuoyi), humanized anti-PD-1 mAb approved in China in December 2018 for melanoma.
Camrelizumab, humanized anti-PD-1 mAb approved in China in 2019 for Hodgkin's lymphoma;
Tislelizumab, humanized anti-PD-1 mAb, approved in China in December 2019 as a treatment for classical Hodgkin's lymphoma
Netakimab, anti-IL-17 mAb approved in Russia in 2019 for plaque psoriasis.
Prolgolimab (Forteca), anti-PD-1 mAb approved in Russia in 2020 for melanoma.
Olokizumab (Artlegia), anti-IL-6 humanized IgG4 approved in Russia in 2020 for rheumatoid arthritis.
Levilimab (Ilsira) anti-IL-6R human mAb approved in Russia in 2020 for COVID-19.
In addition,  the antibody therapeutic vaccine Vaxira® (racotumomab, 1 E 10; murine IgG1 kappa) is approved in Argentina and Cuba. It is an anti-idiotypic monoclonal antibody that induces an immune response against glycolylated gangliosides (NeuGcGM3) present in tumor cells. Originally developed in Cuba at the Center of Molecular Immunology, Vaxira® is marketed in Argentina and Cuba for the treatment of recurrent or advanced non-small cell lung cancer (NSCLC), or NSCLC independent of the disease stage when no other standard therapy can be administered for lung cancer.
References:
Kaplon H, et al. Antibodies to watch in 2020. MAbs. Vol. 12. doi.org/10.1080/19420862.2019.1703531.
Kaplon H, Reichert JM. Antibodies to watch in 2019. MAbs. 2019 Feb/Mar;11(2):219-238. doi: 10.1080/19420862.2018.1556465.
Kaplon H, Reichert JM. Antibodies to watch in 2018. 2018;10(2):183-203. doi: 10.1080/19420862.2018.1415671.
Reichert JM. Antibodies to watch in 2017. MAbs. 2017;9(2):167-181. doi: 10.1080/19420862.2016.1269580.
Reichert JM. Antibodies to watch in 2016. MAbs. 2016;8(2):197-204. doi: 10.1080/19420862.2015.1125583.
Ecker DM, Jones SD, Levine HL. The therapeutic monoclonal antibody market. MAbs. 2015;7(1):9-14. doi: 10.4161/19420862.2015.989042.
Reichert JM. Marketed therapeutic antibodies compendium. MAbs. 2012 May-Jun;4(3):413-5. doi: 10.4161/mabs.19931