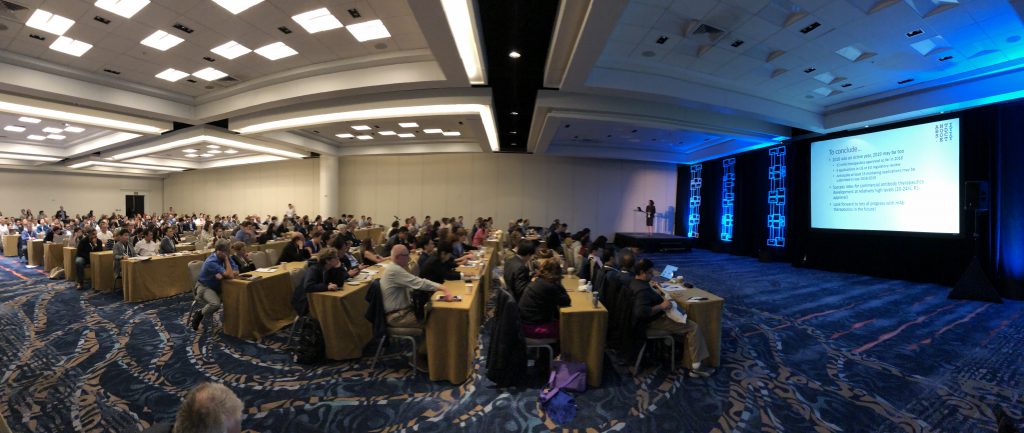 2019
The Antibody Society's Symposium "Developing Therapeutic Antibodies for Successful Entry into the Clinic" was held at the Federation of Clinical Immunology Societies (FOCIS) annual meeting on June 18, 2019, in Boston
Although many antibody-engineering labs are focused on translational work, most antibody-based therapeutics developed in academia, and many developed by small companies, either do not make it into clinical study or do not proceed past Phase 1.  Few are ultimately licensed by large pharmaceutical firms because many antibodies developed in academic labs are not associated with sufficiently robust characteristics to allow successful commercial development.
In addition, academic labs and small biotech often encounter difficulty in securing funding for the development of clinical-grade material and subsequent clinical trials. Taking interesting laboratory discoveries to the next step is further hindered by a lack of knowledge about what venture capital (VC)/biotech/pharma companies are interested in, who to talk to, and how to make a deal.  What makes a new antibody-based therapeutic sufficiently novel to attract interest?
This symposium is designed to bring together scientists and entrepreneurs who will share their experiences with successfully tackling these and other issues that block the clinical development of many antibody-based therapeutics.
Program (8am-noon)
8.00-8.35am                Greg Adams (Board member, The Antibody Society)
Introduction to The Antibody Society and the purpose of this symposium
Why does this session matter to academic/biotech scientists who want to develop clinical agents?
8.35-9.10am                Yingda Xu (Adimab)
 Designing and screening for the properties that decrease the risk of failure during clinical development of an antibody
 Screening for function, stability and specificity
9.10-9.45am                Dimiter Dimitrov (University of Pittsburgh) 
Screening antibodies for clinically relevant function
Investigator-initiated Phase 1 clinical studies
9.45-10.15am              Coffee break
10.15-10.50am            Jim Larrick (Panorama Research Institute, Velocity Pharmaceutical Development) 
Supporting clinical research with grant funding
Taking a preclinical lead to the clinic
10.50-11.25am            Patrick Baeuerle (MPM Capital) 
Bringing a new class of antibodies to the clinic
Building a biotech
Selling to pharma
View from the venture capital (VC) world   
11.25-12.00                 Abbie Celniker (3rd Rock Ventures)
Formation and development of VC-backed companies
What does a VC look for: 1) in a platform or 2) in a scientific team?
2018
The Antibody Society's symposium at the annual meeting of the Federation of Clinical Immunology Societies (FOCIS) was held June 20, 2018, in San Francisco, CA. Presentations from the Symposium can be found on the Presentations page in the Members Only section of the Society's website. Please login to access the PDFs, posted when speakers have provided permission.

The topic was "Antibodies in the prevention and treatment of human disease". Antibodies carry an enormous potential in prophylaxis and treatment of human disease, for all ages, both genders, and all races, irrespective of geographic location.  Antibody therapies are leveraged in two distinct, but highly related disciplines. First, antibodies can be elicited de novo using vaccines. Our understanding of what constitutes an effective antibody response and the science of eliciting such antibodies in vivo is progressing rapidly. We may now take advantage of incredibly detailed repertoire analysis and sophisticated structural approaches to specifically design new vaccines to succeed where previous efforts have failed. Secondly, isolated antibodies themselves represent powerful drugs when developed and delivered as biopharmaceuticals. The ever-expanding list of approved antibody treatments and the large number of antibody products in development across a wide range of therapeutic areas indicate continued opportunities to treat and prevent human disease.
The use of antibody-based therapeutics in cancer is rapidly expanding, providing opportunities for specific targeting of the broad range of malignancies in different disease stages and ways to (re)-engage patients' immune systems. Antibodies play an invaluable role in the treatment of inflammatory diseases, cardiovascular disease, bone disease and ophthalmic disease. For infectious diseases, particularly emerging infectious diseases, investigators can rapidly identify therapeutic antibodies for lifesaving treatment or prophylaxis. Such antibodies could be available far in advance of novel vaccines, and have already been used in clinical trials.
This symposium highlighted recent developments in antibody-based immunotherapy and vaccines, provide insights as to where the field in moving, and stimulate the interaction between experts in basic, applied and medical research and drug development.
Program:
The Antibody Society: Our mission and current initiatives – Paul Carter, Ph.D. (VP, The Antibody Society) 

[

Presentation also available in Members Only section

]

Antibody therapeutics in clinical development: Antibodies to watch in 2018 – Janice Reichert, Ph.D. (Executive Director, The Antibody Society) [Presentation available in Members Only section]
Antibody-drug conjugates: license to kill – John Lambert, Ph.D. (ImmunoGen.)
Recharging the immune system with immunomodulatory antibodies – Alan Korman, Ph.D. (Bristol-Myers Squibb)
Novel antibody formats: More than twice the power – Paul Carter, Ph.D. (Genentech)
Insights provided by antibody repertoires and B cell analysis – Nina Luning Prak, M.D., Ph.D. (University of Pennsylvania)
iReceptor: A platform for exploring and analyzing antibody/B-cell and T-cell receptor repertoire data across diseases, labs, and institutions – Felix Breden, Ph.D. (Simon Fraser University)

[

Presentation available in Members Only section

]
Presentations from the Symposium can be found on the Presentations page in the Members Only section of the Society's website. Please login to access the PDFs, posted when speakers have provided permission.