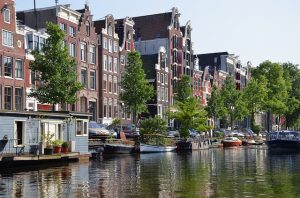 The Antibody Society members serve as Scientific Advisors and Session Chairs for Antibody Engineering & Therapeutics Europe. Antibody Engineering & Therapeutics conferences are our premier forums for scientific exchange and networking in the fields of antibody engineering and therapeutics, immunobiology and next-generation binders. For over 25 years, renowned academic and industry scientists from around the world have convened to share best practices and scientific results to accelerate antibody research, discovery efforts and clinical programs. We look forward to seeing you in Amsterdam!
Join us for Antibody Engineering & Therapeutics Europe! The 2022 event will take place as a hybrid event with the in-person dates taking place 7-9 June in Amsterdam. The digital experience pass will be available for those who are unable to travel, and will provide you with access to the on-demand recordings after they have taken place at the live event. The digital experience will take place 8-9 June on the digital platform.
The conference includes 8 new hot topic streams and 2 brand new pre-conference workshops, making it the 2022 event you will not want to miss!
Polyclonal Antibody Therapeutics: Mechanisms and Perspectives
Developing Antibodies to Non-Cancer Indications (Including COVID Antibodies)
Alternative Scaffolds (VHH, Nanobodies, Non- IgG, Fibronectin Binders, Peptides)
Machine Learning Approaches for Antibody Engineering
Strategies for Improving the Therapeutic Window of Antibody Drugs
Multispecifics and T-Cell Engagers
Finding the Right Antibody (Arrays, MS, Display Technologies)
From Antibody Discovery to Screening and Developability
Workshop A: Finding the Right Antibody
Workshop B: From Antibody Discovery to Screening and Developability
Obtain 15% off as an Antibody Society member –Check the Members Only section or contact us for the discount code.