AIRR Community Meeting V – Zooming in to the AIRR Community! included three 4-hour virtual sessions on December 8th-10th, 2020 as well as AIRR-C Working Group & Sub-committee presentations, scientific sessions, interactive poster sessions and software tool demonstrations and networking events.  
In addition to the main meeting, there were two free pre-meetings.
1) "AIRR-seq in the Pandemic" co-hosted by the AIRR Community and Tsinghua University in China which took place on December 5th/6th and
2) "AIRR-seq Biological Standards and Workflows" hosted by the Biological Resources Working Group on December 7th.  
Visit the AIRR Youtube Channel for videos of the meeting proceedings.
Agenda at a glance: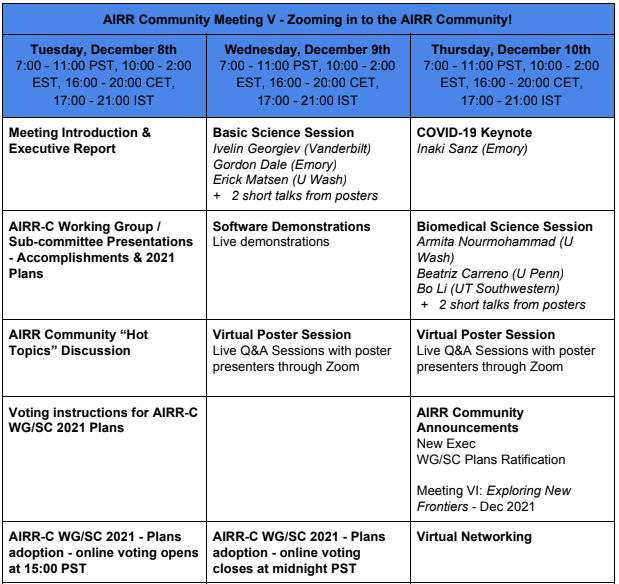 Meeting Sponsors:
The AIRR Community wishes to thank our meeting sponsors for their valuable contributions. If you are interested in sponsoring a future AIRR Community meetings please contact us via meetings@airrc.antibodysociety.org.
Institutional Support
Gold Level
Silver Level


Bronze Level
Meetings Sub-committee: Davide Bagnara, Pam Borghardt (Meeting Manager), Jean-Philippe Bürckert, Ramit Mehr and Jamie Scott
Contact: meetings@AIRRC.antibodysociety.org
Past AIRR meetings
You can find information, videos and agendas of the past meetings here: Information on past AIRR meetings