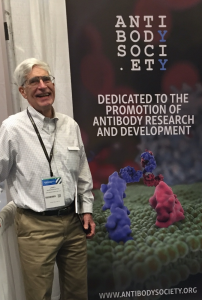 James (Jim) S. Huston, Ph.D., (1945-2020) was a pioneering and visionary antibody engineer; his invention of the single chain Fv (sFv or scFv) antibody was a seminal advance. These genetically encoded molecules could express the vast diversity of antibody repertoires, be used for specific target binding by themselves, incorporated into multifunctional molecules, attached to cell surfaces, or applied in any number of formats relevant to biomedicine. Over the years scFvs became a staple in the antibody field enabling many critical advances.
Jim was one of the first people to see the long-term potential of antibody engineering and recognize how broad the applications could be. Those who had the privilege of interacting with him, benefitted greatly not only from his generosity, enthusiasm, intellectual rigor and encouragement but also from his willingness to share his wisdom and experience. Jim was passionate about disseminating knowledge and education. He served as a scientific advisor to the Antibody Engineering and Therapeutics meetings for three decades and was editor of the annual Protein Engineering, Design and Structure (PEDS) special issue on antibodies. His insistence on scientific quality and education helped stimulate the culture of knowledge sharing between academia, industry and policy makers that is unique to our field. Building on this, he co-founded The Antibody Society in 2007 and was the Founding President and Chairman, remaining an active Board Member until his death. He shared the gratification of many that after a long gestation, antibody engineering and therapeutics are proving so beneficial to human health with the promise of much more to come.
The James S. Huston Antibody Science Talent Award
The James S. Huston Antibody Science Talent Award is sponsored by The Antibody Society to recognize and encourage upcoming scientists in the field of Antibody Engineering and Therapeutics. Early career research scientists, i.e., those within 10 years of their most recent advanced degree (Ph.D., M.D., or equivalent), are eligible for the Award. The scientist is recognized for making important contributions to the antibody field and/or the dissemination of antibody knowledge. Eligibility of the nominee will be checked at time of nomination and before presentation of award.
Nominations will be accepted commencing June 1, 2023 and must be submitted by September 15, 2023. The winner will be selected by September 30th, and the Award will be presented in December.
The recipient will be invited to give a live webinar on their work, which will be made available on demand on The Antibody Society's website (https://www.antibodysociety.org), and to give a lecture at the Antibody Engineering & Therapeutics conference in December. The award includes international recognition of the scientist's accomplishments, a $1500 USD prize, and travel costs and registration fees to attend the annual Antibody Engineering and Therapeutics conference in San Diego, California.
What is it like to win? Our 2022 Huston Award recipient, Prof. Brandon DeKosky, describes his experience in this 2-min video.
The 2022 James S. Huston Antibody Science Talent Award recipient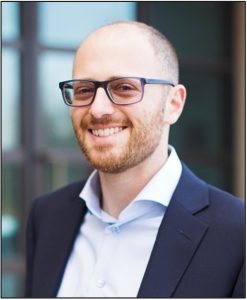 Dr. Brandon DeKosky is an Assistant Professor in the Department of Chemical Engineering at MIT and a Core Member of the Ragon Institute of MGH, Harvard, and MIT. Research efforts at the DeKosky lab have developed a suite of high-throughput single-cell platforms for large-scale analyses of adaptive immunity. These efforts are advancing new approaches in biologic drug discovery, and for the cataloguing the vast genetic and functional diversity of adaptive immune cells in multiple disease settings. Key application areas include infectious disease interventions, especially malaria and HIV-1 prevention, and the development of personalized cancer therapeutics.
Dr. DeKosky has been awarded several honors for his research program. His Ph.D. research was supported by a Hertz Foundation Fellowship and an NSF Graduate Fellowship. In 2016, DeKosky was awarded a K99 Pathway to Independence Award and an NIH Early Independence Award and began a joint faculty appointment at the University of Kansas Departments of Chemical Engineering and Pharmaceutical Chemistry. He has also received the Department of Defense Career Development Award, the Biomedical Engineering Society Rising Star Award, and the AIChE Young Faculty Futures award.
For further information about the nomination process, please visit the award criteria page.
Learn about the 2021 recipient, Laura M. Walker.
Learn about the 2020 recipient, Jonathan Sockolosky.