The Antibody Society has partnered with numerous conference organizers, including Informa Connect, Cambridge Healthtech Institute, Hanson Wade, and Terrapinn, to ensure our members receive substantial discounts on meeting registration fees. As a courtesy, we also list meetings held by non-profit organizations, such as Gordon Research Conferences and KeyStone Symposia.
We have also partnered with Schrödinger, and are pleased to offer 10% discounts to our members for their online course, Introduction to Computational Antibody Engineering.
To access the discount codes, please log into website and navigate to the Member discount codes page in the Members Only area.
---
---

Schrödinger's online course, Introduction to Computational Antibody Engineering, will show how industry-leading computational molecular modeling solutions are used to aid in antibody discovery and design and how to incorporate these computational approaches into your research project. This course will also provide a chance to work hands-on with Schrödinger's BioLuminate software.
2023 Session Dates:
February 7th – March 15th
April 18th – May 24th
June 6th – July 12th
The Antibody Society members save 10% off your booking – log into the Members Only area or contact membership@antibodysociety.org for the discount code. With no discount, the course fee is $475 for non-student users and $350 for student users.
---
---
March 2023
---
---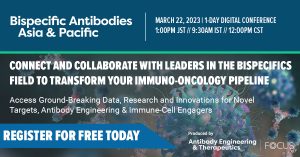 Join us at the brand new digital conference, Bispecific Antibodies Asia & Pacific, on March 22, 2023 for your opportunity to connect and collaborate with leaders in the bispecifics field. Brough to you by the Antibody Engineering & Therapeutics San Diego team this is an exciting event to upgrade your bispecific knowledge.
Discover what is on the horizon for Asia and Pacific Biopharma following the first approval for the domestic development of a bispecific in China in 2022. Industry shaping speakers will delve into the next generation of bispecific antibodies, analytical and CMC considerations and the design and developability for bispecifics.  This is your opportunity to access ground-breaking data, research and innovations for novel targets, antibody engineering & immune-cell engagers.
---
---
April 2023
---
---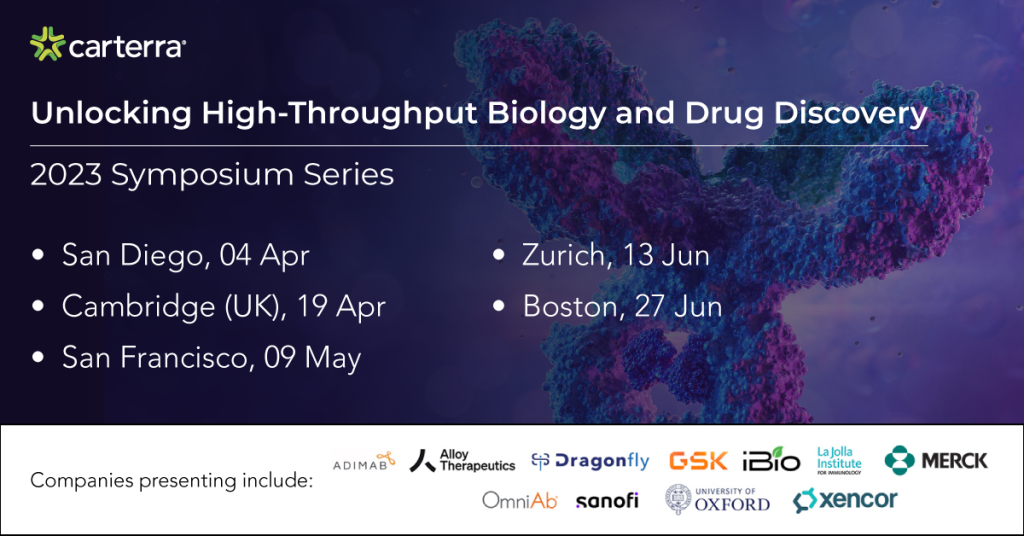 Carterra is pleased to invite you to their upcoming symposia focused on high-throughput drug discovery and antibody therapeutics. Industry and academic scientists will present new paradigms in discovery, applications, and workflows including HT-SPR.
---
---

The field of FcRn receptor targeting is gaining ground-breaking speed as Argenx, Janssen, UCB and Immunovant compete to tackle myasthenia gravis and biopharma invest in transformative immunological therapy for autoimmune diseases as the next big drug opportunity.
The 3rd Fc Receptor Pathway Targeted Therapies Summit will once again feature unmissable conversations to advance targeting FcR and the subsequent generation of Fc manipulation since real-world proof and clinical value are now at the industry's fingertips.
Join 100+ of your colleagues at the 3rd Fc Receptor Pathway Targeted Therapies Summit – from the fields of immunology, antibody engineering, pharmacology, toxicology, and immuno-oncology for three days of content that is unmatched in its scope, all focused on the optimization of FcRn, FcγR, and novel Fc.
Put your stake in the ground to revolutionise autoimmune illness and position yourself in front of the next wave of blockbuster drug development.
Antibody Society members save 10% on their booking – contact membership@antibodysociety.org or visit the Members Only section of the website to find the discount code.
---

As the immune system's role in neurological disease pathophysiology becomes increasingly clear, the 5th Neuroimmunology Drug Development Summit is an exclusive opportunity to bring together established and emerging innovators in the expanding neuroimmunology space.
This event is the only industry-focused forum providing actionable takeaways across neuroglia modeling, novel neuroimmunological targeting, and neuroinflammatory biomarker discovery. Join your peers this April to collaboratively discuss and uncover opportunities to strive towards accelerated neuroimmunology drug development.
With new speakers from the hottest biopharma in neuroimmunology delivering, a comprehensive program of pioneering and cutting-edge content, don't miss your crucial chance to join this exclusive audience of innovators with a shared desire to explore strategy, creation, and implementation of research, biomarker, and clinical hypothesis testing in neuroimmunology.
A world-class selection of 25+ fresh speakers from leading neuroscience biopharma
A comprehensive pre-conference workshop day comprising specialist-led content on informing selection of novel neuroimmune targets and clinical detection of neuroinflammatory modulation
Exclusive content on iPSC-derived model systems and neuroinflammatory mechanisms across numerous neurological indications, including Alzheimer's, Multiple Sclerosis, Parkinson's, Amyotrophic Lateral Sclerosis, and Traumatic Brain Injury
Thought-stimulating panel and round-table discussions to collaboratively address shared challenges and opportunities within neuroimmunology drug development with industry peers
Antibody Society members save 10% on their booking – contact membership@antibodysociety.org or visit the Members Only section of the website to find the discount code.
---
---
CLEAR YOUR CALENDAR FOR APRIL 25 – 27, 2023!
The 5th Annual Cell Engager Summit is back in Boston, MA this year – the only industry-led meeting bringing together 100+ pharma and biotech leaders will assemble for a 3-day agenda including 4 unique pre-conference workshops to delve into the biggest challenges cell engager therapeutics face. Breaking into the solid tumor, preventing CRS and maximizing the quality of insights we gain from preclinical modeling.
For unmissable opportunities, including:
Deep dive into novel T cell engager modalities with Patrick Baeuerle, Chief Scientific Officer at Cullinan Oncology as he leads us through a focussed analysis of therapeutics that are breaking the mould when it comes to cell engager molecules and strategies, as presented by those developing them
Gain a comprehensive understanding of NK engagement including how they are offering enhanced tumor killing potential as well as what potential combinations can enhance them with Tony Arulanandam, Vice President & Head of Preclinical at Cytovia Therapeutics and Louise Koopman, Senior Scientist at Genmab
Join in 3 different types of interactive sessions on the main conference agenda! These sessions include, a roundtable assessing solid tumor response strategies, an interactive worksheet activity – "co-engage, co-stimulate or combine" and our scientific poster session
Join your colleagues from the likes of Apexigen, Regeneron Pharmaceuticals, Genentech, Roche, Amgen, Boehringer Ingelheim and many more at the most comprehensive cell engager event, leaving no stone unturned, this highly focussed meeting covers everything translational and clinical in greater depth and detail than any before it.
Antibody Society members save 10% on their booking – contact membership@antibodysociety.org or visit the Members Only section of the website to find the discount code.
---
---
May 2023
---
---

The world's largest gathering of protein engineering and biotherapeutics experts is back in Boston!
PEGS Boston Summit is the leading biologics event with comprehensive programming covering all aspects of biologic drug development with in-depth presentations on protein and antibody engineering, immunotherapy, oncology, expression, analytics, immunogenicity, and more.
Harness the power of in-person events, form genuine connections, create valuable relationships with peers, and become part of the PEGS community.
View full details of the agenda and speaker lineup.
Antibody Society members save 20% on their booking – contact membership@antibodysociety.org or visit the Members Only section of the website for the discount code.
---
---
June 2023
---
---

June 6-8, 2023
Postillon Hotel Amsterdam
Antibody Engineering & Therapeutics Europe returns 6 – 8 June 2023, in Amsterdam! Bringing together some of the brightest minds in the industry and boasting 9 brand new topic streams, you will obtain access to the latest research in the antibody and protein community. Accelerate your next generation antibodies to commercial success through a series of cutting-edge sessions covering: Advances in Immunocytokines, Agonist Antibodies, Antibody Discovery, Engineering and Selection, Bispecific and Multispecific Antibodies, Computational and Machine Learning-guided Antibody Engineering, Conditional/Targeted Activation, Fc & Albumin Engineering, Novel Antibody-Drug Conjugates, and T cell engagers and Immunotherapy. This is your opportunity to connect with antibody peers at Europe's most well respected antibody event.
Secure your place today, PLUS get an additional 15% off the current rate as an Antibody Society member. Contact membership@antibodysociety.org or visit the Members Only section of the website for the discount code.