The Antibody Society has partnered with numerous conference organizers, including Informa Connect, Cambridge Healthtech Institute, Hanson Wade, and Terrapinn, to ensure our members receive substantial discounts on meeting registration fees. As a courtesy, we also list meetings held by non-profit organizations, such as Gordon Research Conferences and KeyStone Symposia.
In 2022, we have also partnered with Schrödinger, and are pleased to offer 10% discounts to our members for their online course, Introduction to Computational Antibody Engineering.

Schrödinger's online course, Introduction to Computational Antibody Engineering, will show how industry-leading computational molecular modeling solutions are used to aid in antibody discovery and design and how to incorporate these computational approaches into your research project. This course will also provide a chance to work hands-on with Schrödinger's BioLuminate software.
2022 Session Dates:
July 13th, 10:00 AM ET – July 20th, 4:59 PM ET
September 12th, 10:00 AM ET – October 19th, 4:59 PM ET
November 7th, 10:00 AM ET – December 14th, 4:59 PM ET
The Antibody Society members save 10% off your booking – contact membership@antibodysociety.org for the discount code. With no discount, the course fee is $475 for non-student users and $350 for student users.
---
---
May 2022
---
---

The 4th Annual Cell Engager Summit returns to bring you the latest on effectively targeting lymphocyte-restricted tumor-associated antigens to treat hematological malignancies, including CD19, CD20, BCMA, CD33, and CD123.
Learn all there is to know about the immune cell engager landscape, including clinical achievements, potential response predictors, and novel immune cell-based engager therapeutic discoveries.
You will leave this meeting with key steps to improving safety and efficacy in the solid tumor microenvironment through lower CRS, greater dose, and lower TMDD by targeting tumor antigens such as HER2 and EGFR, and modifying co-stimulatory receptors (for example CD137/4-1BB, CD28).
Ensure your Cell Engager program reaches full clinical potential through learning from the pioneers of immunotherapy.
Antibody Society members save 10% on their booking (group discounts also available) – contact membership@antibodysociety.org for the discount code, then register here.
---
---
---
June 2022
---
---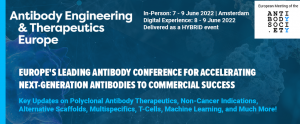 Antibody Engineering & Therapeutics Europe returns 7-9 June 2022. The 2022 event will take place as a hybrid event with the in-person dates taking place 7-9 June in Amsterdam. The digital experience pass will be available for those who are unable to travel, and will provide you with access to the on-demand recordings after they have taken place at the live event. The digital experience will take place 8-9 June on the digital platform.
Boasting 8 new hot topic streams and 2 brand new pre-conference workshops, the 2022 event is one you cannot afford to miss out on!
Obtain 15% off as an Antibody Society member – Contact us at membership@antibodysociety.org for the discount code.
---
---

The Jackson Laboratory will host scientific sessions from June 17 to June 24 that will focus on the utility of humanized mouse models for antibody-based immunotherapeutic drug development.
The events will feature experts from organizations throughout Europe, such as Roche Innovation Center Zurich, Sanofi, AstraZeneca, and others, and include interactive discussion on the in vivo tools, platforms, and solutions to advance antibody drug development, including pharmacokinetics, efficacy testing, and toxicity assessment.
These events are complimentary, but seating is limited, so early registration is highly encouraged.
See dates, locations, a complete list of speakers, and register to attend here.
---
---

The "Immunotherapy for Infectious Diseases Conference" brings together academia, small biotech, big pharma and regulatory bodies invested in the discovery of novel therapeutic strategies.
Infectious diseases remain a leading cause of morbidity and mortality worldwide necessitating novel and innovative therapeutics. Current and future challenges range from neglected diseases affecting the poorest countries to antimicrobial resistant pathogens in modern hospitals; from rare but deadly infections affecting few to the threat of potential global pandemics; from pathogens reaching new geographical areas due to climate changes to disease reemerging due to lack of vaccination coverage.
The ability of the human immune system to fight pathogens can be exploited for effective therapeutic strategies. Recombinant and further engineered antibodies can be used as active ingredients, as targeting agents to selectively deliver drugs or to establish novel vaccination strategies. Bringing a novel therapy to the patients requires the combined effort of several players, all of which are brought together in the "Immunotherapy for Infectious Diseases Conference", with world high caliber speakers and participants.
---
---
September 2022
---
---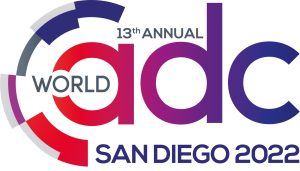 September 6-9, 2022
San Diego, CA USA
As the longest-standing and world's definitive Antibody Drug Conjugate event, this year's World ADC San Diego meeting will once again bring together pioneers at the forefront of ADC research dedicated to helping you maximize the clinical therapeutic index of your ADC.
Download the newly revealed 4-day agenda designed to be your practical end-to-end guide to ADC success.
Antibody Society members save 10% on their booking – contact membership@antibodysociety.org for the discount code.
---
---

September 20 – 22, 2022 | Boston, MA
The Newly Re-Branded 13th World Multispecifics Summit returns this September as the only end-to-end meeting committed solely to advancing the development of bi- & multi-specific therapeutics.
This world-renowned forum will deliver a greater scope and penetration of innovative technical content than any other meeting. This year's re-imagined agenda will cover unique target discovery, mechanistic diversity and translational science as well as novel formats, product design and manufacturability challenges faced in the bispecific field.
Download the full event guide here
Whatever your role or interest, you will leave the meeting with concrete methods to employ in your strategy and pipeline to convert the promise of bi- and multi-specific therapeutics into a reality for patients.
Early bird and group discounts available – see the pricing information here.
Antibody Society members save 10% on their booking  – contact membership@antibodysociety.org for the discount code.