The Antibody Society has partnered with numerous conference organizers, including Informa Connect, Cambridge Healthtech Institute, Hanson Wade, and Terrapinn, to ensure our members receive substantial discounts on meeting registration fees. As a courtesy, we also list meetings held by non-profit organizations, such as Gordon Research Conferences and KeyStone Symposia.
Due to the COVID-19 pandemic, meetings may be virtual in 2021.
---
---
September 2021
---
---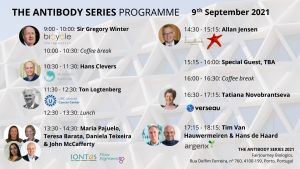 THE ANTIBODY SERIES
September 9, 2021
Innovative ideas in antibody discovery and development
Keynote speakers: Sir Gregory Winter & Hans Clevers
---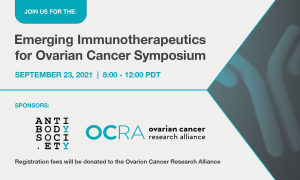 The Antibody Society, in collaboration with the Ovarian Cancer Research Alliance (OCRA), is pleased to present the Emerging Immunotherapeutics for Ovarian Cancer Symposium. The mission of OCRA is to cure ovarian cancer, advocate for patients, and support survivors. The aim of this event is to spread knowledge and awareness around current and up-and-coming basic and clinical research on the use of antibody and immune therapeutics for the treatment of ovarian cancer.
The half-day virtual symposium will be on Thursday, September 23rd, 2021 from 8 am – 12 noon PST.  The scientific program is being organized by Dr. Jonathan Sockolosky (Genentech). The agenda includes 4 speakers, a panel discussion and a networking session.
Registration is free for The Antibody Society Members and Corporate Sponsors. The 100% discount code is "tabs100".
Registration for non-members is $50.00. The Antibody Society will donate the registration fees to OCRA. We also encourage you to donate directly to OCRA via this link to the Ovarian Cancer Research Alliance.
Visit the event web page to learn more about the symposium and the expert line up of speakers.
Attention Corporate Sponsors!
If you are interested in being a symposium exhibitor and participating in the networking event where attendees can learn more about your company send us an email at membership@antibodysociety.org and we will set up access to your free exhibitor booth on the official event platform.
---

September 29 – October 1, 2021
The 12th Annual World Bispecific Summit will deliver a greater scope and penetration of innovative technical content than any other meeting. This year's re-imagined agenda will cover unique discovery, translational, and manufacturing challenges faced in the bispecific field. Whatever your role and interest, you will leave the meeting with concrete methods to employ into your strategy and pipeline to convert the promise of bispecific therapeutics into a reality for patients.
Discover who the 45+ expert speakers are, and the topics they will examine, including how:
OSE Immunotherapeutics is pioneering their unique platform BiCKI a bispecific platform optimized for the development and manufacturing of bispecific cytokine fusion proteins
GT Biopharma and Light Chain Bioscience are showcasing the next generation of innate cell engagers for the treatment of solid tumors
Merus, Pfizer, and Innate Pharma are expanding the boundaries of biotherapeutics with tri-specific and multi-specific antibodies
Genentech, Pfizer, and City of Hope are discussing approaches to reduce on-target off-tumor toxicities including dosing strategies in liquid and solid tumor indications
Xencor, Harbour Biomed, and Harpoon Therapeutics will discuss their unique platforms and CMC strategies for scale-up and production
IGM Biosciences and MacroGenics will evaluate biomarker strategies for bispecific candidates during clinical development
The Antibody Society Members Save 10% – Contact us at membership@antibodysociety.org for the discount code!
---
---
October 2021
---
---
Covering the A to Z of ADCs, World ADC San Diego is the industry's most comprehensive and detailed learning experience with built-in networking opportunities. As we reflect on 2021, the global ADC renaissance has been truly exciting to see. The growth and comeback of the ADC community has resulted in an abundance of new data, innovative insights and valuable lessons learned, all of which will be shared at the 12th World ADC San Diego – the Digital Edition.
Check out your full guide for the 90+ world class leaders
Designed with AbbVie, Genentech, Daiichi Sankyo, Seagen and ImmunoGen, this leading forum will once again equip you with the knowledge and connections that will enable you to maximize the clinical therapeutic window of your ADC candidate. With 5 tracks of dedicated content, this is the perfect intensive crash course for experts across your team to get up to speed with the latest ADC developments from discovery to commercialization in just 4 days.
For more information, view your full event guide.
Join teams from leading companies online to uncover the secrets behind developing more clinically effective ADCs, and tailor the experience to meet your needs as you prepare for the next steps in your ADC journey.
The Antibody Society Members Save 10% – Contact us at membership@antibodysociety.org for the discount code!
---
---
November 2021
---
Network with 1,000+ colleagues at PEGS Europe which has been described as "the best biologics technology meeting in Europe." Our flexible registration policy makes it easy to transfer between in-person and online if your plans change at any time. Lock in your early savings now, and you can change how you participate later. Highlights this year include Plenary Keynotes from Dr. Andrew Sewell, Cardiff University, who will discuss new modes of T cell recognition, and Dr. Pauline Williams, GlaxoSmithKline, who will discuss the role of monoclonal antibody therapeutics in tackling global health challenges. Don't miss the 170 additional speakers, 50+ sponsors from industry, 40+ talks from Top Biopharma, or 70 presentations being given for the first time or with new data.
The Antibody Society Members Save 20% – Contact us at membership@antibodysociety.org for the discount code!
---
The Festival of Biologics brings together pharma & biotech, academics and research institutes, together with their partners across the value chain. Across antibodies, immunotherapy and biosimilars our participants share research, create new partnerships, and tackle the clinical trials, manufacturing and commercial challenges involved in bringing new therapies to market.
The Antibody Society Members Save 20% – Contact us at membership@antibodysociety.org for the discount code!
---
---
December 2021
---
---
Antibody Engineering & Therapeutics US returns for the 32nd year! Be a part of the longest standing and leading antibody engineering conference for accelerating next generation antibodies to commercial success.
This December we are bringing the antibody community together to discover the latest innovations in science on antibody discovery, engineering cytokines, drug conjugates, immunotherapy, machine learning and much more!
Attendees have the option to attend virtually or in-person at the physical event taking place in San Diego.
The Antibody Society Members save 15% on their pass! Contact us at membership@antibodysociety.org for the code.
---