The Antibody Society invites you to join our global community!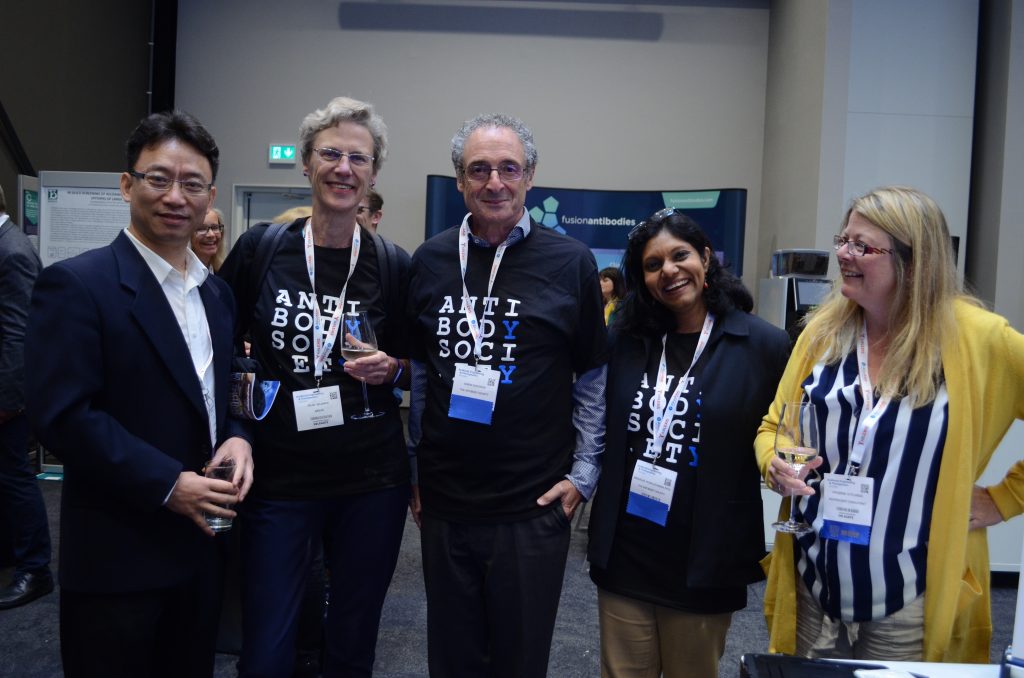 ---
Membership & Benefits
The Antibody Society serves to create common ground for the antibody engineering, novel binder, and antibody-based therapeutics community. We organize and encourage meetings, pursue antibody-related therapeutic initiatives, and support our next generation of scientists. Our annual meeting, Antibody Engineering & Therapeutics, is held in California in December. The Society's website serves as a valuable resource for its members. Summaries of the latest advances in making antibody therapeutics into clinical products are posted on a regular basis. Read more bout our Mission and Initiatives.
To serve its broad membership, the Society is pleased to be affiliated with two PubMed-indexed journals, Protein Engineering Design and Selection (PEDS) and mAbs.
PEDS publishes research papers and review articles relevant to the engineering, design and selection of proteins for use in biotechnology and therapy, and for understanding fundamental properties of activity, stability, folding, misfolding and disease.  In cooperation with the Society, PEDS publishes an annual special issue devoted to antibody research.
mAbs provides a forum for communication on all topics relevant to antibody research and development, with a focus on therapeutics. The broad scope ensures that the journal's articles are of interest to scientists, clinical researchers, and physicians, as well as the wider mAb community, e.g., readers interested in investment, regulatory requirements and strategic planning.
Membership benefits include:
Access to valuable antibody therapeutics pipeline data and other content in the Members Only section of the website
Discounted registration for our annual meeting, Antibody Engineering & Therapeutics
Discounts of up to 20% on registration for other antibody-relevant meetings
Access to research and educational resources provided by the Society
Reduced subscriptions for the Society-affiliated journals PEDS and mAbs
Opportunities to participate in the Society's initiatives
Opportunities to network with Society members
Membership is free for students, post-docs, AIRR Community members who attend AIRR Community meetings and all employees of our corporate sponsors.
The Antibody Society offers discounts of up to 25% for multi-year memberships. If you are interested, please send us an email or call (508) 808-8311.
---
Corporate Sponsorship
Interested in Becoming a Corporate Sponsor? The benefits include:
• Free membership to the Society for all sponsors' employees
• Access to top-level data on approved & investigational antibody therapeutics – over 1,600 mAbs from pre-clinical to recently approved
• Discounts on Jobs postings on the Society's Career Center
• Discounts on registration for antibody-related meetings, including Antibody Engineering & Therapeutics, PEGS, PepTalk
• Discounts on subscriptions for the Society-affiliated journal PEDS
• Opportunities to network with the Society's membership
• Opportunities to present in the Society's upcoming Webinar series
• Inclusion of your company's name & logo on our website, Society conference materials, & presentations
View Our Current Corporate Sponsor List & Learn More About Sponsorship
Contact us at info@antibodysociety.org or +1 (508) 808-8311o become a corporate sponsor!
---
Membership Levels
Level
Price
Standard membership
$100.00 per Year.
Select
Postdoctoral membership
Free
Membership expires after 2 Years.
Select
Student membership
Free
Membership expires after 2 Years.
Select
Corporate sponsor membership
Free
Select
AIRR Community membership
Free
Select
Standard memberships in The Antibody Society are renewed on an annual basis. Memberships paid by credit card will automatically renew unless we are informed that renewal is not desired. Please contact us at membership@antibodysociety.org to disable automatic renewal.
Postdoctoral and Student memberships in The Antibody Society can be renewed on a biennial basis.
Corporate Sponsor membership is limited to employees of companies who are active sponsors of the Antibody Society. Please use your company email when registering for a Corporate Sponsor Membership. A list of our current corporate sponsors can be found here.
AIRR Community membership is free, but exclusive to participants in the Adaptive Immune Receptor Repertoire (AIRR) Community meetings.
Please note:
The Antibody Society has an "opt-out" policy regarding emails to our members, i.e., members receive group emails unless we are informed that the emails are not desired. Please contact us at membership@antibodysociety.org to unsubscribe from our email list.
The Antibody Society is a 501(c)(6) non-profit as defined by the U.S. Internal Revenue Service. As such, donations of any kind, including corporate and standard membership fees, are not tax deductible.