May 11-15, 2019, University of Genoa, Italy
Follow us on Twitter: #AIRRC4
Welcome to the AIRR Community Meeting IV: Bridging the Gaps info page. Below you will find information about:
Attending Virtually
Registration
Meeting Recordings and Slides
We are pleased to inform you that we recorded the meeting sessions and together with the AIRR Community Communications Sub-committee we uploaded these to our YouTube channel.
You may visit our recordings page to access each talk individually.
Slide presentations are available to AIRR Community members through the login portal. AIRR-C membership was included in the meeting registration fee. To sign up to be an AIRR-C member go to the members section of this website and follow the prompts.
Membership is free for students and post-docs. Membership fees for AIRR Community members are typically included in the AIRR Community Meeting registration fees or can be paid annually through the members portal.
Meeting Booklet
Please find the final version of our meeting booklet here.
Attending Virtually
The AIRR-C Meetings Sub-committee provided a Virtual Attendance option for AIRR Community Meeting IV.  AIRR Community Meeting IV was streamed live through GoToMeeting. Virtual attendees were able to follow all of the scientific sessions seeing the slides and listening to the speakers. Please check our recordings page to access the videos of our talks.
Meeting Theme
The theme of this meeting, "Bridging the Gaps" addressed technological gaps between the amounts of accumulated data and our ability to process them, and the need for more involvement of stakeholder communities (industry, clinicians, patent communities) for uptake of the standards developed by the AIRR Community. We had two outstanding Keynote speakers – Dr. Sai Reddy from ETH Zurich and Dr. Antonio Lanzavecchia from IRB Bellinzona. Two panel sessions included representatives from institutions and companies that work with AIRR-seq data. In addition, two "challenge" sessions were planned to address the above-mentioned gaps. Two pre-meeting workshops were also available to teach the basics of immunology, and of AIRR-seq data analysis for beginners. We also had two poster sessions; and a tool and software demos session and a pipeline tutorial session. 
Meeting at a Glance: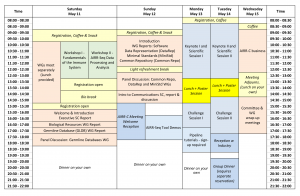 Information about travel, accommodations and Genoa
Click here for an interactive map of the conference venue and hotel options. 
Meeting Sponsors:
The AIRR Community wishes to thank our meeting sponsors for their valuable contributions. If you are interested in sponsoring a future AIRR Community meetings please contact us via meetings@airrc.antibodysociety.org.
Funding Agencies
Silver Level
Bronze Level
Meetings Committee: Jamie Scott, Ramit Mehr, Davide Bagnara, Jean-Philippe Bürckert and Pam Borghardt
Contact: meetings@AIRRC.antibodysociety.org
Past AIRR meetings
You can find information, videos and agendas of the past meetings here: Information on past AIRR meetings