Antibody Engineering & Therapeutics was held during December 9-13, 2019, in San Diego. The meeting was a great opportunity for Society members to connect with their fellow industry and academic scientists and executives from around the world, and learn about advances in antibody discovery and development.  As always, The Antibody Society's members designed the scientific program and acted as session Chairs.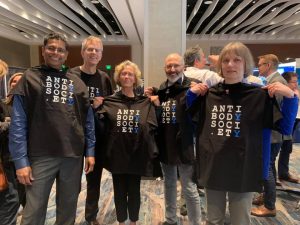 Sessions
The following pre-meeting workshops were held on December 9th: Introduction to Antibody Engineering (moderated by David Bramhill, PhD, Bramhill Biological Consulting, LLC); Bispecific Antibodies: New Strategies and Case Studies (moderated by Aran Labrijn, PhD, Genmab); and Machine Learning in Antibody and Protein Engineering (moderated by Sai Reddy, PhD, ETH Zurich and  Andrew Bradbury, MD, PhD, Specifica).
On December 10th, The Antibody Society's 2019 President Kerry Chester, PhD (UCL Cancer Institute) and Vice President Paul Carter, PhD (Genentech, Inc.) opened the meeting with some inspiring remarks.
Keynotes were delivered by Janine Schuurman, PhD (Genmab), George Georgiou, PhD (The University of Texas at Austin), Gary Nabel, MD, PhD (Sanofi Global R&D), and Marjolein van Egmond, PhD (Amsterdam University Medical Center).
As always, one of the highlights of the conference was the "Antibodies to Watch in 2020" presentation by Janice Reichert, PhD (Executive Director of The Antibody Society, Editor-in-Chief of mAbs).  To update you on 2019 year-end results as well as early 2020 results, we are planning a webinar on 'Antibodies to Watch in 2020', which will be available from our Learning Center in early 2020.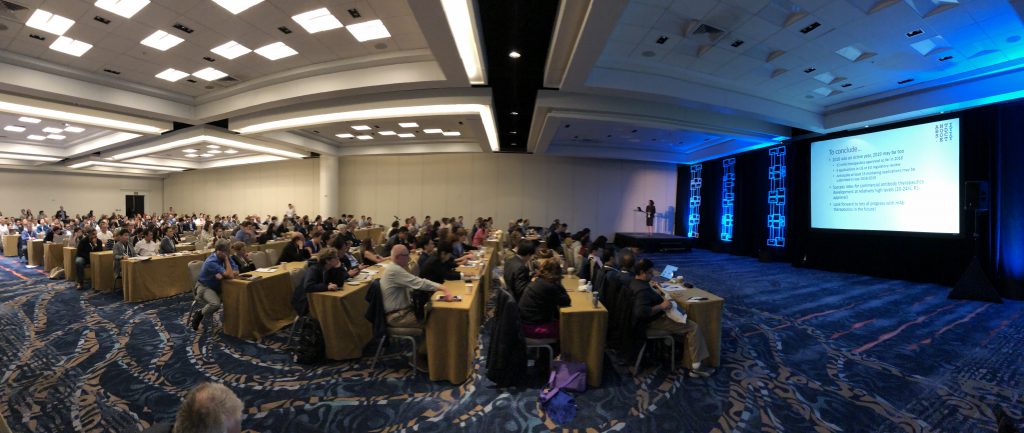 Antibody Engineering & Therapeutics Student/Postdoc Poster Competition
To recognize the research activities of promising student/postdoc attendees of the Antibody Engineering & Therapeutics conference, The Antibody Society sponsored a poster competition for students and postdocs. The winners received complimentary registration, support for travel expenses, and an opportunity to present at the conference.
Congratulations to our winners:
Timothy Czajka, University of New York at Albany.
Poster title: RIP-Off: An Intrabody-based Strategy to Neutralize Ricin and other Ribosome-Inactivating Protein (RIP) Toxins.
Kamal Joshi, Genentech.
Poster title: Toward Deeper Understanding of Bispecific Antibodies
The winners' award ceremony comments:
Timothy Czajka:
"Thank you again to the Antibody Society for this recognition and opportunity to speak here.  This is my third time attending the Antibody Engineering and Therapeutics conference and each time I've learned more than I could possibly remember and return to the lab with a huge surge of excitement and several new ideas that I'd like to apply to my own project.  I'm honored to be able to present my own research this year alongside so many fascinating talks and to be able to engage with many different experts in the field.  I would also like to thank my adviser, Nicholas Mantis, and Anne Messer for their help with my research and encouragement to attend and apply for this award."
Kamal Joshi:
"It is an honor to receive this award. I would like to thank the judges for conferring this recognition on my work. I would also like to thank the Antibody Society, of course for funding my trip here but more importantly for organizing these fantastic meetings and providing a solid platform for the exchange of the latest information on antibody research and development benefiting all including early stage career scientists like me. It's a real treat coming back to this meeting every time. Not only do I learn what is ongoing in the field, this meeting also provides me the opportunity to network with fellow scientists and facilitate connections. So again, thank you to the Antibody Society for this award. Thank you all."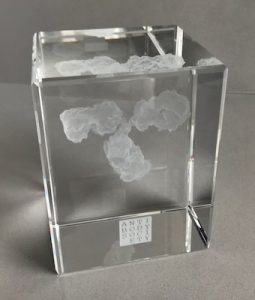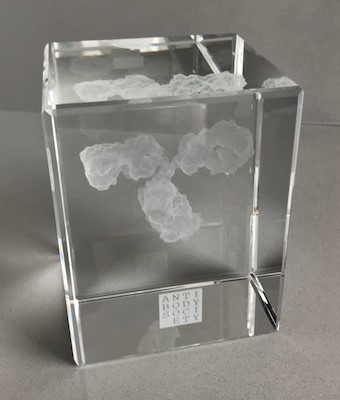 Meeting our members & Networking
The Society's booth in the exhibit hall was the perfect spot for Society board members and volunteers to meet our members and discuss Society initiatives. The T shirts were very popular again this year – come to the booth early next time if you missed your chance to get one.
There were also lots of chances to have discussions with our corporate sponsors and fun at their booths!
Informa Connect brings it all together!
We thank the fabulous folks at Informa Connect, Frances Pratt, Michael Keenan (and colleagues not seen here), for their fantastic management of the AE&T meeting!
We look forward to seeing you in sunny San Diego at the 2020 AE&T meeting!