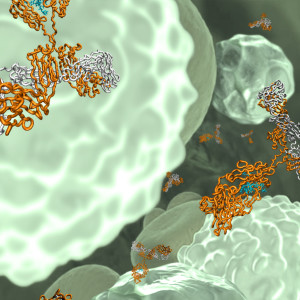 ---
Basic and clinical immunology / Antibody reagents / Tools for antibody informatics / Proteomic data / Genomic data / Clinical trials registries / Marketed products reports / Patents
---
Basic and clinical immunology
Immunopaedia
Immunopaedia is a non-profit educational website that aims to promote cutting edge knowledge and research in basic and clinical immunology worldwide. Immunopaedia acts as a broad resource of immunological knowledge and clinical studies, covering the entire immune system, its function and how it is interrupted during disease. They create and host online courses in partnership with the International Union of Immunological Societies and other bodies. Immunological concepts, clinical findings and case studies are used to give dynamic and interactive experiences. Find more resources here:
International Union of Immunological Societies
The International Union of Immunological Societies is an umbrella organization for many of the regional and national societies of immunology throughout the world. They organize international co-operation in immunology and to promote communication between the various branches of immunology and allied subjects, encourage within each scientifically independent territory co-operation between the Societies that represent the interests of immunology and contribute to the advancement of immunology in all its aspects.
Antibody reagents
ABCD (AntiBodies Chemically Defined)
The ABCD database is a manually curated depository of sequenced antibodies, developed by the Geneva Antibody Facility at the University of Geneva, in collaboration with the CALIPHO and Swiss-Prot groups at SIB Swiss Institute of Bioinformatics. The database is part of a broader project, with the mission of promoting the widespread use of recombinant antibodies by academic researchers and, ultimately, the replacement of animal-produced antibodies.
Antibodyguide
Antibodyguide is a platform for antibody discovery, making it easier for researchers to find the right antibodies for their work, making scientific research more efficient and less frustrating.
Antibodypedia
A searchable resource reporting primary data, publications, and commentary on publicly available antibodies that detect human protein targets.
CiteAb
The world's largest antibody search engine, with results ranked by citations.
BenchSci
A reagent intelligence platform that transforms published data into experiment-specific recommendations. A short video demo is available here. Academic groups may register for free.
Linscott's Directory of Immunological & Biological Reagents
This search engine can be used to find antibody suppliers for thousands of specific antibodies, or locate sources for other products and services, such as antigens, ELISA assay kits, cytokines, enzymes, recombinant proteins, siRNAs, tissues, organs, and custom antibody services.
Validated Antibody Database (VAD)
Labome's searchable antibody application record database with details about the antibody application method, dilution, the cell type or tissue sample used, in addition to information about the antibody itself, such as host species, clonality and clone name. This database is freely available to the research community.
EuroMAbNet Antibody Validation Guidelines
The European Monoclonal Antibodies Network (EuroMAbNet) created easily followed guidelines that provide a set of criteria and recommendations that will help researchers select the most effective mAbs from those available in the market and provide the strategic guidance needed to perform any essential antibody validation. The guidelines provide a step-wise scheme for navigating through the decision process.
Information about antibody reagent validation can also be found in the following open-access papers:
Tools for antibody informatics
Coronavirus-Binding Antibody Sequences & Structures. CoV-AbDab  contains data on over 10,000 published and patented antibodies and nanobodies known to bind to at least one betacoronavirus. It represents the first consolidation of antibodies known to bind SARS-CoV-2 and other betacoronaviruses such as SARS-CoV-1 and MERS-CoV. SARS-CoV-2 variant binding/neutralization profiles, as well as data more remote clades such as alphacoronaviruses, are included. Relevant metadata such as evidence of cross-neutralization, antibody/nanobody origin, full variable domain sequence (where available) and germline assignments, epitope region, links to relevant PDB entries, and source literature are provided, as well as homology models for all antibodies without solved structures, to facilitate structural investigations.
IMGT®, the international ImMunoGeneTics information system®, is the global reference in immunogenetics and immunoinformatics, created in 1989 by Marie-Paule Lefranc (Université de Montpellier and CNRS). IMGT® is a high-quality integrated knowledge resource specialized in the immunoglobulins (IG) or antibodies, T cell receptors (TR), major histocompatibility (MH) of human and other vertebrate species, and in the immunoglobulin superfamily (IgSF), MH superfamily (MhSF) and related proteins of the immune system (RPI) of vertebrates and invertebrates. IMGT® provides a common access to sequence, genome and structure Immunogenetics data, based on the concepts of IMGT-ONTOLOGY and on the IMGT Scientific chart rules. IMGT® works in close collaboration with EBI (Europe), DDBJ (Japan) and NCBI (USA). IMGT® consists of sequence databases, genome database, structure database, and monoclonal antibodies database, Web resources and interactive tools.
The following tools can be accessed from the website of Dr. Andrew C.R. Martin's group:
abYsis – integrated database and analysis suite;
Assess humanness (G-score) – assess humanness against expressed sequences in Kabat divided into germline families;
Packing Angle Prediction Server – predict VH/VL packing angle.
The following are included within abYsis, but also available as standalone tools:
KabatMan – query the Kabat sequence data;
SeqTest – test a sequence against the Kabat data for unusual residues;
Chothia canonicals – identify canonical classes for CDRs from your sequence;
Human subgroups – assign the human subgroup for your sequence;
Assess humanness (H-score) – assess humanness against expressed sequences in Kabat;
Abnum – apply standard numbering to sequences or structures.
AHo's Amazing Atlas of Antibody Anatomy. The AAAAA aims to become the ultimate tool for antibody structural analysis, modelling and engineering.
The Structural Antibody Database (SAbDab). This database contains all the antibody structures available in the PDB, annotated and presented in a consistent fashion. Each structure is annotated with a number of properties, including experimental details, antibody nomenclature (e.g., heavy-light pairings), curated affinity data and sequence annotations. The database can be used to inspect individual structures, create and download datasets for analysis, search the database for structures with similar sequences to a query, monitor the known structural repertoire of antibodies, and much more. All nanobody structures in the PDB can also be found in SAbDab. SAbDab was built by the Oxford Protein Informatics Group (OPIG) under an open-innovation agreement.  Antibody prediction tools can be found at the SAbPred site.
SAbPred is a collection of computational tools (e.g., modelling software, developability prediction software) that make predictions about the properties of antibodies, focusing on their structures. Antibody informatics tools can help improve our understanding of immune responses to disease and aid in the design and engineering of therapeutic molecules.
The Therapeutic Structural Antibody Database (Thera-SAbDab), a self-updating database of antibody- and nanobody-derived immunotherapeutic variable domain sequences and their corresponding structural representatives in SAbDab (which harvests data from the Protein Data Bank). Thera-SAbDab updates alongside SAbDab on a weekly basis. It detects not only exact sequence matches to known structures, but also close sequence matches (divided into two categories: 95-98% seqID, or 99% seqID). Thera-SAbDab can be searched by INN, attribute or sequence.
ExPASy is the Swiss Institute of Bioinformatics Resource Portal which provides access to scientific databases and software tools in different areas of life sciences, including proteomics, genomics, phylogeny, systems biology, population genetics, and transcriptomics.
Proteomic data
UniProt is a comprehensive, high-quality and freely accessible resource of protein sequence and functional information.
The Human Protein Atlas contains information for a large majority of all human protein-coding genes regarding the expression and localization of the corresponding proteins based on both RNA and protein data. The atlas consists of three subparts; cell, normal tissue, and cancer with each subpart containing images and data based on antibody-based proteomics and transcriptomics.
The Protein Information Resource (PIR) is an integrated public bioinformatics resource to support genomic, proteomic and systems biology research and scientific studies
The Protein Data Bank (PDB) is a single repository of information about the 3D structures of proteins, nucleic acids, and complex assemblies. The PDBTM is the first comprehensive and up-to-date transmembrane protein selection of the Protein Data Bank.
STRING is a database of known and predicted protein-protein interactions. The interactions include direct (physical) and indirect (functional) associations; they stem from computational prediction, from knowledge transfer between organisms, and from interactions aggregated from other (primary) databases.
PhosphoSitePlus® (PSP) is an online systems biology resource providing comprehensive information and tools for the study of protein post-translational modifications (PTMs) including phosphorylation, ubiquitination, acetylation and methylation.
SUPERFAMILY is a database of structural and functional annotation for all proteins and genomes.
Genomic data
iReceptor is a distributed data management system and scientific gateway for mining "Next Generation" sequence data from the adaptive immune (antibody/B-cell or T-cell) receptor repertoire (AIRR). The main goal of iReceptor is to connect a distributed network of AIRR-seq repositories (the AIRR Data Commons), allowing queries across multiple projects, labs, and institutions. The iReceptor project works closely with the AIRR Community (now part of The Antibody Society), to develop both the foundational biological and immune genetics requirements for reporting these data, as well as to develop the technological components of the iReceptor Scientific Gateway and the AIRR Data Commons. The AIRR Community was formed to develop protocols and best practices to facilitate comparing and sharing data.
VBASE2 is an integrative database of germ-line variable genes from the immunoglobulin loci of human and mouse. All variable gene sequences are extracted from the EMBL-Bank.
The Expression Atlas provides information on gene expression patterns under different biological conditions. Gene expression data is re-analyzed in-house to detect genes showing interesting baseline and differential expression patterns.
Mouse Genome Informatics (MGI) is the international database resource for the laboratory mouse, providing integrated genetic, genomic, and biological data to facilitate the study of human health and disease.
The Genomic Data Commons (GDC) Data Portal is an interactive data system for researchers to search, download, upload, and analyze harmonized cancer genomic data sets, including The Cancer Genome Atlas.
GeneCards is a searchable, integrative database that provides comprehensive, user-friendly information on all annotated and predicted human genes. It automatically integrates gene-centric data from ~125 web sources, including genomic, transcriptomic, proteomic, genetic, clinical and functional information.
COSMIC, the Catalogue Of Somatic Mutations In Cancer, is the world's largest and most comprehensive resource for exploring the impact of somatic mutations in human cancer.
Clinical trials registries
ClinicalTrials.gov is a registry and results database of publicly and privately supported clinical studies of human participants conducted around the world.
EudraPharm is intended to be a source of information on all medicinal products for human or veterinary use that have been authorized in the European Union (EU) and the European Economic Area (EEA) and on clinical trials of medicinal products, including products with or without a marketing authorization.
JPRN Search Portal: This website can be used to cross-search the content of four national clinical research information registries:
Japan Registry of Clinical Trials (JRCT),
The University Hospital Medical Information Network Center (UMIN-CTR),
The Japan Medical Association Center (JMACCT),
The Japan Pharmaceutical Information Center (JAPIC).
Japan Pharmaceutical Information Center: Clinical Trial Information; UMIN Clinical Trials Registry: Clinical trials in Japan.
The World Health Organization's International Clinical Trials Registry Platform (ICTRP) aims to ensure that a complete view of research is accessible to all those involved in health care decision making. The ICTRP Search Portal aims to provide a single point of access to information about ongoing and completed clinical trials. It provides a searchable database containing the trial registration data sets made available by data providers around the world meeting criteria for content and quality control. Trial registration data sets are available on the ICTRP Search Portal in English only. The ICTRP Search Portal webpage also includes links to certain registries in the following languages:
Chinese – China Drug Trials, Chinese Clinical Trial Registry (ChiCTR)
Dutch – The Netherlands National Trial Register (NTR)
German – German Clinical Trials Register (DRKS)
Japanese – Japan Primary Registries Network (JPRN)
Korean – Clinical Research Information Service (CRiS), Republic of Korea
Persian – Iranian Registry of Clinical Trials (IRCT)
Portuguese – Brazilian Registry of Clinical Trials (ReBec)
Spanish – Cuban Public Registry of Clinical Trials (PRCEC)
Marketed products reports
US Food and Drug Administration. Information about FDA-approved brand name and generic prescription and over-the-counter human drugs and biological therapeutic products can be found at drugs@fda, which includes most of the drug products approved since 1939. The majority of patient information, labels, approval letters, reviews, and other information are available for drug products approved since 1998.
Data for novel drugs approved by FDA's Center for Drug Evaluation and Research during 2005-2020 can be found here.
Biosimilar Product Information can be found here.
Data for all New Molecular Entities (NMEs) approved by FDA from 1985 – 2019 and regulated by the Center for Drug Evaluation and Research can be found here. The listed NMEs include both small molecule drugs approved under a New Drug Application (NDA) and new biological products approved under a Biologics License Application.
European Medicines Agency. The European public assessment reports for human medicines published by EMA, and information about pending European Commission decisions and medicines under evaluation by EMA can be found via the 'Medicines under evaluation' page.
European Commission. Newly adopted Marketing Authorisation Decisions (last six months) made by the European Commission.
Health Canada Drug and Health Product Register.
Japan's Pharmaceuticals and Medical Devices Agency (PMDA) is the Japanese regulatory agency, working together with the Ministry of Health, Labour and Welfare. PMDA conducts scientific reviews of marketing authorization application of pharmaceuticals and medical devices, monitoring of their post-marketing safety. Lists of approved drugs and review reports are available on the PMDA website.
United Kingdom's Medicines and Healthcare products Regulatory Agency (MHRA) provides information about medicines available in the UK, including patient information leaflets (PILs), details on how the medicine can be used (SmPCs) and scientific reports (PARs).
New Zealand Medicines and Medical Devices Safety Authority (MEDSAFE) is a business unit of the Ministry of Health and is the authority responsible for the regulation of therapeutic products in New Zealand.
Patents
The Orange Book.  "Approved Drug Products with Therapeutic Equivalence Evaluations" (commonly known as the Orange Book) identifies drug products approved on the basis of safety and effectiveness by the Food and Drug Administration (FDA) under the Federal Food, Drug, and Cosmetic Act (the Act) and related patent and exclusivity information.
The Purple Book. Lists of Licensed Biological Products with Reference Product Exclusivity and Biosimilarity or Interchangeability Evaluations.  The "Purple Book" lists biological products, including any biosimilar and interchangeable biological products, licensed by FDA under the Public Health Service Act (the PHS Act). The Purple Book includes the date a biological product was licensed under 351(a) of the PHS Act and whether FDA evaluated the biological product for reference product exclusivity under section 351(k)(7) of the PHS Act.
Espacenet. Free access to the database of over 90 million patents documents from around the world.
World Intellectual Property Organization. Using PATENTSCOPE you can search 59 million patent documents, including 3.1 million published international patent applications.
The United States Patent and Trademark Office (USPTO) is the federal agency for granting U.S. patents and registering trademarks. Patents may be searched using the resources available on the USPTO website.
The Lens is an open global cyberinfrastructure to make the innovation system more efficient and fair, more transparent and inclusive.The Lens is building an open, integrative basis for Innovation Cartography. Specifically, the Lens serves nearly all of the patent documents in the world as open, annotatable digital public goods that are integrated with scholarly and technical literature along with regulatory and business data.
Other relevant websites
U.S. Food and Drug Administration's Orphan Drug Product designation database
World Health Organization's Lists of Recommended and Proposed International Nonproprietary Names
United States Adopted Name (USAN) Drug Finder.
The Antibody Registry was created to give researchers a way to universally identify antibodies used in the course of their research. The Antibody Registry assigns unique and persistent identifiers to each antibody so that they can be referenced within publications.
Top 200 Drugs by Sales. Since 2006, the research group of Prof. Jón Njarðarson at University of Arizona's Department of Chemistry and Biochemistry has compiled sales data for top-selling pharmaceuticals. With the exception of data for 2014 and 2017, the annual sales data are presented in posters that can be downloaded from their website.