The Adaptive Immune Receptor Repertoire (AIRR) Community of The Antibody Society is a research-driven group that is organizing and coordinating stakeholders in the use of next-generation sequencing technologies to study antibody/B-cell and T-cell receptor repertoires. Recent advances in sequencing technology have made it possible to sample the immune repertoire in exquisite detail. AIRR sequencing (AIRR-seq) has enormous promise for understanding the dynamics of the immune repertoire in vaccinology, infectious diseases, autoimmunity, and cancer biology, but also poses substantial challenges. The AIRR Community was established to meet these challenges.
If you are interested in learning more about the AIRR Community, please contact "info@airr-community.org" or visit the membership page and support AIRR research by becoming a member (students & postdocs are free) of this dynamic community.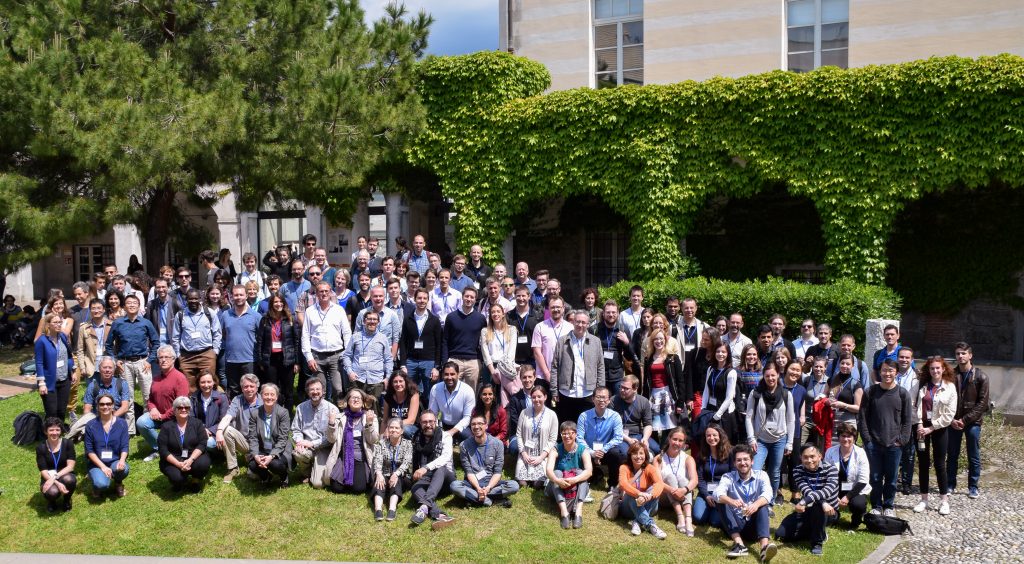 The AIRR Community and its associated meetings and workshops are designed to develop and promote standards and recommendations for:
obtaining, analyzing, curating and comparing/sharing AIRR-seq datasets;
reviewing AIRR-seq data analysis tools for AIRR compliance;
relating AIRR-seq datasets to other "big data" sets, such as microarray, flow cytometric, and MiSeq and single-cell gene-expression data; and
legal and ethical issues involving the use and sharing of AIRR-seq data sets derived from human sources.
The proceedings of the workshops, including the recommendations and action plans, are published to benefit the larger scientific community. The AIRR-C Comms is active on social media. To stay connected and learn the latest news in the AIRR Community, follow us on X, LinkedIn, Mastodon, or BlueSky, subscribe to our YouTube Channel, or check out the AIRR News page. You can also explore the B-T.CR forum and wiki and join the AIRR-C Slack.
What is the AIRR Community?
The idea of forming an Open Science grassroots community working with AIRR-seq data was the brainchild of Jamie Scott, Tom Kepler, and Felix Breden. From its conception in 2014, the AIRR Community grew and flourished, then joined The Antibody Society in 2018 as an official Committee. The AIRR Community now comprises a multidisciplinary group of several hundred stakeholders who are dedicated to the development of methods and standards for the generation, analysis and sharing of AIRR-seq data. Seven Working Groups and four Sub-Committees publish research articles describing standards for the generation, annotation, storage and sharing of AIRR-seq data following FAIR principles.
One result of these standards is the establishment of the AIRR Data Commons which provides public access to more than 80 MiARR compliant studies, including many COVID-19 studies, and their AIRR-seq data for query and download.  The Community also organizes meetings and workshops to report progress in the field and promote its standards as well as webinars and seminars to promote AIRR-seq related research. The governance structure of the AIRR Community (adopted 2020.03.26) can be found in the Community Resources "members only" section.
AIRR Community Meetings
The AIRR Community is excited to be planning their seventh Meeting AIRR Community Meeting VII – Learnings and Perspectives which will be held in Porto, Portugal on June 3-6, 2024. Save the Date!
For complete details about all AIRR Community Meetings, visit the AIRR-C Meetings page.
Benefits of Membership
Active members of the AIRR Community are involved in one or more of its Working Groups and Sub-Committees. These international groups meet regularly and are working on topics ranging from the validation and designation of germline V genes, software and data standards, addressing legal and ethical issues arising from the production, use and sharing of AIRR-seq data, to meeting planning. Natural networks of collaboration arise organically from these highly interactive projects. Thus, as a member of the AIRR Community, you will join a network of experts in the field who are actively solving real-world problems for the good of the scientific community.