Founded in 2007, The Antibody Society is an international, non-profit association representing individuals and organizations involved in antibody-related research and development. Our members serve as the Scientific Advisors for the Antibody Engineering & Therapeutics (US) and the Antibody Engineering & Therapeutics Europe conferences. To provide additional opportunities for education and networking, we contribute scientific content and financial support for other conferences that cover topics relevant to antibody R&D, and are hosted by non-profit organizations. We research and analyze data on targeted therapeutics developed by the biopharmaceutical industry, and distribute our results and opinion via the Society's website, presentations and publications. The Society also engages with government and international agencies on matters of importance to the antibody community.
With the support of our sponsors and members, in 2017 the Society: 1) engaged in substantive discussions with WHO's International Non-proprietary Names (INN) Expert Group regarding the definitions used to assign INN; 2) incorporated the Adaptive Immune Receptor Repertoire (AIRR) Community as a committee of the Society, and 3) initiated a study of antibody therapeutics development metrics.
In 2018, we are extending our work on the initiatives described above. In particular:
Prof. Andreas Plückthun, a member of The Antibody Society's Board of Directors, has been appointed biological and publications advisor to WHO's INN Expert Group. Prof. Plückthun will represent the Society in antibody naming discussions with the Expert Group. For more information, see 'INN issue updates'.
The AIRR Community committee of the Society continues to develop their recommendations for: 1) a common repository for AIRR sequence data, 2) standards for publishing and depositing AIRR sequence data, and 3) resources and guidelines for the evaluation of molecular and statistical methods for AIRR sequence data. For more information, see 'About the AIRR Community' and explore items in the dropdown menu under the AIRR-C tab in the main menu.
Datasets generated as part of the antibody therapeutics development metrics initiative are being analyzed and results disseminated via our website and presentations. Our analyses indicate that antibody therapeutics have approval success rates that substantially exceed those of small molecule therapeutics (~20-25% vs ~10%, respectively, with variation depending on factors such as therapeutic area). Members may download relevant presentations in the Members Only area. Please login to access the content.
We encourage you to join the Society to take advantage of the substantial benefits of membership, including discounts on fees for selected KNect365, CHI, and Hanson Wade meetings, discounted subscriptions to Society-affiliated journals PEDS and mAbs (special subscription rate of US $84 online only access for Antibody Society members)  and access to information in the Members Only section of the website. In particular, we encourage members to take advantage of the discount on registration for Antibody Engineering & Therapeutics, which is the annual meeting of The Antibody Society traditionally held in San Diego in December. Membership is free for students, post-docs and employees of our corporate sponsors!
---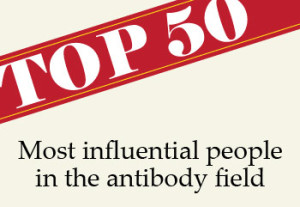 The Antibody Society's Board of Directors and its Advisors, who represent ~ 80% of the most influential people in the antibody R&D field according to this survey, thank you for your support!