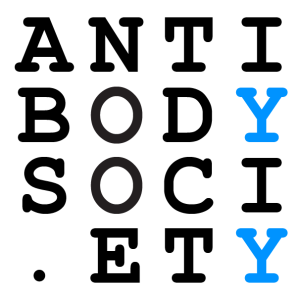 Founded in 2007, The Antibody Society is an international, non-profit trade association representing individuals and organizations involved in antibody-related research and development. The Society's core structure is composed of Committees, which offer leadership opportunities to members interested in participating in Society activities and initiatives
Our Adaptive Immune Receptor Repertoire Community is a research-driven group that is organizing and coordinating stakeholders in the use of next-generation sequencing technologies to study antibody/B-cell and T-cell receptor repertoires.
We are an authoritative source of information about antibody therapeutics development, which we disseminate via our website, presentations and publications. For example:
Our Web Resources pages provide access to publications of the Society's research and commentary, relevant news about antibody therapeutics development, and information about antibody product candidates undergoing regulatory review and approved products.
Our Learning Center provides access to our webinars, including a 10-part series on Antibody Reagent Validation.
Our COVID-19 pages document progress in the development of COVID-19 interventions, including antibody therapeutics, diagnostics, and vaccines. The complete "Coronavirus in the Crosshairs" series can be found here.
We also organize events on topics relevant to antibody research and development.
As a business association, the Society can engage with government and international agencies such as the World Health Organization to discuss issues of importance to the antibody community.
Further information about The Antibody Society's Mission and Initiatives can be found here.
Join the Antibody Society
We encourage you to join the Society to take advantage of the substantial benefits of membership, including discounts on fees for selected Informa, CHI, and Hanson Wade meetings. Members also have access to valuable commercial clinical pipeline data, which can be downloaded from the Members Only section of the website.
Membership is free for students, post-docs and employees of our corporate sponsors! For more information, contact us at info@antibodysociety.org or call (508) 808-8311.