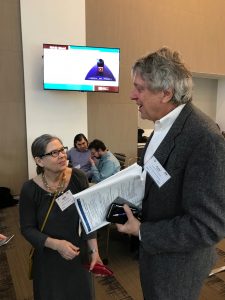 The Antibody Society offers leadership opportunities to members interested in participating in Society activities!
We invite our members to join our standing committees:
Initiatives Committee
Meetings Committee
Education Committee
Communication/Membership Committee
Finance Committee
Get involved and make your voice heard!

Contact us at membership@antibodysociety.org to join a Committee.
---
Terms of Reference for Standing Committees
---
Function
The Initiatives Committee is responsible for fostering and developing new initiatives for the Society. This committee is meant to support the development of new initiatives, which can take many forms, including meetings, workshops, educational tools, policy positions, or whole areas of intellectual development (e.g., the AIRR Community). It will:
Invite Society Members to suggest initiatives, perhaps via survey or other mechanism
Prioritize initiatives that support the Mission, Vision, Values and Strategic Plans of the Society
Identify one or more "Champions" for each initiative
Help to build a team to develop the initiative, including assistance from other Committees (e.g., Communications/Memberships, the AIRR Community, etc.)
Help develop a plan for the initiative, including a timeline and milestones, and identify any budgetary needs
 Seek feedback and approval from Executive Team and Board of Directors for the initiative (and its financial support if required)
Follow progress of each initiative throughout its "life cycle" and provide reporting to the Executive and Board
Once it has "matured" an initiative may be moved to a different Committee (e.g., the Meetings, Communications/Membership) or become a new Committee of the Society
The Meetings Committee is responsible for meetings and/or workshops held or supported by the Society. It will:
Oversee the planning of existing meetings by special Sub-committees (e.g., the Scientific Advisors of the annual Antibody Engineering & Therapeutics meeting in San Diego will become a Sub-committee working in collaboration with KNECT365)
Collaborate with the Initiatives Committee on development of new meetings and workshops, with approved new meetings or workshops forming Sub-committees of the Meetings Committee.
Collaborate with the Communications/Membership Committee on advertising meetings or workshops
Collaborate with the Finance Committee on funding meetings or workshops, including the issues of identifying sponsorship for the meeting (including grant applications), and targeted earnings for the Society
The Education Committee is responsible for proposing, developing and implementing education and outreach activities of the Society, including but not limited to: Informational and educational material, webinars, career development, networking events. Committee members will:
Help develop plans for proposed activities, including timelines and milestones, and identify any budgetary needs
Seek feedback from the Initiatives Committee, and feedback and approval from the Executive Team and Board of Directors for the initiative (and its financial support if required)
Follow the progress of each initiative throughout its "life cycle" and provide reporting to the Executive and Board
The Communication/Membership Committee is responsible for communications to members and for crafting, updating, and overseeing a strategic marketing plan that promotes the Society's mission and encourages membership and sponsorship. The Communications/Membership Committee will:
 Develop and implement a comprehensive marketing and communications strategy
Set priorities for marketing efforts
Assist with the continued development of the website, ensuring relevant and current content
 Engage audience through various social media channels
Identify collaborative opportunities with businesses and organizations on new and existing events
Consider new initiatives, such as developing a digital platform to promote workforce opportunities provided by employers to young workers
Work with the Executive Team on short and long-term marketing needs
Assist other committee with communication needs, such as crafting fund-raising letters
Maintain membership and email lists
Recommend an annual marketing budget
The Finance Committee is responsible for providing financial oversight, and will:
Develop an annual operating budget
Monitor adherence to the budget
Set short- and long-range financial goals
Develop and execute funding strategies (e.g., soliciting funding from corporate sponsors) to achieve goals
Develop multi-year operating budgets that integrate strategic plan objectives and initiatives
Present all financial goals and proposals to the Board of Directors for approval
Work cooperatively with other committees when fund-raising is needed for special programs or events, such as the AIRR Community meetings
---
For all committees:
Roles and Responsibilities of the Members
All Committee members shall:
Actively participate in the majority of the Committee meetings
Partake in discussions and provide constructive suggestions that support the overall function of the Committee
Develop, implement and monitor the progress of various projects
AIRR Community members will report on the status of any relevant AIRR Community sub-Committees
Membership
Upon approval of a majority of the current members, any registered member of the Society may join the Committee. The Committee shall consist of no more than 6 members. Each Committee will include at least one member of the Society's Board of Directors, and one member of the AIRR Community. The Finance Committee will include the Society's Treasurer and the President or Vice President.
Voting
Each Committee member may vote once on any given proposal. Committee members who are also members of the Executive Team or the Board of Directors will vote only once in total on any given proposal, i.e., if the person votes at the Committee level, they will then abstain from voting on the same proposal if it is presented to the Executive Team or the Board of Directors for a vote.
Leadership
The Co-Leaders shall be elected annually by majority vote of the members of the Committee. Co-leaders will be responsible for:
Setting the agenda, with input from Committee members
Scheduling meetings
Encouraging fulsome discussion by the Committee Members; Co-Leaders should also encourage consensus (in which case voting is unnecessary), and where a vote is required, should refrain from voting. (Where there are two Co-Leaders, at least one should refrain from voting in all cases.)
Create post-meeting notes and action items
Submit budget requests to the Finance Committee
Term
Inaugural members of the Committee are initially appointed for either one- or two-year terms and are thereafter eligible for re-appointment to additional two-year terms.
Committee Meetings Schedule
A Committee will meet at the request of its Co-Leaders. Meetings may occur either in person or by information-communication technologies, as determined by one or both Co-Leaders.
The Committee will meet at least quarterly to undertake regular business, or more frequently as required.
Optimally meeting dates/times for 6 months to 1 year will be scheduled in advance. At a minimum, meetings should be scheduled 3 weeks in advance.
Agendas should be circulated to Committee Members at least 1 week in advance of a meeting, so as to allow the latter to suggest items for the agenda.
Quorum
A quorum shall be a majority of Committee members present at the meeting in person or by information-communication technologies.
Formation of Sub-committees
Committees may form Sub-committees that will manage special programs, events or activities within the purview of the Committee. For example, the Communications/Membership Committee may form a Sub-committee responsible for the Society's Website.
Reporting
The meeting agendas and post-meeting notes/action items should be submitted to the Executive Team at least quarterly and kept on file by the Executive Director. One or both Co-Leaders will report progress over the past year and plans for the coming year at the Society's Board of Directors' Annual meeting and ensure that all accountability requirements of the Society are met.
Disputes
Should disputes that cannot be resolved at the Committee level arise, Committee Members may appeal to the Executive Team (comprising the President, Vice President, Executive Director and Treasurer). If disputes between a Committee and the Executive Team arise, then they will be resolved by appeal to the Board of Directors.