All Antibody Society webinars are open access, and can be viewed for free.
Check out the AIRR Community YouTube Channel for more recorded talks related to this promising field of science.
Upcoming AIRR Community Webinars
New webinars are coming soon!
Want more content on adaptive immune receptors or antibody research and development? Nearly 50 webinars are currently available here.
On Demand Webinars
---
Setting up Rep-Seq for antibodies: There and back again
Speakers: Dr. Henk-Jan van den Ham, Research Team Leader, and Dr. Lorenzo Fanchi, Team Lead Product Management at ENPICOM 
Broadcast date: February 9, 2023
Adaptive immune repertoire sequencing ('Rep-Seq') is increasingly being used to evaluate the immune system, interventions targeting the immune system (such as vaccination) [1], and immune-derived therapeutics (e.g., immunotherapy and antibodies) [2]. For antibody discovery, repertoire sequencing has become an indispensable technology capable of generating vast pools of data from which to identify and characterize the best candidates using tools such as IGX Platform [3]. In this webinar, we describe our journey of setting up a validated Rep-Seq assay for BCR/Antibodies.
Given the biological characteristics of the adaptive immune repertoire, important conditions for developing a high-quality Rep-Seq assay include: well-curated germline databases, high-quality sample prep and sequencing, and rock-solid processing software. To validate sequence processing and analysis software, we make use of a simulation framework that takes in an AIRR-compatible repertoire and outputs highly realistic HTS validation data. Furthermore, ENPICOM teamed up with Viroclinics/DDL (a Cerba company) to set up a reliable and robust high-quality Rep-Seq method. By designing and including spike-ins in pilot sequencing runs, we are able to better assess the characteristics of our Rep-Seq assay. By integrating both wet- and dry-lab development and testing, we provide a robust Rep-Seq quantification solution that makes use of the latest developments in genomics, bioinformatics, and drug development.
References:
[1] Arnaout et al, The Future of Blood Testing Is the Immunome; Front Imm, 2021.
[2] Oude Lohuis et al, High-throughput Sequencing Technologies are Revolutionising Antibody Discovery; IBI, 2021.
[3] Technologies, challenges, and applications of immune repertoire sequencing; ENPICOM 2020.
---

Machine learning for the analysis of adaptive immune receptors and repertoires
Speakers: Maria Chernigovskaya, University of Oslo and Milena Pavlović, University of Oslo
Broadcast date: November 15, 2022
Adaptive immune receptor repertoires (AIRRs) capture past and present immune responses and therefore represent a powerful resource for developing diagnostics and therapeutics. Machine learning (ML) has the ability to discover complex sequence patterns and help further these diagnostic and therapeutic aims. However, to exploit these opportunities, it is necessary to overcome the intrinsic challenges of AIRR data: unknown rules determining antigen binding, high diversity and specificity of receptors with low overlap between AIRRs, and low signal-to-noise ratio. Further, different ML approaches need to be validated and compared before they could be deployed in practice. In this webinar, we will focus on standardized and reproducible ML workflows, benchmarking, and comparison of AIRR ML approaches. We will argue for the use of simulation for validation and benchmarking of ML methods before moving to experimental datasets.
Maria Chernigovskaya is a PhD candidate supervised by Prof. Victor Greiff and Prof. Geir Kjetil Sandve at the University of Oslo, Norway. Maria is working on a methodology for simulating synthetic adaptive immune receptor repertoire (AIRR) datasets to guide the development and benchmarking of AIRR-based machine learning.
Milena Pavlović is a postdoctoral researcher in the Sandve lab at the University of Oslo working on machine learning, causal inference, and their application to biomedical domains. During her PhD, Milena developed the immuneML platform (https://immuneml.uio.no) for the analysis of adaptive immune receptors and repertoires (AIRR), focusing on model robustness and reproducibility, and examined how the knowledge of the data generating process and the causal inference framework could improve AIRR machine learning diagnostics.
---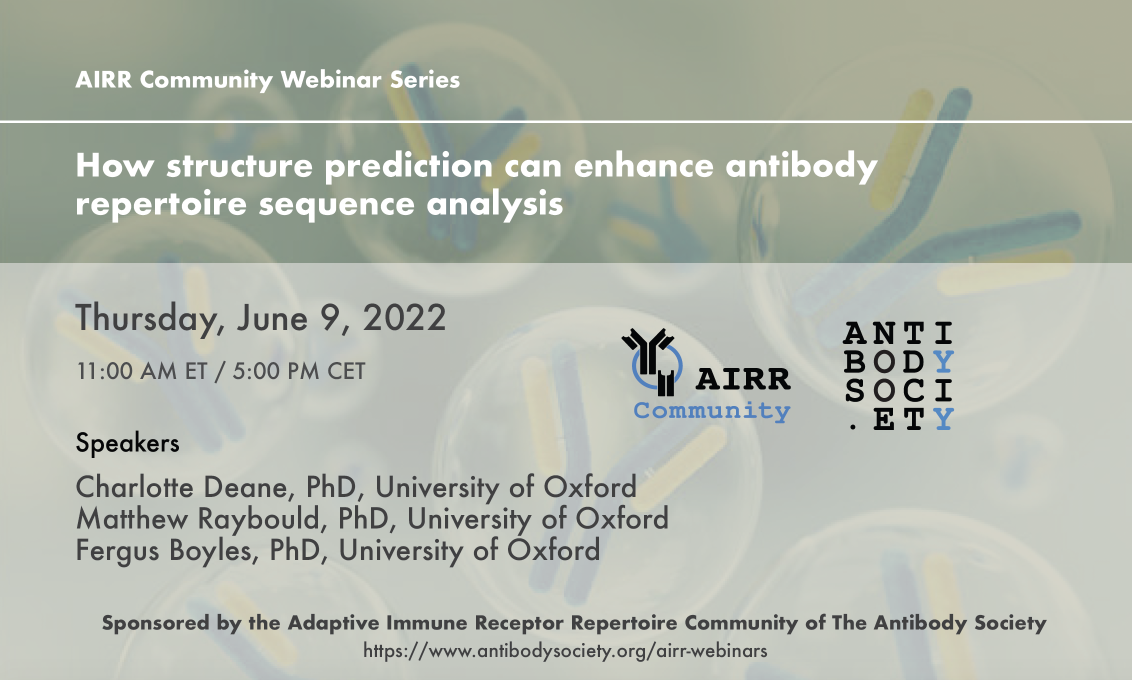 How structure prediction can enhance antibody repertoire sequence analysis
Speakers: Charlotte Deane, Matthew Raybould, Fergus Boyles
Broadcast date: June 9, 2022
In this webinar, Drs. Deane, Raybould and Boyles will share examples of how structure prediction enriches antibody sequence data and provide practical guidance for getting started using Oxford Protein Informatics Group (OPIG) tools to structurally featurise your antibody sequences. In particular, they will demonstrate the added value to tasks such as antibody functional clustering, repertoire disease-response diagnosis, and virtual screening.
---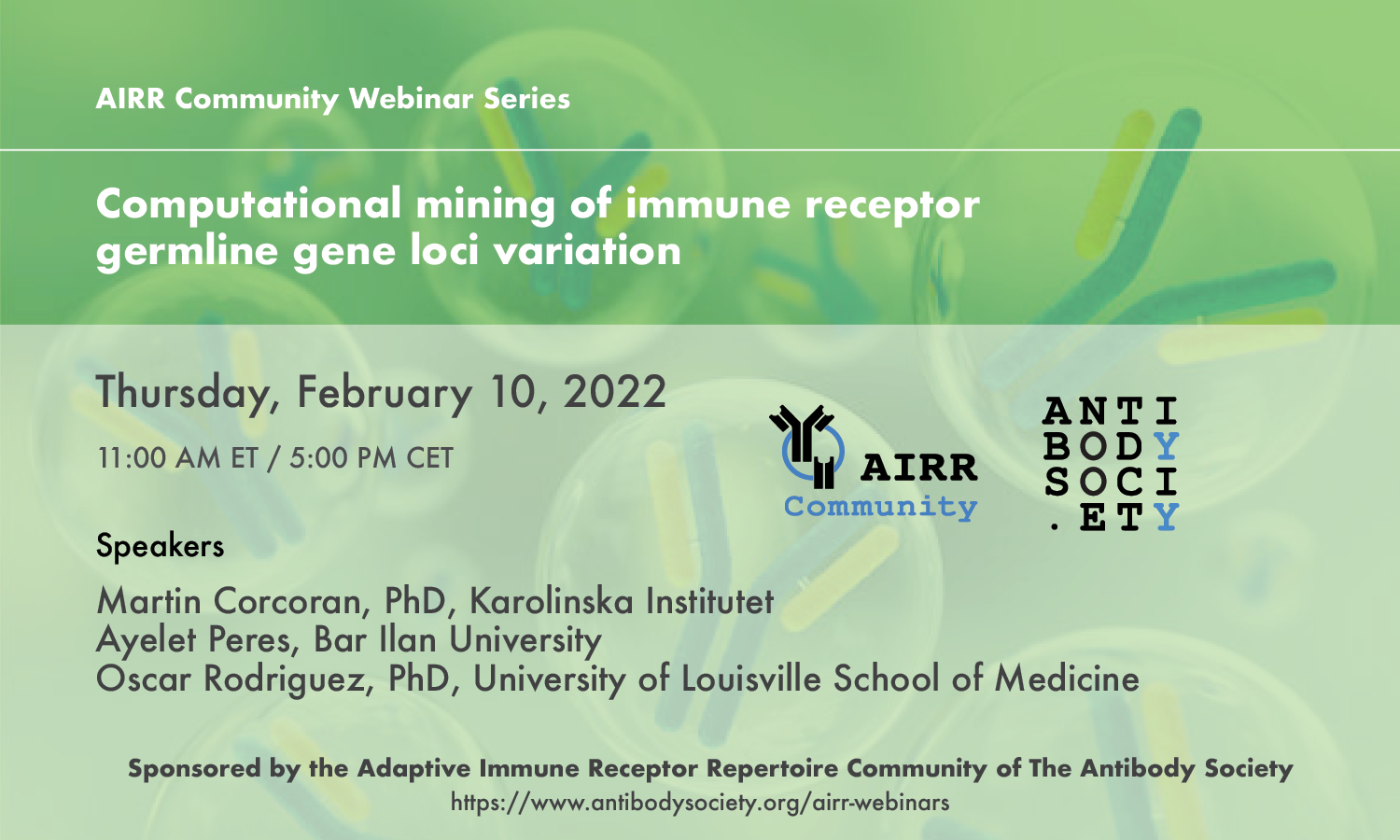 Computational mining of immune receptor germline gene loci variation
Speakers: Martin Corcoran, Ayelet Peres, Oscar Rodriguez
Broadcast date: February 10, 2022
B and T cell receptors play a critical role in responding to pathogens and vaccination, and in the pathology of several diseases of the immune system. Gene segments at the T cell receptor and immunoglobulin loci serve as templates for the generation and expression of T and B cell receptors and antibodies. Defining genetic variation within these highly polymorphic loci is critical to furthering our understanding of immunological diseases, and informing the design of vaccines and therapeutics. However, at the genomic level, these loci have been difficult to analyze due to their repetitive nature, rich in segmental duplications, simple repeats and retrotransposon elements. To overcome this complexity, several sequencing technologies and algorithms have been developed to more fully define the spectrum of genetic variation in these immune loci in human populations and other species.
This webinar includes demonstrations of three orthogonal and complementary methods. First, Dr. Corcoran will present IgDiscover, an IG and TR adaptive immune repertoire sequencing (AIRR-seq) germline inference tool that has been in use for several years and applied to multiple species. The IgDiscover output is highly reproducible and can facilitate the comparison of multiple individuals in disease cohorts to identify disease associated allelic or structural variants. Ayelet Peres will present on VDJbase and RAbHIT, two bioinformatics tools for germline variation detection from AIRR-seq using population analysis and chromosomal phasing. These tools have been used to discover germline variations affecting the expressed repertoires. Finally, Dr. Rodriguez will demonstrate an approach using long-read sequencing and a bioinformatics tool, IGenotyper, to fully characterize both coding and non-coding single-nucleotide variants, small insertions and deletions, and structural variants across IG and TCR loci in a haplotype-specific manner. This will also include discussion on how IGenotyper is being applied to survey immune loci in non-human species.
---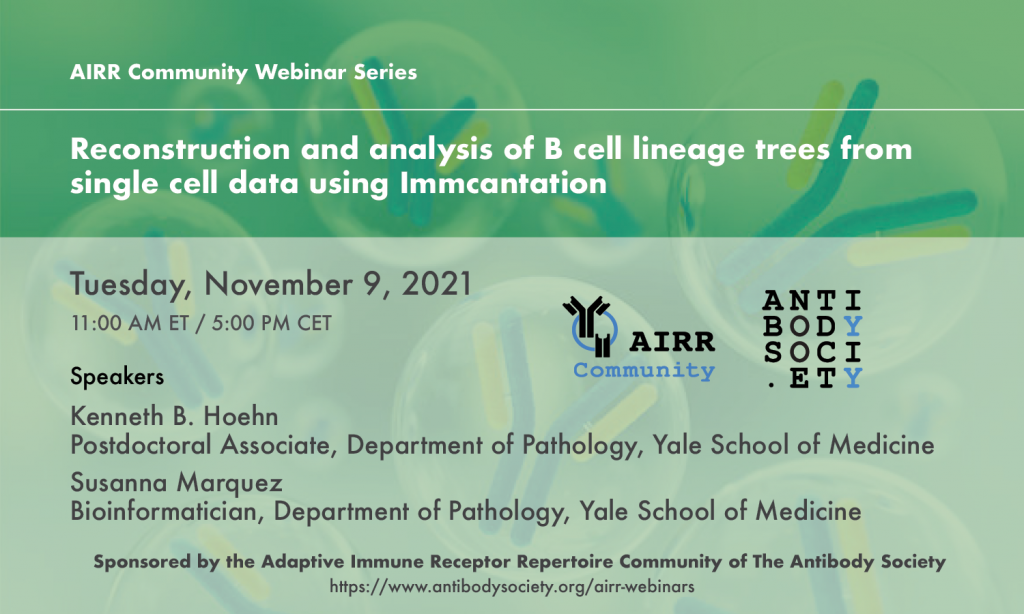 Reconstruction and analysis of B cell lineage trees from single cell data using Immcantation
Speakers: Kenneth Hoehn and Susanna Marquez
Broadcast date: November 9, 2021
Human B cells play a fundamental role in the adaptive immune response to infection and vaccination, as well as the pathology of allergies and many autoimmune diseases. Central to all of these processes is the fact that B cells are an evolutionary system, and undergo rapid somatic hypermutation and antigen-driven selection as part of the adaptive immune response. The similarities between this B cell response and evolution by natural selection have made phylogenetic methods a powerful means of characterizing important processes, such as immunological memory formation. Recent methodological work has led to the development of phylogenetic methods that adjust for the unique features of B cell evolution. Further, advances in single cell sequencing can now provide an unprecedented resolution of information, including linked heavy and light chain data, as well as the associated transcriptional states of individual B cells. In this webinar, we show how single cell information can be integrated into B cell phylogenetic analysis using the Immcantation suite (Immcantation.org). Beginning with processed single cell RNA-seq (scRNA-seq) + BCR data from 10X Genomics, we will show how cell type annotations can be associated with BCR sequences, how clonal clusters can be identified, and how B cell phylogenetic trees can be built and visualized using these data sources.
---

Easy, fast and practical AIRR analysis. Exploration of single-cell and bulk immune repertoire data in R using Immunarch with application to immunotherapy.
Speaker: Vadim I. Nazarov
Broadcast date: October 7, 2021
In this webinar, Vadim I. Nazarov demonstrates the applications of AIRR data analysis to immunotherapy development and how R package Immunarch simplifies this type of work. The webinar's goal is to enable listeners to apply AIRR bioinformatics to real-world problems and identify biomarkers that inform decision-making in pre-clinical and clinical studies. AIRR analysis has been a particularly challenging area of research since it is highly interdisciplinary. Immunarch R package helps standardize the analysis and provides quick access to advanced methods, letting you focus more on research rather than coding. Key topics covered on the webinar: TCR or BCR clonality and diversity as biomarkers of clinical activity in cellular immunotherapy studies, clonotype convergence and public clonotype analysis, annotation of clonotype associations with disease, V(D)J gene usage analysis, clonotype tracking to characterize CAR-T or TCR-T persistence and expansion, which inform the choice of optimal design for TCR-based immunotherapy.
---
---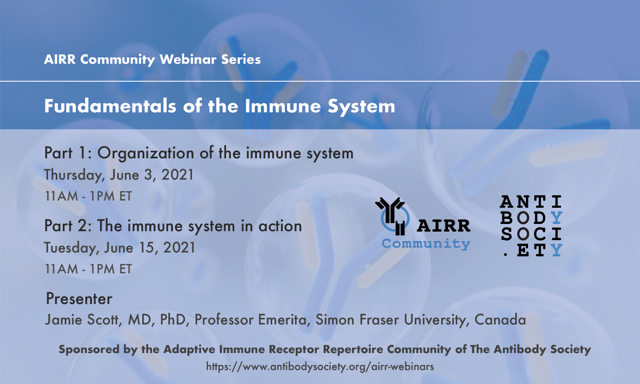 Fundamentals of the Immune System
Speaker: Jamie Scott, MD, PhD, Professor Emerita, Simon Fraser University, Canada
Broadcast dates: June 3 and June 15, 2021
In this 2-part workshop on the fundamentals of the immune system, Dr. Jamie Scott first provides an overview of humoral and cellular immunity, and the basic structure of the immune system, including its cells, tissues and compartments, along with the "superhighway" of the immune system: the circulatory and lymphatic systems. In that context, innate and adaptive immune systems and their interaction, and the general timing and dynamics of immune responses will be presented.
The processes of lymphocyte development, including the various B- and T-cell subsets, positive and negative selection, and the genetic basis of B-cell and T-cell receptor diversification, will be presented to provide a clear idea of what adaptive-immune receptor repertoires (AIRRs) are, and in general terms, how they are currently assessed via high-throughput sequencing.
Dr. Scott then cover the signaling, activation, proliferation and differentiation of T-cell and B-cell clones in the context of lymphoid compartments where antigen is concentrated and presented to naïve and memory B and T cells. The role of co-stimulation in determining the type immune response generated is emphasized.
In Part II, Dr. Scott reviews the orchestration of systemic and mucosal immune responses, including the roles of tolerance and inflammation in these processes. Examples of immune responses to vaccines, chronic viral infection, and/or cancer, as well as autoimmunity, will be presented as variations on a common theme, reiterating the dynamics of the immune response. Some engineered immunotherapies, such as therapeutic antibodies, CAR-T cells and dendritic-cell vaccines, are introduced as well.
The importance of AIRR-sequencing data to our understanding of immune responses is emphasized throughout the latter half of this workshop.
---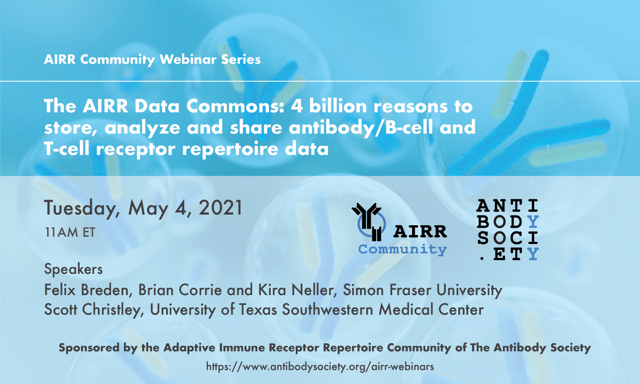 The AIRR Data Commons: 4 billion reasons to store, analyze and share antibody/B-cell and T-cell receptor repertoire data
Speakers: 
Broadcast date: May 4, 2021
The adaptive immune system has evolved a unique molecular diversification mechanism designed to produce a highly diverse set of antigen receptors, necessary to recognize and remove the ever-changing array of pathogens an individual will encounter during their lifetime (e.g., novel coronaviruses). The sheer immensity of each individuals Adaptive Immune Receptor Repertoires (antibody/B-cell and T-cell sequences, or AIRR-seq data) present challenges for producing, storing, sharing, and analyzing these data. The AIRR Community is a group of immunogeneticists, bioinformaticians, and experts in ethics and legal issues of data sharing who joined together to develop standards and protocols for sharing and analyzing these data. Two products of the AIRR-C are the miAIRR standards for storing AIRR-seq data in a common format, and the AIRR Data Commons (ADC), a set of geographically distributed repositories of AIRR-seq data, all adopting these community standards. We are dedicated to the belief that sharing these AIRR-seq data through the AIRR Data Commons will greatly increase their utility for biomedical research and patient care.
The ADC Webinar will discuss the benefits to openly sharing and analyzing these data in an interoperable manner, including access to the >4 billion receptor rearrangements presently queryable through the ADC. We will present demos of how to add your data to the ADC, how to query data through VDJServer and the iReceptor Gateway and preview upcoming analysis tools and repositories being added to the ADC. We will include plenty of time for questions and answers from the audience, and look forward to explaining this ever-expanding resource to our community.
---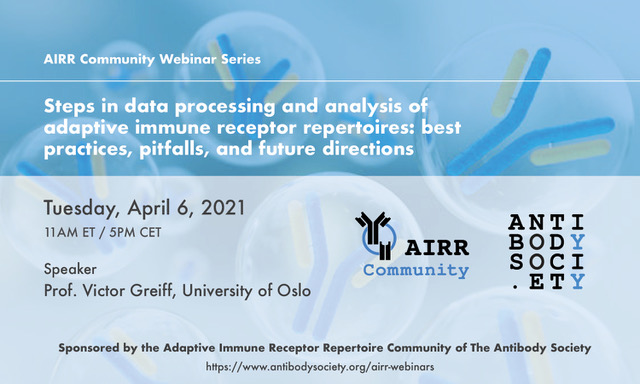 Steps in data processing and analysis of adaptive immune receptor repertoires: best practices, pitfalls, and future directions
Speaker: Prof. Victor Greiff, University of Oslo
Broadcast date: April 6, 2021
High-throughput sequencing has enabled the capture of adaptive immune receptor repertoire (AIRR) data at unprecedented depth and precision. This webinar gives an in-depth walk-through of best practices to conceive, analyze and perform AIRR studies for answering fundamental immunological questions as well as discovering novel immunodiagnostic biomarkers and design (therapeutic) immune receptors. Specifically, Dr. Greiff addresses current approaches to perform AIRR-compliant AIRR data processing encompassing bulk and single-cell approaches and experimental and bioinformatics quality control. Furthermore, he summarizes the computational methods that have been recently developed to deconstruct the high-dimensional complexity of immune receptor repertoires, e.g., 1) diversity-, 2) phylogenetic-, 3) networks- and 4) machine learning-based methods that have been applied to dissect and understand the diversity, architecture, evolution and antigen specificity of immune repertoires. Finally, Dr. Greiff discusses experimental and computational methods in light of their underlying assumptions, limitations and pitfalls and highlight promising avenues of future research in basic and applied AIRR systems immunology.