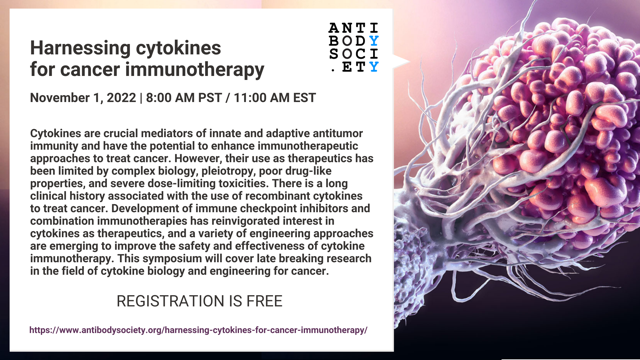 Cytokines are crucial mediators of innate and adaptive antitumor immunity and have the potential to enhance immunotherapeutic approaches to treat cancer. However, their use as therapeutics has been limited by complex biology, cytokine pleiotropy, poor drug-like properties, and severe dose-limiting toxicities. A variety of engineering approaches are emerging to improve the safety and effectiveness of cytokine therapeutics. Coupled with the development of immune checkpoint inhibitors and combination immunotherapies, interest in the use of engineered cytokines as therapeutics is rapidly progressing preclinically and clinically. The symposium speakers and panelists will cover late breaking research in the field of cytokine biology and engineering for cancer immunotherapy.
Broadcast date: Tuesday, November 1, 2022
On Demand videos are available on our YouTube channel
11:00 – 11:10 EDT
Opening Remarks
Host: Katherine Harris, Amgen
11:10 -11:50 EDT

Molecular Engineering of IL-12 to Enhance Efficacy and Reduced Toxicity

Keynote Speaker:  Jeffrey Hubbell, Pritkzer School of Molecular Engineering, University of Chicago

IL-12 is a heterodimeric, proinflammatory cytokine that can be used as a cancer immunotherapy agent. IL-12 acts mainly on T and NK cells to produce IFNg, which is the key mediator of antitumor activities of this cytokine. The main limitation in its translation into clinic is that IL-12, at therapeutic doses, is accompanied with severe side effects, such as systemic release of IFNg and liver damage (e.g., upregulation of alanine aminotransferase, ALT). We have recently shown that the collagen-binding domain (CBD) of von Willebrand factor can preferentially localize to tumor microenvironment (TME) upon intravenous (i.v.) administration due to exposure of collagen in the leaky tumor vasculature. We have developed two molecular engineering approaches to improve IL-12 therapeutic index, first fusing to a CBD for deposition and retention in the TME where its pharmacodynamics is enhanced and extended, and second fusing it to a masking domain for protease-driven activation in the TME where systemic toxicity is strongly reduced.

11:50 – 12:20 EDT

Facile Discovery of Surrogate Cytokine Agonists

Speaker: Michelle Yen, Flagship Labs 91

Cytokines are essential immune regulators that activate signaling by dimerizing their receptors, but their therapeutic use has been limited by pleiotropy.  Engineering cytokine variants with improved properties is of great interest, but natural cytokines present a structurally limited design scaffold.  We developed a platform to discover cytokine surrogate agonists based upon modular receptor binders.  Using VHH and scFv to human interleukin-2/15, type-I interferon, and interleukin-10 receptors, we generated combinatorial matrices of bispecific ligands that displayed diversified activities, including enhanced cytotoxicity and NK-cell specificity by surrogate IL-2 agonists, and decoupling of anti-viral vs. cytostatic functions by surrogate interferons.  Crystal structures of IL-2R:VHH complexes indicated that modulation of receptor dimerization geometries drove the functional diversification.  We also used this modular approach to develop surrogate ligands that assembled an IL-2R/IL-10R heterodimer –  a "synthetic" receptor pairing which does not naturally exist – to activate STAT5 signaling on T and NK cells.  This strategy, based upon principles of induced proximity, is generalizable for the discovery of diversified agonists in many ligand-receptor systems.

12:20 – 12:30 EDT
Break
12:30 – 13:00 EDT

IL-6 limits sensitivity to checkpoint blockade immunotherapy through novel immunoregulatory effects on tumor-reactive CD8+ T cells

Speaker: Nathan West, Cancer Immunology Department at Genentech (USA)

Cytokines play essential and complex roles in regulating anti-tumor immunity, and several well-known stimulators of T cell function (particularly IL-2, IL-15, and IL-12) are under intense investigation for development of cancer immunotherapies. In contrast, many other cytokines are thought to exert deleterious immunoregulatory effects that restrain anti-tumor immunity. Based on analysis of large clinical trials of atezolizumab (anti-PD-L1), we identified the classical inflammatory cytokine IL-6 as a factor associated with resistance to checkpoint blockade immunotherapy. Notably, IL-6 was associated with dysfunctional CD8+ T cells in cancer patients, and blockade of IL-6 signaling synergized with anti-PD-L1 therapy to induce regression of large established tumors in mice. Mechanistically, we found that IL-6 acts via STAT3 signaling to suppress the differentiation of naïve or memory CD8+ T cells into functional effector cells following T cell receptor stimulation, thereby inhibiting the efficacy of anti-PD-L1 therapy. Thus, although IL-6 is a well-established pro-inflammatory factor and therapeutic target for various inflammatory diseases (e.g. rheumatoid arthritis), our data suggest that it can also exert immunoregulatory effects that constrain the anti-tumor potency of CD8+ T cells, providing a striking illustration of the functional complexity and context-dependent roles of cytokines in distinct pathological settings.

13:00 – 13:30 EDT

Transforming interleukin-2 into a targeted cancer immunotherapeutic

Speaker: Jamie Spangler, Johns Hopkins University, Baltimore, MD

Due to its potent immunomodulatory activity, the interleukin-2 (IL-2) cytokine has been used therapeutically both to stimulate and suppress the immune response. Although IL-2 treatment shows great promise, clinical use is limited by its simultaneous activation of immune effector cells and immunosuppressive regulatory T cells, which hinders efficacy and results in harmful off-target effects. Furthermore, the cytokine's short serum half-life hampers therapeutic performance and its inherent instability complicates manufacturing. To overcome the clinical limitations of IL-2 therapy, we adopted two strategies: (1) engineering an immunostimulatory single-chain IL-2/antibody fusion protein; and (2) leveraging a computational/experimental workflow to generate de novo IL-2 mimetics with superior properties compared to the natural cytokine. Collectively, our work establishes two powerful strategies that will help realize the clinical promise of IL-2 in cancer therapy.

13:30 – 13:40 EDT
Break
13:40 – 14:10 EDT

Panel Discussion: Challenges and opportunities for next generation cytokine therapies

Panel Moderators: Jonathan Sockolosky, Curie.Bio and Katherine Harris, Amgen

Panelists:  Jeffrey Hubbell, Jamie Spangler, Nathan West, Michelle Yen, and Andy Yeung, Asher Bio

14:10 – 14:15 EDT

Closing Remarks

Host:  Jonathan Sockolosky, Curie.Bio
14:15 – 15:00 EDT

Meet the Speakers

In this final session participants and speakers will break in to small groups to engage in further discussion about the fascinating field of cytokine biology and engineering for cancer immunotherapy.
Organizing Committee:
Jonathan Sockolosky, Katherine Harris, Pam Borghardt, and Janice Reichert