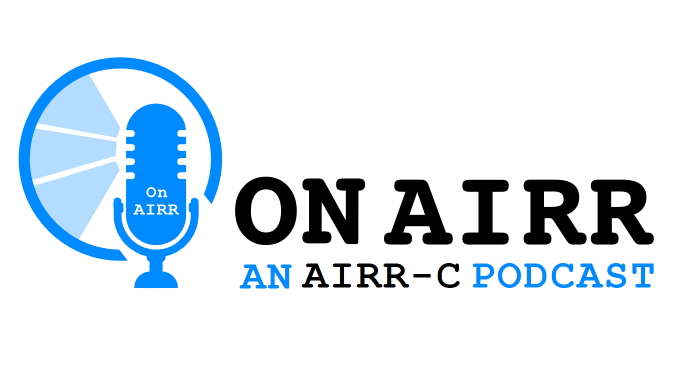 The AIRR Community Diagnostics Working Group is excited to announce "On AIRR" – a new podcast series.
The series aims to disseminate the goals and values of the Community, with a focus on their application to diagnostics and other clinical applications. We are committed to presenting conversations with a diverse group of experts, and gathering the attention of a broad audience, including students, and researchers from both industry and academia.
If you have questions for our next guest, suggestions for guests that you would like us to invite, or interesting topics to discuss, send us an email at onairr@airr-community.org.
If you share podcast-related content in social media, please use the hashtag #onairr.
Upcoming Podcasts
Podcast
Date
Description
S02 E03
Jun 2023
On AIRR 13: Machine learning & diagnostics
Guests: Maxim Zaslavsky and Scott D. Boyd
S02 E04
Jul 2023
On AIRR 14: Regulations
Guest: Alexander Bernier
S02 E05
Aug 2023
On AIRR 15: Germline antibodies
Guests: Corey Watson and William Lees
S02 E06
Sep 2023
On AIRR 16: Identification of neoantigens
Guest: Marion Arnaud
Podcast Episodes
Podcast
Date
Description
S02 E02
May 2023
On AIRR 12: T-cell receptor-mimetic antibodies and immunoinformatics
Guest: Prof. Charlotte Deane
Hosts: Dr. Ulrik Stervbo and Dr. Zhaoqing Ding


---

Prof. Charlotte Deane's research merges statistics, immunoinformatics, protein structure and small molecule drug discovery. We discuss the relevance of including protein structure to study and design antibodies, and the availability of such data.
S02 E01
Apr 2023
On AIRR 11: Software as a Medical Device (SaMD)
Guest: Dr. Xenophon Papademetris
Hosts: Dr. Ulrik Stervbo and Dr. Zhaoqing Ding


---

Dr. Papademetris provides an overview of the typical regulatory process for software classified as a medical device. We draw from his experience in the medical image field to design a high level route map for an imaginary company bringing to the market software to diagnose minimal residual disease.
S01 E10
Nov 2022
On AIRR 10: Characterising B Cell Lymphomas or Profiting from a Focus on B Cells in Health and in Disease
Guest: Dr. Ralf Küppers
Hosts: Dr. Ulrik Stervbo and Dr. Zhaoqing Ding


---

Building upon Ralf's background in B cell differentiation in health and pathogenesis of human B cell lymphomas, we discuss how micro-dissection and Sanger sequencing is still the method of choice when analysing Hodgkin lymphoma and the V-gene usage and mutations in CLL as prognostic indicators before talking about tracking pathogenic clones when surveying for relapse during clinical follow up.
S01 E09
Oct 2022
On AIRR 9: The ImmunoMind or wielding an AI for repertoire insights
Guest: Vadim Nazarov
Hosts: Dr. Ulrik Stervbo and Dr. Zhaoqing Ding


---

Vadim Nazarov is Co-Founder & CEO of the startup ImmunoMind. The company focuses on improving the design of adoptive T-cell therapies using multi-omics technologies. Vadim's career began at Dr. Dmitry Chudakov's Laboratory of Adaptive Immunity, where he developed the now discontinued R-package TcR. The replacement package 'immunarch' is continuously developed by ImmunoMind.
S01 E08
Sep 2022
On AIRR 8: Engineering B cells or Giving the immune System an Optimal Starting Point
Guest: Dr. Adi Barzel
Hosts: Dr. Ulrik Stervbo and Dr. Zhaoqing Ding


---

Following Adi's long standing interest in gene editing, we discuss the therapeutic potential based on Adi's recent paper "In vivo engineered B cells secrete high titers of broadly neutralizing anti-HIV antibodies in mice" (Nat Biotechnol.; 2022; https://doi.org/10.1038/s41587-022-01328-9). We also briefly touch on a second paper on some of the problems with CRISPR-Cas9 gene editing ("Frequent aneuploidy in primary human T cells after CRISPR-Cas9 cleavage"; Nat Biotechnol.; 2022; https://doi.org/10.1038/s41587-022-01377-0)
S01 E07
Aug 2022
On AIRR 7: Quality Controls in AIRR-Seq Assays or Handling the Catastrophe
Guest: Dr. Encarnita Mariotti-Ferrandiz
Hosts: Dr. Ulrik Stervbo and Dr. Zhaoqing Ding


---

The discussion focuses on sample quality and how to assess this. We draw on two papers during the discussion: "Benchmarking of T cell receptor repertoire profiling methods reveals large systematic biases" (Nature Biotechnology; 2021; https://doi.org/10.1038/s41587-020-0656-3) and "Biological controls for standardisation and interpretation of adaptive immune receptor repertoire profiling" (eLife; 2021; https://doi.org/10.7554/eLife.66274).
S01 E06
Jul 2022
On AIRR 6: Data Sharing or Finding Glory, Fame and a Big Pile of Gold
Guests: Dr. Brian Corrie and Dr. Scott Christley
Hosts: Dr. Ulrik Stervbo and Dr. Zhaoqing Ding


---

In this episode we discuss possibilities for sharing AIRR-Seq data - repositories and metadata standards describing the samples and experimental process. We discuss AIRR Standards which includes MiAIRR Standard for dataset metadata and AIRR Data Commons, which is an API to query and download data from AIRR-Seq repositories. Complete and proper data annotation will bring fame and glory.
S01 E05
May 2022
On AIRR 5: Machine learning and AIRR or Looking for the needle in a needle stack
Guests: Dr. Lindsay Cowell and Dr. Victor Greiff
Hosts: Dr. Ulrik Stervbo and Dr. Zhaoqing Ding


---

Today we discuss machine learning with Dr. Lindsay Cowell and Dr. Victor Greiff. Machine learning is about pattern recognition and in AIRR-seq these patterns link repertoires to diseases and antigen binding. AIRR is nearly a perfect machine learning problem because the underlying patterns are unclear and complex - it is essentially looking for the needle in a needle stack.
S01 E04
Apr 2022
On AIRR 4: Understanding and engineering immune repertoires
Guest: Dr. Jacob Glanville
Hosts: Ulrik Stervbo and Zhaoqing Ding


---

Dr. Jacob Glanville is founder and CEO of Centivax and founder of Distributed Bio, acquired by Charles River in 2021. His work focuses on understanding and engineering the repertoires of T and B cells to improve the response to pathogens. In this episode we discuss how to analyze receptor specificity and use this to create therapeutic antibodies and optimize vaccine response.
S01 E03
Mar 2022
On AIRR 3: Outlining chronic lymphocytic leukemia
Guest: Dr. Anton Langerak
Hosts: Ulrik Stervbo and Zhaoqing Ding


---

Anton Langerak is Professor and head of Laboratory Medical Immunology at Erasmus MC in Rotterdam, Netherlands and chair of coordination of the EuroClonality-NGS working group. He has been working on chronic lymphocytic leukemia (CLL) for many years and in this episode we discuss the signatures of B cell receptors in CLL.
S01 E02
Feb 2022
On AIRR 2: Establishing an AIRR-Seq framework
Guest: Dr. Lindsay Cowell, PhD., Division of Biomedical Informatics, University of Texas Southwestern Medical Center at Dallas
Hosts: Ulrik Stervbo and Nidhi Gupta


---

In this episode, we discuss the interest of Lindsay Cowell from UT Southwestern in creating a framework to enable deeper understanding of AIRR-Seq in health and disease.
S01 E01
Jan 2022
On AIRR 1: MRD
Guest: Dr. Eline T. Luning Prak, MD, PhD. Professor of Pathology and Laboratory Medicine at the Hospital of the University of Pennsylvania
Hosts: Ulrik Stervbo and Nidhi Gupta


---

We talk a bit about the AIRR-Community but mostly we discuss diagnosis of B or T cell malignancies and minimal residual disease evaluation and tracking of B cell clones in autoimmunity.