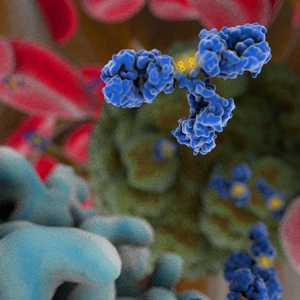 On June 10, 2019, the U.S. Food and Drug Administration (FDA) granted accelerated approval to Polivy (polatuzumab vedotin-piiq), in combination with the chemotherapy bendamustine and a rituximab product (BR), to treat adult patients with diffuse large B-cell lymphoma (DLBCL) that has progressed or returned after at least two prior therapies. Polivy is composed of a humanized anti-CD79b IgG1 antibody conjugated to the antimitotic agent monomethyl auristatin E (MMAE). The antibody's target is highly expressed on B cells of patients with lymphoma. The biologics license application for Polivy was granted FDA's Breakthrough Therapy and priority review designations. The drug also has European Medicines Agency (EMA)'s PRIME designation, and US and EU Orphan Drug designations for DLBCL. EMA is reviewing a marketing authorization application for Polivy.
The drug's efficacy was evaluated in a study of 80 patients with relapsed or refractory DLBCL who were randomized to receive Polivy with BR or BR alone. Efficacy was based on complete response rate and duration of response (DOR), defined as the time the disease stays in remission. At the end of treatment, the complete response rate was 40% with Polivy plus BR compared to 18% with BR alone. Of the 25 patients who achieved a partial or complete response to Polivy plus BR, 16 (64%) had a DOR of at least six months and 12 (48%) had a DOR of at least 12 months.
Like this post but not a member? Please join!
The Antibody Society maintains a comprehensive table of approved mAb therapeutics and those in regulatory review in the EU or US. Located in the 'Web Resources' section of our website, the list is updated regularly and can be downloaded in Excel format. Information about other antibody therapeutics that may enter regulatory review in 2019 can be found in 'Antibodies to watch in 2019'.