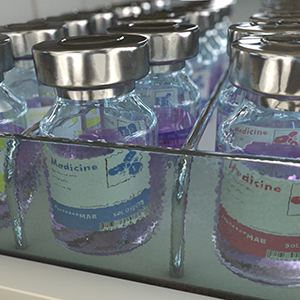 On October 26, 2023, Eli Lilly and Company announced that the U.S. Food and Drug Administration approved Omvoh™ (mirikizumab-mrkz) infusion (300 mg/15 mL)/injection (100 mg/mL) for the treatment of moderately to severely active ulcerative colitis (UC) in adults. The approval was based on results from the LUCENT program, which included two randomized, double-blind, placebo-controlled Phase 3 clinical trials consisting of one 12-week induction study (UC-1) and one 40-week maintenance study (UC-2) for 52 weeks of continuous treatment.
Mirikizumab (LY3074828) is a humanized IgG4ҡ monoclonal antibody that blocks the activity of interleukin 23 by targeting the p19 subunit the cytokine. The antibody is engineered with the following mutations: S228P for hinge stabilization, F234A and L235A to abrogate effector function, and K447> del to reduce IgG4 C-terminal heterogeneity.
The recommended induction dosage is 300 mg administered by intravenous infusion over at least 30 minutes at Weeks 0, 4, and 8. The recommended maintenance dosage is 200 mg administered by subcutaneous injection (given as two consecutive injections of 100 mg each) at Week 12, and every 4 weeks thereafter. Lilly received approval for Omvoh in Japan and the European Union earlier in 2023.