Accelerating the timeline from biopharmaceutical discovery to clinical evaluation has long been a focus for industry. For potentially life-saving therapies, the earliest clinical testing enables accelerated pivotal trials and maximum patient benefit. In 2020, novel discovery and development strategies have rapidly evaluated antibodies for passive immunization or treatment of COVID-19, employing CMC timelines from lead identification to clinic cut in half. These strategies combine the latest advances in established platforms with acceptance of higher business risk or costs, while ensuring no increased patient risk.
But speed to clinic for COVID-19 antibody therapies must be matched by speed to launch and immediate ramp-up in supply to realize a meaningful impact on the global pandemic. Parallel workflows must be initiated at the onset for process and product development as well as cGMP manufacturing. The initial focus on speed to clinic complements a slower approach to development of the most productive commercial cell line, efficient manufacturing process and optimal drug product configuration. Rapid production of initial clinical material followed by pivotal and commercial production arising from cell line, process and formulation optimization emphasizes the importance of product comparability, structure/function knowledge and appropriate control strategies. Meanwhile, scale-up and technology transfer to large manufacturing facilities starts before the first patient is dosed. These strategies impact the program's technical and regulatory risk profiles, staff and capital resourcing, and set up trade-offs in multiple areas.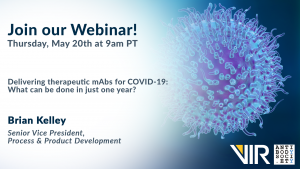 This case study describes the development history of a COVID-19 antibody, reviewing CMC milestones from lead identification to preparation of the commercial license application as well as plans for post-licensure opportunities, all in one year.