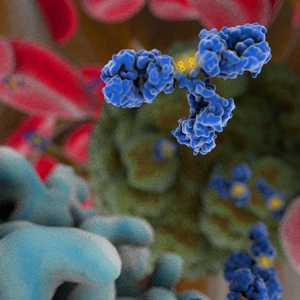 Roche's biologics license application (BLA) for polatuzumab vedotin in combination with bendamustine plus Rituxan® (rituximab) (BR) for the treatment of people with relapsed or refractory (R/R) diffuse large B-cell lymphoma (DLBCL) has been accepted and granted a priority review by the US Food and Drug Administration. A decision on approval of the BLA is expected by August 19, 2019. Developed in collaboration with Seattle Genetics, polatuzumab vedotin is composed of a humanized anti-CD79b IgG1 antibody conjugated to the antimitotic agent monomethyl auristatin E. The antibody's target is highly expressed on B cells of patients with lymphoma. Polatuzumab vedotin was granted FDA's Breakthrough Therapy designation,  the European Medicines Agency (EMA)'s PRIME designation, and US and EU Orphan Drug designations for DLBCL. A marketing application for polatuzumab vedotin is undergoing review by EMA.
The BLA is based on positive clinical data from a randomized Phase 1/2 study (NCT02257567/GO29365),  which evaluated polatuzumab vedotin administered by IV infusion in combination with standard doses of BR or obinutuzumab in patients with R/R follicular lymphoma (FL) or DLBCL. Study results indicated that median overall survival was over one year in people with R/R DLBCL not eligible for a hematopoietic stem cell transplant who received the combination of polatuzumab vedotin and BR, and less than 5 month for those in the BR arm of the study (12.4 vs. 4.7 months, hazard ratio (HR)=0.42; 95% CI 0.24-0.75). In addition, polatuzumab vedotin plus BR increased median progression-free survival (PFS) and led to a 66% reduction in risk of disease worsening or death compared to BR alone (median PFS: 7.6 months vs. 2.0 months; HR=0.34; 95% CI 0.20-0.57), and patients treated with polatuzumab vedotin plus BR showed a longer time between first response to treatment and disease worsening than those receiving BR alone (investigator assessed median duration of response: 10.3 months vs. 4.1 months; HR=0.44).
The combination of polatuzumab vedotin with R-CHP protocol (rituximab, cyclophosphamide, doxorubicin and prednisone) versus R-CHOP (rituximab-cyclophosphamide, doxorubicin, vincristine and prednisone) in DLBCL patients is currently being investigated in the Phase 3 POLARIX (NCT03274492) study. The primary endpoint is PFS. Secondary outcome measures include PFS, compete response and overall survival. The estimated primary completion date of the study is December 2019.
Like this post but not a member? Please join!
The Antibody Society maintains a comprehensive table of approved mAb therapeutics and those in regulatory review in the EU or US. Please log in to access the table, which is located in the Members Only section and can be downloaded in Excel format.