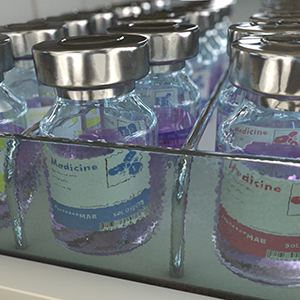 Hoffmann-La Roche Limited (Roche Canada) announced that on March 24, 2023 Health Canada authorized COLUMVI® (glofitamab for injection) for the treatment of adult patients with relapsed or refractory diffuse large B-cell lymphoma (DLBCL) not otherwise specified, DLBCL arising from follicular lymphoma (trFL), or primary mediastinal B-cell lymphoma (PMBCL), who have received two or more lines of systemic therapy and are ineligible to receive or cannot receive CAR-T cell therapy or have previously received CAR-T cell therapy. COLUMVI has been issued marketing authorization with conditions, pending the results of trials to verify its clinical benefit. The authorization of COLUMVI® is the first in Canada and globally.
Glofitamab (RO7082859) is a full-length IgG1λ/ҡ bispecific T cell redirecting antibody targeting CD20 on malignant B cells and CD3 on T cells. This bispecific antibody was developed by Roche using the 2:1 CrossMab technology, characterized by 3 antigen-binding fragment (Fab) arms enabling monovalent binding to CD3ɛ and bivalent binding to CD20, with the second CD20 arm fused to the CD3ɛ-binding arms via a flexible linker. Glofitamab also features a heterodimeric Fc region engineered with PG LALA mutations to abolish binding to FcɣRs and C1q.
The Health Canada authorization is based on data from the open-label, phase I/II, multicenter, multi-cohort trial (NP30179) conducted to evaluate COLUMVI as monotherapy in patients with relapsed or refractory B-cell lymphoma. In the single-arm DLBCL cohort (n=108), 84.3% of patients were refractory to their most recent therapy and about one-third (34.3%) had received prior CAR T-cell therapy. The primary efficacy outcome measure was complete response (CR) rate as assessed by the IRC using 2014 Lugano response criteria. Results showed that 35.2% of patients (n=38/108) achieved a complete response (CR; a disappearance of all signs of cancer), and 50.0% (n=54/108) achieved an objective response (OR; the combination of CR or partial response, a decrease in the amount of cancer in their body).
An marketing authorization application containing data from the Phase 1/2 NP30179 study (NCT03075696) evaluating glofitamab for NHL was submitted to the European Medicines Agency. A biologics license application for glofitamab undergoing review by the Food and Drug Administration has a first action date of July 1, 2023.
Need data for other antibody therapeutics that have received marketing authorizations? Go to our searchable table of approved antibody therapeutics and those in regulatory review for more information.