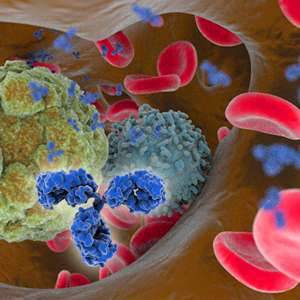 On August 8, 2018, the U.S. Food and Drug Administration (FDA) approved Poteligeo (mogamulizumab-kpkc) for intravenous use for the treatment of adult patients with relapsed or refractory mycosis fungoides (MF) or Sézary syndrome (SS) after at least one prior systemic therapy. The diseases are subtypes of cutaneous T-cell lymphoma (CTCL), which is a rare and difficult-to-treat type of non-Hodgkin lymphoma. The FDA had previously granted mogamulizumab Breakthrough Therapy and Orphan Drug designations, and the biologics license application for mogamulizumab received a priority review.
FDA's approval was based on an open-label, multi-center, randomized Phase 3 clinical trial (NCT01728805) of 372 patients with relapsed MF or SS who received either mogamulizumab or vorinostat. Study sites were located in the US, Europe, Japan and Australia. Median progression-free survival was 7.6 months for patients administered mogamulizumab compared to 3.1 month for patients taking vorinostat in this clinical trial.
Developed by Kyowa Kirin, mogamulizumab is a humanized glyco-engineered monoclonal antibody that binds to CC chemokine receptor type 4 on cancer cells. Mogamulizumab was produced using Kyowa Hakko Kirin's proprietary POTELLIGENT® platform, which produces antibodies with low / no fucose content. Such antibodies have increased affinity to FcγRIIIa (CD16), and enhanced antibody-dependent cell-mediated cytotoxicity activity. Mogamulizumab's first approval, in 2012, was granted by the Japanese Ministry of Health, Labour and Welfare for treatment of patients with relapsed or refractory CCR4-positive adult T-cell leukemia-lymphoma.
The Antibody Society maintains a comprehensive table of approved monoclonal antibody therapeutics and those in regulatory review in the EU or US. As of Aug 8, a total of 5 antibody therapeutics had been granted first approvals in either the US or EU in 2018, and marketing applications for another 11 that have not yet been approved in either the EU or US are undergoing review in these regions. Please log in to access the table in either PDF or Excel formats, located in the Members Only section.
Like this post but not a member? Please join!