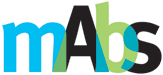 The Antibody Society is pleased  to be affiliated with mAbs, a multi-disciplinary journal dedicated to advancing the art and science of antibody research and development. We hope you enjoy these summaries based on the abstracts of the most read papers published in a recent issue.
All the articles are open access; PDFs can be freely downloaded by following the links below.
Issue 11.4 (May-June 2019)
Combining the best of two worlds: highly flexible chimeric antigen receptor adaptor molecules (CAR-adaptors) for the recruitment of chimeric antigen receptor T cells.
In this review, Darowski et al. summarize emerging approaches that aim to further evolve CAR-T cell therapy based on combinations of so-called universal or modular CAR-(modCAR-)T cells, and their respective adaptor molecules (CAR-adaptors), which mediate the crosslinking between target and effector cells. The activity of such modCAR-T cells is entirely dependent on binding of the respective CAR-adaptor to both a tumor antigen and to the CAR-expressing T cell. Contrary to conventional CAR-T cells, where the immunological synapse is established by direct interaction of CAR and membrane-bound target, modCAR-T cells provide a highly flexible and customizable development of the CAR-T cell concept and offer an additional possibility to control T cell activity.
Efficient tumor killing and minimal cytokine release with novel T-cell agonist bispecific antibodies.
Using a sequence-based discovery platform, Trinklein et al. identified new anti-CD3 antibodies from humanized rats that bind to multiple epitopes and elicit varying levels of T-cell activation. In T-BsAb format, 12 different anti-CD3 arms induce equivalent levels of tumor cell lysis by primary T-cells, but potency varies by a thousand-fold. The lead CD3-targeting arm stimulates very low levels of cytokine release, but drives robust tumor antigen-specific killing in vitro and in a mouse xenograft model. This new CD3-targeting antibody underpins a next-generation T-BsAb platform in which potent cytotoxicity is uncoupled from high levels of cytokine release, which may lead to a wider therapeutic window in the clinic.
Sym021, a promising anti-PD1 clinical candidate antibody derived from a new chicken antibody discovery platform.
In this study by Gjetting et al., the Symplex antibody discovery platform was adapted to chicken immunoglobulin genes and combined with high-throughput humanization of antibody frameworks by "mass complementarity-determining region grafting". Wild type chickens were immunized with an immune checkpoint inhibitor programmed cell death 1 (PD1) antigen, and a repertoire of 144 antibodies was generated. The PD1 antibody repertoire was successfully humanized, and the authors found that most humanized antibodies retained affinity largely similar to that of the parental chicken antibodies. The lead antibody Sym021 blocked PD-L1 and PD-L2 ligand binding, resulting in elevated T-cell cytokine production in vitro. Detailed epitope mapping showed that the epitope recognized by Sym021 was unique compared to the clinically approved PD1 antibodies pembrolizumab and nivolumab. Moreover, Sym021 bound human PD1 with a stronger affinity (30 pM) compared to nivolumab and pembrolizumab, while also cross-reacting with cynomolgus and mouse PD1. This enabled direct testing of Sym021 in the syngeneic mouse in vivo cancer models and evaluation of preclinical toxicology in cynomolgus monkeys. Preclinical in vivo evaluation in various murine and human tumor models demonstrated a pronounced anti-tumor effect of Sym021, supporting its current evaluation in a Phase 1 clinical trial.