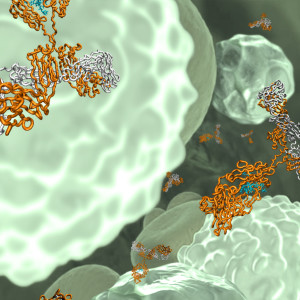 The Antibody Society invites you to attend its annual meeting, Antibody Engineering & Therapeutics, on December 11-15, 2017 at the Manchester Grand Hyatt, San Diego, CA! In this summary, chairperson James Larrick, M.D., Ph.D., Managing Director and Chief Medical Officer, Panorama Research Institute and Velocity Pharmaceutical Development, discusses what you will learn at his session on immune-oncology checkpoints, which will be held on Friday December 15.
The management of cancer has dramatically changed over the past decade with the introduction of novel immunotherapies, chief among them inhibitors of checkpoint receptors — molecules whose function is to restrain the host immune response.  Antibodies inhibiting CTLA4 and PD1-PD-L1 have shown remarkable clinical benefit.  The field is evolving rapidly, with many clinical trials testing novel checkpoint inhibitors (e.g., anti-LAG3, anti-TIM3), alone, in combination, or with other targeted therapies. A sampling of novel approaches will be covered in this symposium.
This Friday morning (December 15, 2017) session will be led off by Mickey Hu (Panorama Institute of Molecular Medicine) who has developed a series of novel immunomodulatory drugs that suppress PD-L1 expression in tumor cells and inhibit the PD-L1/PD-1 checkpoint, resulting in the recruitment of natural killer (NK) cells into the tumor microenvironment that leads to tumor suppression. Efforts to combine immunomodulatory drugs with checkpoint blockades to overcome difficult-to-treat cancers with tolerable side effects will be described.
Clinical lead candidate antibodies often lack species cross-reactivity, necessitating the development of substitute antibodies for pre-clinical development in mice or monkeys. Next, Erik Hofman, (Argenx) will describe the use of the SIMPLE Antibody platform to generate functional human-mouse cross-reactive antibodies against several validated immune checkpoint proteins, including PD-1, VISTA and LAG-3.
Xin Lu (University of Notre Dame) will present data indicating that targeted therapy against myeloid-derived suppressor cells, using multikinase inhibitors such as cabozantinib and dactolisib, can synergize with immune checkpoint blockade antibodies (e.g., anti-CTLA4, anti-PD1) to eradicate metastatic castration-resistant prostate cancer.
A key feature of effective cancer immunotherapy relies on enhanced anti-tumor immune response and reduced suppressive effects. As natural cytokines are made to maintain a balance between activation and suppression, they are often unable to achieve desired therapeutic efficacy. Cheng-I Wang (Biomedical Sciences Institutes, ASTAR, Singapore) will describe a cytokine receptor agonist antibody that mimics IL-2's immune stimulatory effects on CD8 T cells with minimal Treg activation.
Cow antibodies have unusually long CDR3 regions. Vaughn Smider (The Scripps Research Institute) has characterized the genetic and structural properties of these antibodies, and has identified novel antibodies against HIV and exhausted T-cell targets utilizing this approach.
The final speaker, Sarah Crome, (Princess Margaret Cancer Centre, University Health Network, Canada) will describe efforts to characterize a unique innate lymphoid cell (ILC) population that suppresses the expansion and function of tumor-associated T cells, and is associated with early recurrence in high-grade cancer. This regulatory ILC population has properties that overlap with NK cells and other defined ILCs, yet can be differentiated by a distinct gene expression signature. Studies defining molecular interactions that control regulatory ILC function and ways to target this population to enhance immunotherapy will be presented.
Interested in attending the meeting? Society members can save 15% on the registration fee!
Not a member? Please join!
Membership is free for students and employees of the Society's corporate sponsors.