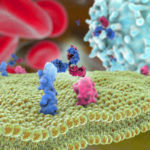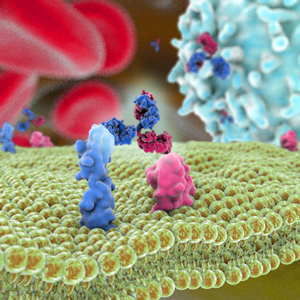 Antibody Engineering & Therapeutics, held in December 2021, offered many opportunities to hear exciting and informative presentations by experts in the field. We are pleased to present here a summary of a lecture given in the "Immune Cell Recruitment and Redirection" session by Dr. Jonathan Davis. The summary was kindly written by Dr. Czeslaw Radziejewski.

Targeting two receptors can significantly increase cell specificity.
Jonathan Davis, Vice President of Innovation and Strategy, Invenra, Inc.
Jonathan Davis presented a talk detailing Invenra's rationale for generating bispecific antibodies that target two receptors at the same cell and provided some examples of their biological activity. The platform is based on the construct in which CH1/CL domain in one arm is substituted with a domain derived from CH3. This approach produces stable constructs that are easy to purify. The presentation focused on bispecifics referred to as SNIPERs. The idea behind bispecific SNIPERs is to combine two binding arms, both of which having low affinity toward their cellular targets. When both targets are engaged with cognate targets on the cell surface, the avidity effect results in much stronger binding. This approach could potentially address undesirable binding of monospecific antibodies to healthy tissues where tumor antigen is also expressed at lower levels.
Dr. Davis discussed the concept of symmetric synergy and asymmetric synergy. In the case of symmetric synergy both targets are present at about the same density, whereas in asymmetric synergy one target is present in much greater abundance than the other. According to the speaker, for the symmetric synergy to occur the two target molecules have to be in a right orientation, so the epitopes have to be properly oriented in respect to each other, at least most of the time. This necessitates screening large number of antibodies in order to build a bispecific that demonstrates good synergy. With good geometry fit, 100- to 1000-fold increases in affinity can be reached on cells. He cited the IL-2 receptor system as an example of asymmetric synergy found in nature. High affinity IL-2 receptor is a three-part system consisting of alpha, beta, and gamma subunits. The alpha subunit is present in high concentration, but binds IL-2 with low affinity. The alpha subunit with bound IL-2 binds to beta and then to gamma subunits to form a high affinity signaling complex. This process goes in one direction: from alpha to beta and gamma and that is why it is considered asymmetric. Dr. Davis emphasized that Invenra has the ability to generate and screen large number of constructs to select the right candidate for further development.
Invenra is exploring the SNIPER approach for Treg depletion and for the agonism of co-stimulatory receptor for T cells, OX40. In this lecture, Dr. Davis discussed the anti-tumor activity of SNIPER INV721 in neuroblastoma. The marketed antibody therapeutic, dinutuximab, targets disialoganglioside GD2 that is densely expressed on neuroblastoma cells. GD2 is also expressed on melanomas, small cell lung cancers and sarcomas. Dinutuximab causes lysis of GD2-expressing cells and its mechanism of action involves ADCC and CDC. The antibody is very effective, but causes excruciating pain in patients, presumably because the ganglioside is expressed in all tissues, albeit at the much lower levels. As a second target of INV721, Invenra selected the check-point molecule B7H3 (CD276) that is present only on the tumor cells. To reduce affinity for ganglioside GD2, some residues in the existing antibody against the target were mutated, which allowed the generation of SNIPER( INV721) that bound to neuroblastoma cells only if two targets were present, but not either one alone. To test the in vivo binding affinity of the bispecific antibody, INV721 was radiolabeled with 89Zr. Mice bearing GD2/B7H3-expressing tumors were intravenously injected with 89Zr-labeled INV721 and its in vivo biodistribution was monitored via positron emission tomography imaging. 89Zr-INV721- showed elevated accumulation in the tumor with minimal uptake in normal tissues. 89Zr-radiolabeled isotype control antibody displayed significantly lower tumor uptake demonstrating the specificity of INV721. (1) Dr. Davis indicated that one potential extension of the Invenra bispecific antibodies approach would be to convert these molecules into T-cell engagers.
1. Erbe AK et al. Specific Targeting of Tumors Through Bispecific SNIPER Antibodies. J Immunol, May 1, 2020, 204 (1 Supplement) 91.2.