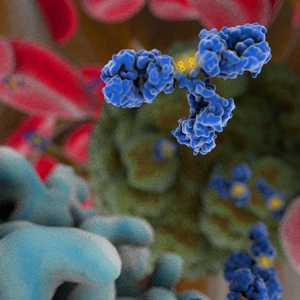 On August 23, 2019 GlaxoSmithKline announced positive headline results from the pivotal DREAMM-2 study of the antibody-drug conjugate belantamab mafodotin (GSK2857916) for multiple myeloma. The two-arm study met its primary objective and demonstrated a clinically meaningful overall response rate with belantamab mafodotin in the patient population. The safety and tolerability profile was consistent with that observed in DREAMM-1, the first time in human study of belantamab mafodotin. Data from the DREAMM-2 study will be the basis for regulatory filings starting later this year.
•             Belantamab mafodotin is a humanized anti-B-cell maturation antigen monoclonal antibody that is afucosylated and conjugated to the microtubule-disrupting agent monomethyl auristatin-F.
On August 29, 2019 AbbVie announced that MERU (NCT03033511), a Phase 3 trial evaluating the antibody-drug conjugate rovalpituzumab tesirine (Rova-T) as a first-line maintenance therapy for advanced small-cell lung cancer, demonstrated no survival benefit at a pre-planned interim analysis for patients receiving Rova-T as compared with placebo. The overall safety profile was generally consistent with that observed in previous studies. The MERU trial is being closed, and the Rova-T research and development program has been terminated. AbbVie will move forward prioritizing other development programs within its oncology pipeline.
•             Rovalpituzumab tesirine is an antibody-drug conjugate composed of a humanized monoclonal antibody, dipeptide linker, and pyrrolobenzodiazepine dimer toxin with a drug-to-antibody ratio of 2. The antibody component targets cancer-stem cell-associated delta-like protein 3.
Like this post but not a member? Please join!
The Antibody Society maintains a comprehensive table of approved mAb therapeutics and those in regulatory review in the EU or US. Located in the 'Web Resources' section of our website, the list is updated regularly and can be downloaded in Excel format. Information about antibody therapeutics that may enter regulatory review in 2019 can be found in 'Antibodies to watch in 2019'.