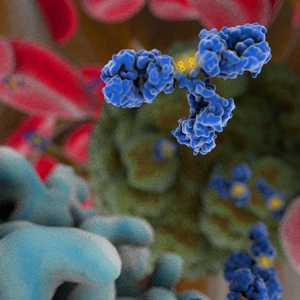 On September 20, 2021, FDA granted accelerated approval to TIVDAK (tisotumab vedotin-tftv) for the treatment of adult patients with recurrent or metastatic cervical cancer with disease progression on or after chemotherapy. The BLA for TIVDAK for this indication was given a Priority review. TIVDAK's approval was based on tumor response and the durability of the response; verification and description of clinical benefit in confirmatory trials may be necessary for continued approval for this indication.
TIVDAK is an ADC comprising Genmab's human tissue factor IgG1k antibody targeting tissue factor conjugated to MMAE via a protease-cleavable linker using Seagen's ADC technology. The companies are co-developing the product. The recommended dose of TIVDAK is 2 mg/kg (up to a maximum of 200 mg) given as an intravenous infusion over 30 minutes every 3 weeks until disease progression or unacceptable toxicity.
FDA's approval was based on results of the pivotal single-arm Phase 2 innovaTV 204 study (NCT03438396), which included 101 patients with recurrent or metastatic cervical cancer who had received no more than two prior systemic regimens in the recurrent or metastatic setting, including at least one prior platinum-based chemotherapy regimen. Patients received tisotumab vedotin 2.0 mg/kg IV every 3 weeks  until progression or toxicity. The major efficacy outcome measures were confirmed objective response rate as assessed by an independent review committee using RECIST v1.1 criteria and duration of response (DOR). The objective response rate was 24% [95% CI: 15.9%-33.3%], including 7 patients (7%) with a complete response and 17 patients (17%) with a partial response, and the median DOR was 8.3 months (95% CI: 4.2, not reached).
TIVDAK is the 9th antibody therapeutic to be first approved for marketing in the EU or US in 2021. Explore our searchable table of antibody therapeutics approved in the US or EU for details.