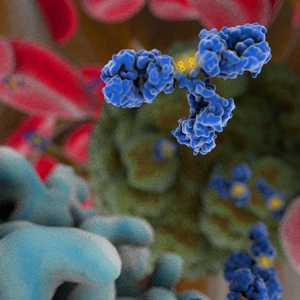 The US Food and Drug Administration (FDA) granted an accelerated approval for mirvetuximab soravtansine-gynx (ELAHERE™) for the treatment of adult patients with FRα-positive, platinum-resistant epithelial ovarian, fallopian tube, or primary peritoneal cancer, who have received one to three prior systemic treatment regimens, on November 14, 2022. FDA also approved a companion diagnostic, VENTANA FOLR1 (FOLR1-2.1) RxDx Assay, developed by Roche.
Mirvetuximab soravtansine, developed by ImmunoGen as a treatment for epithelial malignancies such as ovarian adenocarcinoma, is an antibody-drug conjugate (ADC) targeting folate receptor alpha (FRα). The cytotoxic warhead, the tubulin-targeting maytansinoid drug DM4, is conjugated to the humanized IgG1ҡ antibody via a cleavable disulfide linker. The ADC has been granted Orphan Drug designations for ovarian cancer in the US and EU, and FDA's Fast Track designation for a specific subset of ovarian cancer patients with medium to high FRα-positive platinum-resistant lesions who received between one and three prior systemic treatments, and for whom single-agent chemotherapy is appropriate as the next line of therapy.
FDA's approval was based on positive results of the Phase 3 SORAYA study (NCT04296890), which evaluated the efficacy and safety of mirvetuximab soravtansine in patients with platinum-resistant advanced high-grade epithelial ovarian, primary peritoneal or fallopian tube cancer, whose tumors express a high-level of FRα. A total of 106 platinum-resistant ovarian cancer patients with high FRα expression previously treated with at least one, but less than three prior systemic treatments, at least one of which included bevacizumab, received mirvetuximab soravtansine (6 mg/kg adjusted ideal body weight) administered on day 1 of every 3-week cycle. Results from the SORAYA trial were presented at the Society of Gynecologic Oncology (SGO) annual meeting held in March 2022. Additional efficacy analyses based on a 120-day cut-off date showing tumor reduction in 71.4% of patients, an objective response rate of 32.4% as assessed by the investigator, and a preliminary median OS of 13.8 months were presented at the American Society of Clinical Oncology (ASCO) Annual Meeting held June 3-7, 2022. A retrospective safety analysis based on 464 patients with FRα positive, recurrent ovarian cancer pooled across three studies (a Phase 1 first-in-human trial and the Phase 3 FORWARD I and SORAYA trials) demonstrating a differentiated and consistent safety profile was also presented at the 2022 ASCO meeting.
Mirvetuximab soravtansine was also evaluated in the randomized Phase 3 FORWARD I trial (NCT02631876), which enrolled 366 patients with platinum-resistant ovarian cancer, randomized 2:1 to receive either the ADC or the physician's choice of pegylated liposomal doxorubicin, topotecan, or weekly paclitaxel. Improved patient-reported outcomes associated with mirvetuximab compared with chemotherapy were presented at the European Society for Medical Oncology (ESMO) in held in Paris, France in September 2022. In addition, ImmunoGen continues to enroll patients in the randomized, open-label Phase 3 MIRASOL study (NCT04209855), which is evaluating mirvetuximab soravtansine vs. investigator's choice of chemotherapy in platinum-resistant, advanced high-grade epithelial ovarian, primary peritoneal, or fallopian tube cancers with high folate receptor-alpha expression. Top-line data from the confirmatory MIRASOL study are expected to be announced in early 2023. If positive, the results may support a full approval by FDA.
Interested in more information about approved antibody therapeutics? Explore our searchable table of antibody therapeutic products for details.