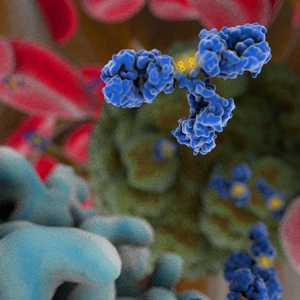 On August 5, 2020, the U.S. Food and Drug Administration (FDA) approved belantamab mafodotin-blmf (BLENREP) for the treatment of adult patients with relapsed or refractory multiple myeloma who have received at least 4 prior therapies including an anti-CD38 monoclonal antibody, a proteasome inhibitor, and an immunomodulatory agent. BLENREP was granted an accelerated approval for this indication based on response rate. Further adequate and well-controlled studies/clinical trials must be done to verify and describe clinical benefit.
Belantamab mafodotin-blmf is an antibody-drug conjugate (ADC) composed of a humanized IgG1 monoclonal antibody and the cytotoxic agent maleimidocaproyl monomethyl auristatin F. The ADC binds to B-cell maturation antigen found on myeloma cell surfaces and is internalized. In the cell, the cytotoxic agent is released and kills the cells.
Belantamab mafodotin-blmf was evaluated in the Phase 2 DREAMM-2 (NCT03525678), an open-label, multicenter trial. Efficacy was based on overall response rate (ORR) and response duration. In patients receiving the recommended dose of 2.5 mg/kg, the ORR was 31% (97.5% CI: 21%, 43%) 73% of responders had response durations ≥6 months. Detailed results of the study were published in The Lancet Oncology in February 2020.
On July 24, 2020, the European Medicines Agency's (EMA) human medicines committee recommended granting a conditional marketing authorization in the European Union for Blenrep (belantamab mafodotin) to treat adult patients with relapsed and refractory multiple myeloma who no longer respond to treatment with an immunomodulatory agent, a proteasome inhibitor and a CD-38 monoclonal antibody. Blenrep was accepted in EMA's PRIME scheme, and it was designated as an orphan medicinal product. EMA recommended a conditional marketing authorization, and this opinion was sent to the European Commission for the adoption of a decision on an EU-wide marketing authorization.
Antibodies to watch
Belantamab mafodotin-blmf is the 7th antibody therapeutic to be granted a first approval in the US or EU in 2020. The Antibody Society maintains a comprehensive table of approved monoclonal antibody therapeutics and those in regulatory review in the EU or US. The table, which is located in the Web Resources section of the Society's website, can be downloaded in Excel format. Information about antibody therapeutics approved outside the US or EU can be found in the table notes.
Information about other antibody therapeutics that may enter regulatory review in 2020 can be found in 'Antibodies to watch in 2020'.
Like this post but not a member? Please join!