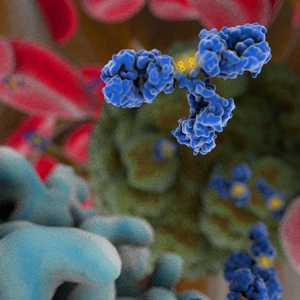 On April 23, 2021, the  US Food and Drug Administration (FDA) granted accelerated approval to loncastuximab tesirine-lpyl (Zynlonta, ADC Therapeutics SA) for adult patients with relapsed or refractory large B-cell lymphoma after two or more lines of systemic therapy, including diffuse large B-cell lymphoma (DLBCL) not otherwise specified, DLBCL arising from low grade lymphoma, and high-grade B-cell lymphoma. This marketing application was granted priority review and orphan drug designation by FDA. The review used the Assessment Aid, a voluntary submission from the applicant to facilitate the FDA's assessment.
Loncastuximab tesirine (ADCT-042) is an antibody-drug conjugate composed of an anti-CD19 humanized IgG1k antibody conjugated via a linker to pyrrolobenzodiazepine-dimer toxin that induces the killing of CD19-expressing malignant B cells.
The BLA submission was supported by data from the open-label, single-arm Phase 2 LOTIS 2 study (NCT03589469), which evaluated the safety and efficacy of loncastuximab tesirine for the treatment of patients with relapsed or refractory DLBCL following ≥2 lines of prior systemic therapy. A total of 145 patients received loncastuximab tesirine as an intravenous infusion over 30 minutes on Day 1 of each cycle (every 3 weeks) at a dose of 150 μg/kg for 2 cycles, then 75 μg/kg for subsequent cycles for up to one year or until disease progression, unacceptable toxicity, or other discontinuation criteria. The primary outcome measure is the overall response rate (ORR). Positive initial data from LOTIS 2 were presented during the virtual 25th Annual Congress of the European Hematology Association. The ORR was 48.3% (70/145 patients), the complete response rate was 24.1% (35/145 patients), and the median duration of response was 10.25 months. The toxicity profile was manageable and no new safety concerns were identified.
Need help keeping up to date on US and EU approvals?
The Antibody Society maintains a comprehensive table of approved monoclonal antibody therapeutics and those in regulatory review in the EU or US. The table, which is located in the Web Resources section of the Society's website, can be downloaded in Excel format.