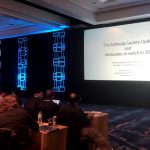 Antibody Engineering & Therapeutics Digital Week is a global 4-day series of live educational webcasts and downloadable resources providing the latest insights for accelerating next generation antibodies to commercial success.
The clinical pipeline of antibody therapeutics will be discussed in The Antibody Society's "Antibodies to Watch" and More: Early- and Late-stage Clinical Development Trends presentation, scheduled for 11am EDT / 4pm BST / 5pm CEST Wednesday June 26, 2019.
The "Antibodies to watch" talks and papers focus on antibody therapeutics in late-stage clinical studies, as well as those is regulatory review and recently approved in the US and European Union. These topics will be discussed, along with trends observed in the burgeoning early-stage pipeline. Popular formats and mechanisms of action, as well as popular and obscure targets, for antibody therapeutics that recently entered the clinical pipeline will be included.