The popular "Antibodies to watch" articles aim to update members of The Antibody Society, as well as the broader scientific community, on progress in the late-stage clinical development of innovative antibody therapeutics. Data for these molecules (60 as of March 22, 2019) are made available in the Members Only area of The Antibody Society's website. We are pleased to announce that we are expanding our coverage of the commercial clinical pipeline to include data for antibody therapeutics that have recently entered clinical study. Two factors motivated us: 1) the remarkable increase in the number entering clinical study annually (to ~120 in 2018); and 2) the remarkable focus on antibodies developed for cancer (~80% of the total in 2018). Data for antibody therapeutics that entered clinical study recently, in Excel format, may be downloaded from the Members Only area.
The biopharmaceutical industry's intense focus on the development of antibody therapeutics, and particularly those for cancer, is unabated in 2019, according to the data available by mid-March. We have identified 17 antibody therapeutics for which an application to start clinical study was filed or a Phase 1 study was started in 2019, and an additional 11 antibody therapeutics with clinical studies not yet recruiting patients, as listed on clinicaltrials.gov. The rate of clinical entry for antibody therapeutics so far in 2019 is thus similar to that observed in 2018 (~10 per month). The trend toward development of antibodies as treatments for cancer is also quite similar. Of the 2019 cohort so far identified, 22 of 28 (79%) are for cancer.
The commercial clinical pipeline of cancer therapies has become increasingly dominated by 3 categories of antibodies: 1) immune checkpoint modulators; 2) antibody-drug conjugates (ADCs); and 3) bispecific antibodies (see figure for details).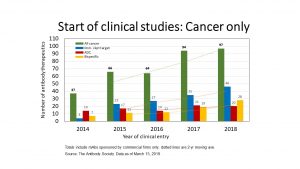 Our data so far suggests that this trend will continue in 2019, as nearly three-quarters of the antibody therapeutics currently in the 2019 cohort fit in one (or more) of the 3 categories. Examples of antibodies that fit more than 1 category include TG-1801 (TG Therapeutics, Inc., Novimmune SA), a bispecific antibody targeting the immune checkpoint CD47 as well as CD19, and  INBRX-105 (Inhibrx, Inc.), a bispecific antibody targeting the immune checkpoints PD-L1 and 4-1BB. TG-1801, a human IgG1 designed to target and deplete B-cells, is undergoing evaluation in a Phase 1 study (NCT03804996) of patients with B-cell lymphoma. INBRX-105 is undergoing evaluation as a treatment for hematological and solid tumors in a Phase 1 study (NCT03809624).
More to come! Throughout 2019, we will track and report on the development of all antibody therapeutics that enter clinical study during the year.
Attention members! Please log in to access our data for all antibody therapeutics that entered clinical study during 2018 or so far in 2019. After logging in, click on 'Antibodies in early-stage studies' in the Members Only dropdown menu. Data will be updated throughout 2019.
Not a member? Please join!