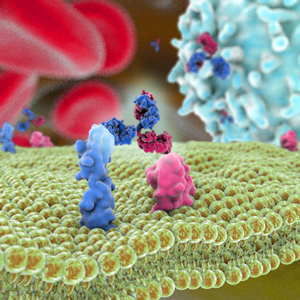 The Antibody Society is pleased and proud to be affiliated with mAbs, a multi-disciplinary journal dedicated to advancing the art and science of antibody research and development. We hope you enjoy these summaries based on the abstracts of the most read papers published in a recent issue. All the articles are open access; PDFs can be freely downloaded by following the links below.
Issue 11.2 (February/March 2019)
Antibodies to watch in 2019.
For the past 10 years, the annual 'Antibodies to watch' articles have provided updates on key events in the late-stage development of antibody therapeutics, such as first regulatory review or approval, that occurred in the year before publication or were anticipated to occur during the year of publication. To commemorate the 10th anniversary of the article series and to celebrate the 2018 Nobel Prizes in Chemistry and in Physiology or Medicine, which were given for work that is highly relevant to antibody therapeutics research and development, Kaplon and Reichert expanded the scope of the data presented to include an overview of all commercial clinical development of antibody therapeutics and approval success rates for this class of molecules. The data indicate that:
1) antibody therapeutics are entering clinical study, and being approved, in record numbers;
2) the commercial pipeline is robust, with over 570 antibody therapeutics at various clinical phases, including 62 in late-stage clinical studies; and
3) Phase 1 to approval success rates are favorable, ranging from 17–25%, depending on the therapeutic area (cancer vs. non-cancer).
Ion channels as therapeutic antibody targets.
In this review, Hutchings et al evaluate the technical challenges of raising antibodies to membrane-spanning proteins together with enabling technologies that may facilitate the discovery of antibody therapeutics to ion channels. They also discuss the potential targeting opportunities in the anti-ion channel antibody landscape, along with a number of case studies where functional antibodies that target ion channels have been reported. Antibodies currently in development and progressing towards the clinic are highlighted.
Influence of N-glycosylation on effector functions and thermal stability of glycoengineered IgG1 monoclonal antibody with homogeneous glycoforms.
The separation of various glycoforms to investigate the biological and functional relevance of glycosylation is a major challenge, and the individual contributions of each glycoform is usually not considered when evaluating mAbs with highly heterogeneous distributions. In this study, Wada et al used chemoenzymatic glycoengineering incorporating an endo-β-N-acetylglucosaminidase (ENGase) EndoS2 and its mutant with transglycosylation activity to generate mAb glycoforms with highly homogeneous and well-defined N-glycans to better understand and precisely evaluate the effect of each N-glycan structure on Fc effector functions and protein stability. They demonstrated that the core fucosylation, non-reducing terminal galactosylation, sialylation, and mannosylation of IgG1 mAb N-glycans impact not only on FcγRIIIa binding, antibody-dependent cell-mediated cytotoxicity, and C1q binding, but also FcRn binding, thermal stability and propensity for protein aggregation.
Co-engaging CD47 and CD19 with a bispecific antibody abrogates B-cell receptor/CD19 association leading to impaired B-cell proliferation.
In this report, Hatterer et al describes the generation of a CD47xCD19 bispecific antibody (biAb) to target and deplete B cells via multiple antibody-mediated mechanisms. Interestingly, the biAb, constructed of a CD19 binding arm and a CD47 binding arm, inhibited BCR-mediated B-cell proliferation with an effect even more potent than a CD19 monoclonal antibody (mAb). The inhibitory effect of the biAb was not attributable to CD47 binding because a monovalent or bivalent anti-CD47 mAb had no effect on B cell proliferation. Fluorescence resonance energy transfer analysis demonstrated that co-engaging CD19 and CD47 prevented CD19 clustering and its migration to BCR clusters, while only engaging CD19 (with a mAb) showed no impact on either CD19 clustering or migration. The lack of association between CD19 and the BCR resulted in decreased phosphorylation of CD19 upon BCR activation. Furthermore, the biAb differentially modulated BCR-induced gene expression compared to a CD19 mAb. Taken together, this unexpected role of CD47xCD19 co-ligation in inhibiting B cell proliferation illuminates a novel approach in which two B cell surface molecules can be tethered, to one another in order, which may provide a therapeutic benefit in settings of autoimmunity and B cell malignancies.
Like this post but not a member? Please join!