The Society's Communication and Membership Committee is glad to announce that:
Federica Riccio (King's College London) is the winner of our inaugural Imaging Calendar Competition! 
Congratulations!
Based on the results of our online poll, the winning image is "Surrounded" by Federica Riccio (King's College London).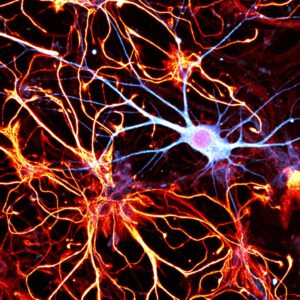 Title: Surrounded
Description: A human iPSC-derived cortical neuron (MAP2 – Cyan Hot) sits happily surrounded by astrocytes (GFAP – Red Hot)
Antibodies used: rat anti-GFAP (Invitrogen 13-0300) represented in Red Hot and rabbit anti-MAP2 (Antibodies-Online ABIN1742387) represented in Cyan Hot
Instrument used: confocal laser scanning microscope Leica TCS SP8 (Leica Microsystems)
The winner will receive:
broad exposure of their work,
a $400 cash prize,
and the option of a free registration to: 1) Schrödinger's online course, Introduction to Computational Antibody Engineering; or 2) virtual or in-person Antibody Engineering & Therapeutics.
The winning image will be featured as the cover image for the 2024 volume of mAbs, and also as the cover image of the calendar. The calendar will be distributed at the 2023 Antibody Engineering & Therapeutics, in San Diego, in December.
We are also glad to reveal the scientists behind the other short-listed images. These images will be included as well in the calendar, one every month.
Virginia Metrangolo (University of Copenhagen), image title "Lightening up cancer cells with antibodies"
Jessica Anania (University of Southampton), image title "Cytoskeletal structures following FcR stimulation"
Gabriel Emilio Herrera-Oropeza (King's College London), image title "Structure of an Unpatterned Cerebral Organoid"
Nathaniel Lam (GSK), image title "Vascularised tumour-on-chip model"
Josefa Chuh (Genentech), image title "Preclinical optimization of Ly6E-targeted ADCs for increased durability and efficacy of anti-tumor response"
Irene Rosa (University of Florence), image title "Double immunofluorescence staining of human tongue, with DAPI nuclear counterstain"
Peng Zhao (AstraZeneca), image title "Enhanced anti-angiogenetic effect of transferrin receptor-mediated delivery of VEGF-trap in a glioblastoma mouse model"
Sandra Lara (AstraZeneca), image title "Antibody dependent phagocytosis of 3D tumour spheroids opsonized with Rituximab anti-CD20"
Danielle Fails (Fortis Life Sciences), image title "Immune profiling of axillary lymph tissues"
Lorna Stewart (Fusion Antibodies), image title "Expression bottlenecks and antibody localisation in stably transfected CHO cells with a GFP marker"
Isabel Uwagboe (King's College London), image title ""RAGE" against the machine"
We thank everyone who participated, and all our members and followers for taking the time to vote for the best image!
Watch for our next Imaging Calendar Competition in 2024!