The Communication & Membership Committee selected one entrant for honorable mention:
Rodrigo Garcia Valiente (Amsterdam UMC, University of Amsterdam, the Netherlands)
Image title: A(b) field of dandelions.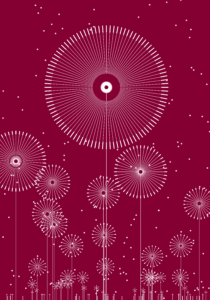 The image was not produced using microscopy and therefore didn't meet the entry requirements. However, the Committee recognised both its scientific and artistic value and decided to give it honorable mention.
Image description: Visual representation of a B-cell clonal repertoire using the programming language R. Each non-singleton clone is indicated with a line and represented as a radial plot whose number of elements correlates with the number of subclones that compose it. Singleton clones are represented as single points.
600 dpi, 28×40 cm. Digital technique.
Antibodies used: The repertoire sequencing database subset from Laserson and Vigneault et al, 2014 contained in the ExampleDb function of the alakazam package, part of the Immcantation pipeline.
Instrument used: R 4.3.0 in an Ubuntu 18.04.6 LTS system. Full sessionInfo(), description, references and script can be found in https://github.com/EDS-Bioinformatics-Laboratory/Clonal_aRt_visualization