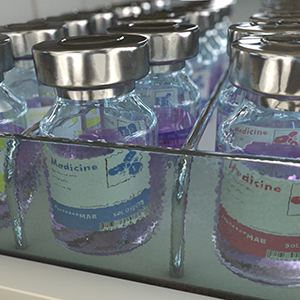 On May 7, 2019, BIOCAD announced the registration of netakimab (Efleira®, BCD-085) in Russia for the treatment of moderate to severe plaque psoriasis. Netakimab is a humanized IgG1 monoclonal antibody (mAb) in which the VH domain is replaced by a Lama glama VHH domain possessing a long complementarity-determining region (CDR-H3).  The mAb targets interleukin (IL)-17, a pro-inflammatory cytokine that plays a critical role in the pathogenesis of psoriasis. The registration is the first for an innovative mAb developed in Russia.
The efficacy and safety of Efleira® in psoriasis patients was confirmed in the Phase 3 BCD-085-7/PLANETA study (NCT03390101), which was conducted in 22 certified study sites in Russia and 2 study sites in the Republic of Belarus. After 12 weeks of the treatment, 83.3% of patients who received netakimab once a month after induction for the first 3 weeks achieved a 75% improvement in Psoriasis Area and Severity Index. The total duration of therapy and follow-up in this study is 3 years.
BIOCAD, which is based in Moscow, is planning to start a pivotal clinical trial of netakimab in psoriasis in Europe later in 2019.
Like this post but not a member? Please join!