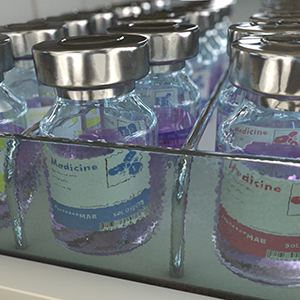 The US Food and Drug Administration (FDA) began approving biosimilar products in 2015. According to FDA's definition, a biosimilar is highly similar to, and has no clinically meaningful differences in safety, purity, and potency from, an existing FDA-approved reference product. The availability of these products can help patients by increasing the number of medication options at potentially lower costs.
During March 2015 to July 2019, FDA approved a total of 16 antibody therapeutics that are biosimilars of 5 reference products:
Trastuzumab (5 biosimilars)
Adalimumab (4 biosimilars)
Infliximab (3 biosimilars)
Bevacizumab (2 biosimilars)
Rituximab (2 biosimilars)
Notably, the rate of FDA approvals has increased in 2019. The numbers of  biosimilar antibody therapeutics approved by FDA were 0, 2, 5, and 3 for the years 2015-2018, while a total of 6 were approved in the first 7 months of 2019. The products approved in 2019 are:
Patients may soon also have access to ranibizumab and denosumab biosimilar antibody products.
Formycon and Bioeq IP AG recently announced that an FDA submission for FYB201, a biosimilar candidate for Lucentis®* (ranibizumab), is expected for the beginning of the fourth quarter of 2019. The submission to the European Medicines Agency (EMA) is scheduled for the first quarter of 2020. If the submissions progress as planned, marketing authorization approvals in the US and the EU are expected in 2021.
SB11, a proposed ranibizumab biosimilar to Lucentis is undergoing evaluation in a Phase 3 study (NCT03150589) of patients with neovascular age-related macular degeneration. Sponsored by Samsung Bioepis Co., Ltd., the study is active, but no longer recruiting patients. The estimated completion date of the study is in November 2019.
Sandoz recently announced the first patient was enrolled an integrated Phase 1/3 clinical study (NCT03974100) that will compare the pharmacokinetics, pharmacodynamics, efficacy, safety and immunogenicity of GP2411 (proposed biosimilar denosumab) and Prolia® (EU-authorized) in postmenopausal women with osteoporosis. The estimated primary completion date of the study is in December 2021.
Like this post but not a member? Please join!
The Antibody Society maintains a comprehensive table of approved mAb therapeutics and those in regulatory review in the EU or US. Located in the 'Web Resources' section of our website, the list is updated regularly and can be downloaded in Excel format. Information about antibody therapeutics that may enter regulatory review in 2019 can be found in 'Antibodies to watch in 2019'.