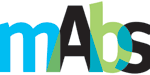 The Antibody Society is pleased and proud to be affiliated with mAbs, a multi-disciplinary journal dedicated to advancing the art and science of antibody research and development. We hope you enjoy these summaries based on the abstracts of the most read papers published in a recent issue. All the articles are open access; PDFs can be freely downloaded by following the links below.
Issue 11.3 (April 2019)
CH2 domain orientation of human immunoglobulin G in solution: Structural comparison of glycosylated and aglycosylated Fc regions using small-angle X-ray scattering
Yageta et al examined the small-angle X-ray scattering (SAXS) profile of the glycosylated Fc region (gFc) and aglycosylated Fc region (aFc) in solution to determine if removal of the N-linked glycan alters the CH2 domain orientation in the Fc region. For both gFc and aFc, the best-fitted SAXS profiles corresponded to ones calculated based on the crystal structure of gFc that formed a "semi-closed" CH2 domain orientation. Collectively, the data indicated that the removal of the N-linked glycan only negligibly affected the CH2 domain orientation in solution. Their findings will guide the development of methodology for the production of highly refined functional Fc variants.
Charge variants characterization and release assay development for co-formulated antibodies as a combination therapy
Characterization of co-formulated biologics can be challenging due to the high degree of similarity in the physicochemical properties of co-formulated proteins, especially at different concentrations of individual components. In this new report, Cao et al present the results of a deamidation study of one monoclonal antibody component (mAb-B) in co-formulated combination antibodies (referred to as COMBO) that contain various ratios of mAb-A and mAb-B. A single deamidation site in the complementarity-determining region of mAb-B was identified as a critical quality attribute (CQA) due to its impact on biological activity. A conventional charge-based method of monitoring mAb-B deamidation presented specificity and robustness challenges, especially when mAb-B was a minor component in the COMBO, making it unsuitable for lot release and stability testing. The authors developed and qualified a new, quality-control-friendly, single quadrupole Dalton mass detector (QDa)–based method to monitor site-specific deamidation. Their approach can be also used as a multi-attribute method for monitoring other quality attributes in COMBO. This analytical paradigm is applicable to the identification of CQAs in combination therapeutic molecules, and to the subsequent development of a highly specific, highly sensitive, and sufficiently robust method for routine monitoring CQAs for lot release test and during stability studies.
Capture and display of antibodies secreted by hybridoma cells enables fluorescent on-cell screening
Puligedda et. al describe a system in which hybridomas specifically capture and display the mAbs they secrete. Using On-Cell mAb Screening (OCMS™), monoclonal antibodies (mAbs) displayed on the cell surface can be rapidly assayed for expression level and binding specificity using fluorescent antigens with high-content (image-based) methods or flow cytometry. OCMS™ demonstrated specific mAb binding to poliovirus and rabies virus by forming a cell surface IgG "cap", as a universal assay for anti-viral mAbs. The authors produced and characterized OCMS™-enabled hybridomas secreting mAbs that neutralize poliovirus and used fluorescence microscopy to identify and clone a human mAb specific for the human N-methyl-D-aspartate receptor. They also used OCMS™ to assess expression and antigen binding of a recombinant mAb produced in 293T cells.
Physicochemical and functional assessments demonstrating analytical similarity between rituximab biosimilar HLX01 and the MabThera®
As discussed by Xu et al, development of bio-therapeutics has exhibited exponential growth in China over the past decade. However, no biosimilar drug has been approved in China (CN) due to the lack of a national biosimilar regulatory guidance. HLX01, a rituximab biosimilar developed in China under European Medicines Agency biosimilar guidelines and requirements, was the first such drug submitted for regulatory review in China, and it is expected to receive approval there as a biosimilar product. To demonstrate the analytical similarities of HLX01, CN-rituximab (sourced in China but manufactured in Europe) and EU-rituximab (sourced and manufactured in Europe), an extensive 3-way physicochemical and functional similarity assessment using a series of orthogonal and state-of-the-art techniques was conducted, following the similarity requirement guidelines recently published by China's Center for Drug Evaluation. The results of the similarity study showed an identical protein amino acid sequence and highly similar primary structures between HLX01 and the reference product (RP) MabThera®, along with high similarities in higher order structures, potency, integrity, purity and impurity profiles, biological and immunological binding functions, as well as degradation behaviors under stress conditions. In addition, HLX01 presented slightly lower aggregates and better photostability compared with the RP. Despite slight changes in relative abundance of glycan moieties and heavy chain C-terminal lysine modification, no differences in biological activities and immunological properties were observed between the RP and HLX01. In conclusion, HLX01 is highly similar to CN- and EU-sourced RP in terms of physicochemical properties and biological activities, suggesting similar product quality, efficacy, and safety. The regulatory requirements interpreted and applied towards the HLX01 marketing application sets a precedent for analytical similarity assessment of biosimilar products in China.
Like this post but not a member? Please join!