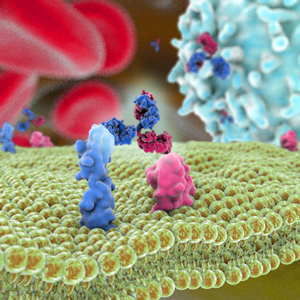 Emicizumab (Hemlibra, emicizumab-kxwh, ACE910, RO5534262), a bispecific IgG4 mAb targeting Factors IXa and X, was approved by the FDA on November 16, 2017. The drug, which is administered once a week, was approved to prevent or reduce the frequency of bleeding episodes in adult and pediatric patients with hemophilia A who have developed Factor VIII inhibitors. The biologics license application was granted Priority Review and a Breakthrough Therapy designation. Hemlibra was also granted an orphan drug designation by the FDA.
Marketing applications for emicizumab are under review in the European Union and Japan; the European Medicines Agency is reviewing the marketing authorization application under accelerated assessment. Emicizumab was granted an orphan drug designation in Japan for the prevention and reduction of bleeding episodes in patients with congenital factor VIII deficiency with inhibitors. The drug was created by Chugai Pharmaceutical Co., Ltd. and co-developed by Chugai, Roche and Genentech.
The marketing applications for emicizumab include results from the Phase 3 HAVEN 1 (NCT02622321) study and interim analysis of the HAVEN 2 (NCT02795767) study. In the HAVEN 1 study, adult and adolescent patients (12 or older) who had previously received episodic treatment with bypassing agents were randomly assigned in a 2:1 ratio to emicizumab prophylaxis (group A) or no prophylaxis (group B). The primary end point of the study was the difference in bleeding rates between Group A and Group B. Emicizumab was administered subcutaneously at a dose of 3 milligrams per kilogram per week (mg/kg/week) for 4 weeks followed by 1.5 mg/kg/week up to the end of the study. The annualized bleeding rate in Group A was reduced by 87% compared to Group B (2.9 events vs 23.3 events, P<0.001). [1] The HAVEN 2 study is evaluating the efficacy, safety, and pharmacokinetics of subcutaneous administration of emicizumab in hemophilia A pediatric patients with inhibitors.
1. Oldenburg J, Mahlangu JN, Kim B, Schmitt C, Callaghan MU, Young G, Santagostino E, Kruse-Jarres R, Negrier C, Kessler C, et al. Emicizumab prophylaxis in hemophilia A with inhibitors. N Engl J Med. 2017;377(9):809-818. doi: 10.1056/NEJMoa1703068.
The Antibody Society maintains a comprehensive table of approved antibody therapeutics and those in regulatory review in the EU or US. As of November 16, 2017, a total of 10 mAbs have been granted first approvals in either the US or EU in 2017, and marketing applications for a total of 9 antibody therapeutics that have not yet been approved in either the EU or US are undergoing review in these regions.
Please log in to access the table, located in the Members Only section.
Not a member? Please join! Membership is free for students and employees of the Society's corporate sponsors.