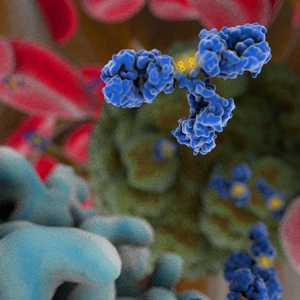 The European Commission has granted a marketing approval for the antibody-drug conjugate (ADC) inotuzumab ozogamicin (BESPONSA) as monotherapy for the treatment of adults with relapsed or refractory CD22-positive B-cell precursor acute lymphoblastic leukemia (ALL). Inotuzumab ozogamicin is a CD22-targeting humanized IgG4 antibody conjugated to the drug calicheamicin via an acetyl butyrate linker. The approval of BESPONSA was supported by results from the Phase 3 INO-VATE ALL trial (ClinicalTrials.gov number NCT01564784), which compared the effects of either inotuzumab ozogamicin or standard intensive chemotherapy in adults with relapsed or refractory ALL Results of this study were published in The New England Journal of Medicine in 2016. A biologics license application for inotuzumab ozogamicin for the treatment of adult patients with relapsed or refractory B-cell precursor ALL is undergoing a priority review by the US Food and Drug Administration (FDA); the goal date for their decision is in August 2017.
As of July 1, inotuzumab ozogamicin is the seventh antibody therapeutic to be granted a first marketing approval in any country in 2017, following the approvals of brodalumab, avelumab, ocrelizumab, dupilumab, durvalumab, and sarilumab. The Antibody Society maintains a comprehensive table of approved antibody therapeutics and those in regulatory review in the EU or US. As of July 1, 2017, marketing applications for a total of 10 antibody therapeutics that have not been approved in any country are undergoing review in the EU or US. In addition, a marketing application for the ADC gemtuzumab ozogamicin, which was approved in 2000 by the US FDA and subsequently withdrawn from the US market, is undergoing review in the EU and US.
Please log in to access the table, located in the Members Only section.
Membership is free for students and employees of the Society's corporate sponsors.