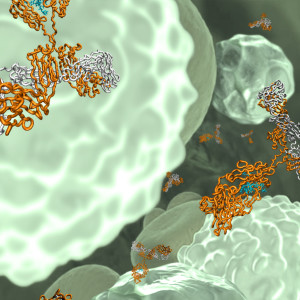 Olaratumab (Lartruvo®) was granted an accelerated approval for treatment, with doxorubicin, of adults with soft tissue sarcoma by the US Food and Drug Administration on October 19, 2016. This new monoclonal antibody (mAb) therapeutic targets platelet-derived growth factor receptor-α. The approval was granted in part based on results of a clinical study that compared administration of doxorubicin alone with the combination of olaratumab with doxorubicin. In this study, median overall survival was 14.7 vs. 26.5 months for patients who received doxorubicin alone vs. those who received the combination of drugs. Olaratuzumab's application was granted numerous FDA designations intended to facilitate the development of new drugs, especially those for serious or life-threatening diseases, including Fast Track and Breakthrough Therapy designations, and priority review. The product also received orphan drug designations in both the US and European Union (EU). On September 15, 2016, the European Medicines Agency's Committee for Medicinal Products for Human Use adopted a positive opinion, recommending the granting of a conditional marketing authorization for olaratumab for the treatment of advanced soft tissue sarcoma. A decision by the European Commission is pending.
Olaratumab is the 5th new antibody therapeutic to be granted a first approval in 2016. Of the applications for 9 new mAb therapeutics currently undergoing regulatory review in the US or EU (i.e., mAbs not previously approved for any indication in these regions), 4 have FDA action dates known to occur in late October-December 2016. The Antibody Society maintains a comprehensive table of approved antibody therapeutics and those in regulatory review in the US or EU. Please log in to access the table, located in the Members Only section.
Not a member? Please join!