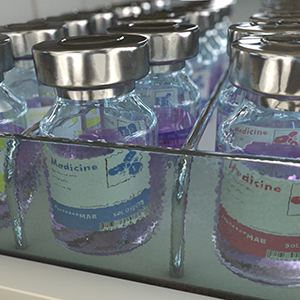 On December 28, 2022, the U.S. Food and Drug Administration approved BRIUMVI™ (ublituximab-xiiy), for the treatment of relapsing forms of multiple sclerosis (RMS), to include clinically isolated syndrome, relapsing-remitting disease, and active secondary progressive disease, in adults. [1]
Ublituximab (TG-1101) is a chimeric anti-CD20 IgG1k antibody glycoengineered for enhanced antibody-dependent cell-mediated cytotoxicity (ADCC) that was originally developed by LFB Biotechnology and licensed to TG Therapeutics as a treatment for CLL and multiple sclerosis (MS).
The approval was based on results of the randomized, double-blinded, active-controlled Phase 3 trials ULTIMATE I (NCT03277261) and ULTIMATE II (NCT03277248) evaluating ublituximab (450 mg dose IV every 6 months, following a Day 1 infusion of 150 mg over four hours and a Day 15 infusion over one hour) compared to teriflunomide (14 mg oral tablets taken once daily) in a total of 1,094 patients with relapsing MS for both studies. The primary endpoint was the annualized relapse rate (ARR). Results from the ULTIMATE I and II Phase 3 trials showed that the primary endpoint was met, with a significant reduction of the ARR for ublituximab vs. teriflunomide over a period of 96 weeks. [2]
1.       TG Therapeutics, Inc. TG Therapeutics Announces FDA Approval of BRIUMVI™ (ublituximab-xiiy). Dec 28, 2022 press release
2.       Steinman L, Fox E, Hartung HP, Alvarez E, Qian P, Wray S, Robertson D, Huang D, Selmaj K, Wynn D, et al. Ublituximab versus teriflunomide in relapsing multiple sclerosis. N Engl J Med. 2022;387(8):704-714. doi:10.1056/NEJMoa2201904.