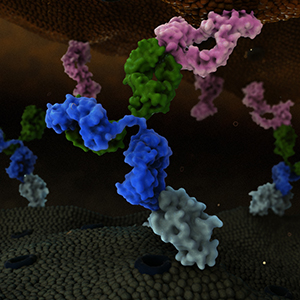 On February 23, 2018, Kyowa Hakko Kirin Co. Ltd and its partner Ultragenyx Pharmaceutical Inc. announced that a conditional marketing authorization had been granted in the European Union (EU) for burosumab (Crysvita) as a treatment for X-linked hypophosphatemia in children 1 year of age and older, and adolescents with growing skeletons. Burosumab is a human IgG1 monoclonal antibody that binds to and inhibits the activity of fibroblast growth factor 23, thereby reducing loss of phosphate from the kidney and other metabolic abnormalities, and ameliorating bone changes that are a hallmark of the disease. The marketing approval in the EU is the first for burosumab. A biologics license application is undergoing review by the US Food and Drug Administration (FDA), and an action on the application is expected by April 17, 2018.
On February 27, 2018, Roche announced that emicizumab (Hemlibra®) had been approved in the EU for routine prophylaxis of bleeding episodes in people with hemophilia A with factor VIII inhibitors. Emicizumab, a bispecific IgG4 mAb targeting Factors IXa and X that originated at Chugai Pharmaceutical Co. Ltd., was approved by the FDA on November 16, 2017.
On March 2, 2018, Biogen and AbbVie announced the voluntary worldwide withdrawal of marketing authorizations for ZINBRYTA® (daclizumab) for relapsing multiple sclerosis (MS). The withdrawal coincides with an urgent review by the European Medicines Agency (EMA) of inflammatory brain disorder in 8 patients, and follows a 2017 review by EMA of reports of liver injury. Due to the risk of serious liver damage, EMA limited use of Zinbryta to MS patients who had tried at least two other disease modifying treatments and could not be treated with any other such treatments. ZINBRYTA® had been marketed in the EU, US, Switzerland, Canada and Australia.
Like this post but not a member? Please join! Membership is free for students and employees of the Society's corporate sponsors.