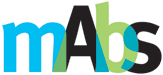 mAbs is the official journal of The Antibody Society. Each year, the journal's publisher, Taylor & Francis, provides several article publishing charge (APC) waivers, with a value of up to $4000 USD / £3200 / €3840 / $5570 AUD each, that we may distribute to members. To be considered for an APC waiver, please submit pre-submission inquiries, which should include the authors, title, abstract, and general outline of the intended article, to membership@antibodysociety.org.
mAbs publishes high quality reports, reviews, and perspective articles covering a range of antibody R&D topics, including:
Design, engineering, and selection of antibody therapeutics, including antibody-drug conjugates, multispecific antibodies, and single-domain antibodies
Machine learning and artificial intelligence applications
Non-clinical studies of antibodies, such as mechanism of action studies, safety, and efficacy studies in animals
Manufacturing and formulation
Regulatory review and approval of antibody therapeutics
The deadline for submission of the APC waiver request is July 31, 2023.
The deadline for submission of the manuscript to the journal is January 31, 2024.
The selected recipients will be notified as soon as possible after the request submission deadline.
Please contact Janice Reichert (janice.reichert@antibodysociety.org) if you have questions.
Further information:
mAbs is a multidisciplinary, open access journal dedicated to the art and science of antibody research and development. The journal has a strong scientific and medical focus but serves a broad readership, including specialists in technology transfer, legal issues, investment, and the regulation of therapeutics.
The journal's 2021 Impact Factor is 6.440 and, in total, articles are downloaded at a rate of over 1 million per year.
Members of The Antibody Society receive a 10% discount on article publication charges using their member code.