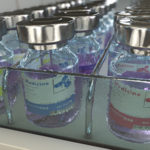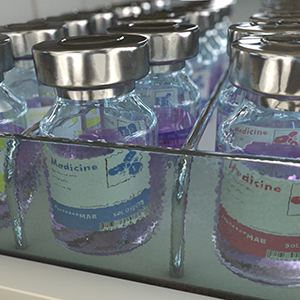 On February 11, 2021, the US Food and Drug Administration approved Evkeeza (evinacumab-dgnb) injection as an add-on treatment for patients aged 12 years and older with homozygous familial hypercholesterolemia (HoFH), a genetic condition that causes severely high cholesterol. Evkeeza received orphan drug and breakthrough therapy designations for this indication, and the biological license application received a priority review.
Evinacumab is a human IgG4k antibody targeting angiopoietin-like 3 (ANGPTL3), which regulates the metabolism of plasma lipids, including low-density lipoprotein (LDL) cholesterol, high-density lipoprotein cholesterol, and triglycerides. The antibody was derived from Regeneron's Velocimmune® technology platform, and includes a stabilizing mutation in the hinge region to minimize half-antibody formation.
Data from the Phase 3 ELIPSE trial (NCT03399786) was used as the basis of regulatory submissions. In this study 65 patients were randomized to receive either IV administration of evinacumab 15 mg/kg every four weeks (n=43) or placebo (n=22), plus other lipid-lowering therapies. The primary endpoint was the percent change from baseline in the LDL cholesterol level at Week 24. At baseline, LDL cholesterol was 260 mg/dL in the evinacumab group and 247 mg/dL in the placebo group. The primary endpoint of the study was met. Relative to baseline, the LDL cholesterol level at Week 24 was reduced by 47.1% in the patients administered evinacumab, but increased 1.9% in the placebo group.
Keep up to date on US and EU approvals all year by visiting our website!
The Antibody Society maintains a comprehensive table of approved monoclonal antibody therapeutics and those in regulatory review in the EU or US. The table, which is located in the Web Resources section of the Society's website, can be downloaded in Excel format.
Evinacumab is the first investigational (i.e., not previously approved for any indication) antibody therapeutic to be granted an approval in the EU or US in 2021. There are currently 17 investigational antibody therapeutics in regulatory review in the EU or US.