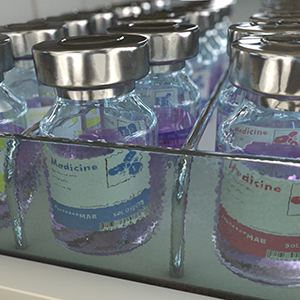 On January 26, 2022, Immunocore Holdings plc announced the approval from the United States Food and Drug Administration (FDA) of KIMMTRAK® (tebentafusp-tebn) for the treatment of HLA-A*02:01-positive adult patients with unresectable or metastatic uveal melanoma (mUM). Tebentafusp (IMCgp100) is a bispecific fusion protein composed of: 1) a T cell receptor (TCR) recognizing a human leukocyte antigen (HLA)-A*02:01 complexed with a peptide derived from gp100 antigen expressed by melanoma cells, and 2) an antibody single-chain variable fragment that binds CD3 present on T cells. Developed by Immunocore, this molecule creates a bridge between tumor cells and immune cells, and thus facilitates tumor-cell killing by T cells. As the TCR domain recognizes a peptide presented on HLA-A*02:01, tebentafusp can only be used to treated patients expressing this HLA type. Tebentafusp has been granted Breakthrough Therapy, Fast Track, and Orphan Drug designations by the FDA.
The marketing applications are based on a late-stage clinical trial (NCT03070392) that enrolled 378 patients with advanced uveal melanoma who were HLA-A*0201–positive. In the study, patients were randomized 2:1 to receive tebentafusp or investigator's choice of therapy (either pembrolizumab, ipilimumab, or dacarbazine). Tebentafusp was administered at a dose of 20 micrograms on cycle 1 Day 1, then 30 micrograms on cycle 1 Day 8, then 68 micrograms on cycle 1 Day 15 and weekly thereafter by IV infusion over 15 minutes until confirmed disease progression or unacceptable toxicity. The primary outcome measure is overall survival. As reported in September 2021, the OS Hazard Ratio in the intent-to-treat population favored KIMMTRAK, HR=0.51 (95% CI: 0.37, 0.71); p< 0.0001, over investigator's choice (82% pembrolizumab; 13% ipilimumab; 6% dacarbazine). Moreover, the 1-year survival rate was 73% for patients in the experimental arm vs. 59% in the investigator's choice arm.
The European Medicines Agency, the United Kingdom's Medicines and Healthcare Regulatory Agency, Health Canada, and the Australian Government Department of Health Therapeutic Goods Administration have accepted the submission of Marketing Authorisation Applications for tebentafusp.
KIMMTRAK is the 1st antibody-based therapeutic granted a first approval for marketing in the EU or US in 2022. Explore our searchable table of antibody therapeutics approved in the EU or US for details.