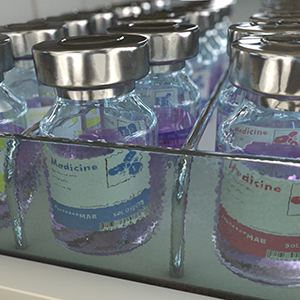 On July 30, 2021, the US Food and Drug Administration approved AstraZeneca's Saphnelo (anifrolumab-fnia) for the treatment of adult patients with moderate to severe systemic lupus erythematosus (SLE) who are receiving standard therapy. The recommended dosage is 300 mg administered as an intravenous infusion over a 30-minute period every 4 weeks. Saphnelo is undergoing regulatory review for SLE in the EU and Japan.
Anifrolumab (MEDI-546) is an interferon (IFN) alpha receptor 1 (IFNAR1)-specific human IgG1κ antibody. It binds to subunit 1 of IFNAR1, thereby blocking the action of different type I IFNs (IFN-α, IFN-β and IFN-ω). The heavy chain of the antibody incorporates 3 mutations, L234F, L235E, and P331S, to decrease effector functions. Type I IFNs are involved in the pathogenesis of SLE, and ~ 60-80% of adult patients with active SLE express elevated levels of type I IFN-inducible genes.
FDA's approval was based in part on efficacy and safety data from two TULIP Phase 3 trials and the MUSE Phase 2 trial. In these trials, more patients treated with Saphnelo experienced a reduction in overall disease activity across organ systems, including skin and joints, and achieved sustained reduction in oral corticosteroid use compared to placebo, with both groups receiving standard therapy. Clinical study results from the Phase 3 TULIP-2 and TULIP-1 trials were published in The New England Journal of Medicine and in The Lancet Rheumatology, respectively,  while results from the MUSE Phase 2 trial were published in Arthritis & Rheumatology.
Need help keeping up to date on US and EU approvals?
The Antibody Society maintains a comprehensive table of approved monoclonal antibody therapeutics and those in regulatory review in the EU or US in the Web Resources section of our website.