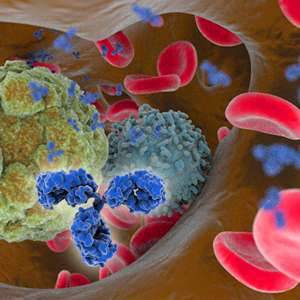 The pace of antibody therapeutics development accelerated in 2017, and this faster pace is projected to continue through 2018. Notably, the annual number of antibody therapeutics granted a first approval in either the European Union (EU) or United States (US) reached double-digits (total of 10) for the first time in 2017. The 10 antibodies granted approvals are: brodalumab, dupilumab, sarilumab, guselkumab, benralizumab, ocrelizumab, inotuzumab ozogamicin, avelumab, duvalumab, and emicizumab. Brodalumab, however, had already been approved in Japan in 2016.
As of mid-December 2017, 10 antibody therapeutics (ibalizumab, burosumab, tildrakizumab, caplacizumab, erenumab, fremanezumab, galcanezumab, romosozumab, mogamulizumab, cemiplimab) were in regulatory review in the EU or US, and regulatory actions on their marketing applications are expected by the end of 2018.
Based on company announcements and estimated clinical study primary completion dates, and assuming the study results are positive, marketing applications for at least 13 antibody therapeutics that are now being evaluated in late-stage clinical studies may be submitted by the end of 2018. Of the 13 candidates, 8 are for non-cancer indications (lanadelumab, crizanlizumab, ravulizumab, eptinezumab, risankizumab, satralizumab, brolucizumab, PRO140) and 5 are for cancer (sacituzumab govitecan, moxetumomab pasudotox, cemiplimab, ublituximab, isatuximab).
Additional antibody therapeutics to watch in 2018 include 19 mAbs undergoing evaluation in late-stage studies with primary completion dates in late 2017 or during 2018. Of these mAbs, 9 are for non-cancer indications (lampalizumab, roledumab, emapalumab, fasinumab, tanezumab, etrolizumab, NEOD001, gantenerumab, anifrolumab) and 10 are for cancer indications (tremelimumab, isatuximab, BCD-100, carotuximab, camrelizumab, IBI308, glembatumumab vedotin, mirvetuximab soravtansine, oportuzumab monatox, L19IL2/L19TNF). Positive clinical study results may enable marketing application submissions in 2018. Brief summaries of these antibody therapeutics are provided in the 'Antibodies to watch in 2018' article, which is now available on the mAbs website. A PDF of this open-access article is available here.